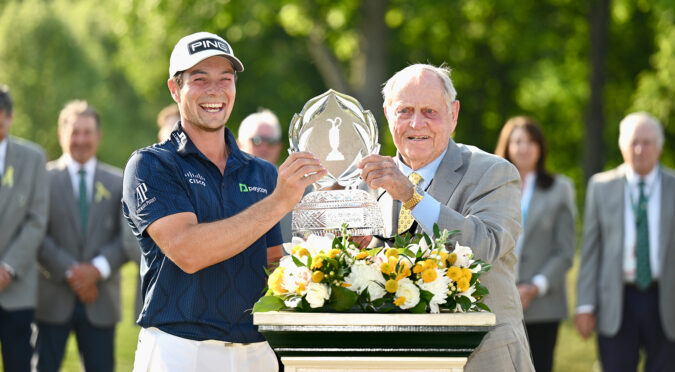 Viktor Hovland was the winner of the Memorial Tournament this weekend after a playoff victory over the impressive American, Denny McCarthy, with both players shooting seven under par at the Jack Nicklaus designed Muirfield Village in Ohio.
Both Hovland and McCarthy started the day at -5, one shot off leaders Rory McIlroy, Si Woo Kim and David Lipsky with a very tricky 18 holes ahead of them. McCarthy made the better start out of the two players, carding a front nine 33 and turning on to the back 9 at -8. Hovland meanwhile carded back-to-back bogeys at the 8th and 9th hole and at this point, McCarthy had a 3 shot advantage over the eventual winner with Norwegian possibly thinking that it was going to be another strong showing but without the silverware to show for it.
McCarthy was so strong with his putter all day and lead the field in strokes gained on the green this week. You could clearly see the confidence flowing through him as he looked for his maiden victory on the PGA Tour, 7 straight pars on the back 9 and the ball didn't look like going anywhere else but the hole on those par putts. Such an impressive showing and a week where many people will start to take note of such a lethal putter.
The turning point however came in the space of around 15 minutes. The tricky 17th hole had not been birdied all day and it took a perfect performance on that hole from Hovland to change that, nailing a 27 foot putt to cut the lead to only one shot. Only a matter of moments later, after making par on the same hole in the following group, McCarthy after slightly lucky escapes with his tee to green play on both 14 and 15 found his luck had run out on the 18th as his tee shot hit a tree and found itself in the rough.
As he could not make the green in two shots, he laid up and trusted the putter which had worked so well for him all day. McCarthy had a 28 foot putt to win the tournament and unfortunately for him, the putt rolled by the hole and he had to tap in for a bogey 5 and settle for a playoff with the European.
Neither player drove the playoff hole particularly well with McCarthy in the right rough, albeit on a flatter surface and with Hovland in an awkward lie between first cut and fairway. McCarthy was first to play and could only put the ball back in to the fairway and then faced an up and down to make par from just less than 50 yards. Hovland however stuck his 2nd shot to 50 feet and was in the driving seat. McCarthy was unable to convert his up and down and then Hovland had just less than a 7 foot putt for the win, which he duly converted and gained a much deserved first win on the year and a handshake and congratulations from tournament host, Jack Nicklaus.
Now if you had said before the start of the day, a European player will win this tournament, a lot of people would've been mistaken by thinking that player may be Rory McIlroy but once again the Northern Irishman was unable to put 4 solid rounds together and get over the line to get back amongst the winners circle. McIlroy shot a +3 round of 76 with four holes over par on his back 9. The big issue McIlroy had on his round was he was unable to consistently hit greens and fairways and was only able to put this together on one hole on his back 9 with his well documented wedge issues and some erratic driving which you could see was starting to really show on the face of McIlroy.
McIlroy wasn't the only player who will be rueing mistakes from this weekend, with eventual 3rd placed Scottie Scheffler being LAST in the putting statistics going in to the final round and finishing just a single shot behind the pair who went in to the playoff. Scheffler has been such a consistently good performer for a long period now, however I think his ball striking deserves more wins and I do believe that he should be on the phone today to Brad Faxon, asking him to become his putting coach as you can see the improvements that have been made in McIlroy's game since the move to Faxon.
If Scheffler makes this change, I would have him as down as the winner of the upcoming Open Championship at Royal Liverpool.