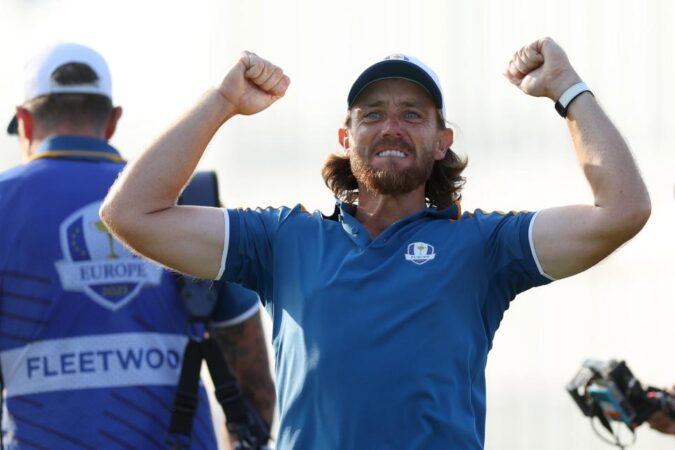 That's as good as golf gets. It had everything other than a dramatic finish, although for about half an hour there it did seem to be in the balance and my arse was twitching like a rabbit's nose. It all turned out fine in the end though, thankfully. A win for the good guys and a surprise to many, even though it shouldn't have been.
As usual, the US were regarded as being the stronger team on paper but golf is played on grass, and the team that usually wins is the one playing on their own grass. Something a lot of people seemed to forget after the last Ryder Cup when the US destroyed Padraig Harrington's boys and made Rory cry. He cried again this time too, but these were tears of joy.
A good portion of American golf media were smelling themselves a little too much after the demolition job delivered by the US at Whistling Straits two years ago. Here's what I'd say to that; you won so you say what you want about that Ryder Cup. Gloat, point out the utter dominance of the American 'dream team', talk down how spent Europe looked, it's all good. Completely fair, justified, to the victor goes the spoils and all that.
That wasn't enough for some though. People I have great respect for and who I really enjoy listening to on various podcasts, they just got more than a little ahead of themselves and were immediately talking about, not just the next Ryder Cup, but the ones after that too. Apparently America was set for a period of dominance and Europe were in trouble. It was so premature and based on nothing. They ought to have known better and hopefully they've learned a valuable lesson.
Here's what I wrote in the immediate aftermath of that Ryder Cup two years ago..
I don't get this narrative that is being peddled now that the Americans are going to dominate for the next ten years and that the Ryder Cup is no longer going to be competitive. It is certainly possible they will dominate, but it's possible that Europe will too. Nobody knows because you can't just look at the 12 players they have now and say that's going to be the team in six or eight years. You can't even say it will be the team in TWO years. That's an awfully long time in golf.

Also, it's quite funny seeing these takes from US media when the reality is that going into this week the US had won only three of the last eleven Ryder Cups. They win one and suddenly the talk is how they're going to dominate from now until the end of time. Rein yourselves in fellas!

I don't know why America can't just enjoy this one they've won – by a record margin – without getting ahead of themselves about how much they can dominate in future. Just enjoy the one you've won lads, because you haven't had that many of them over the last couple of decades. And maybe win one in Europe before you start talking about world domination, complete mismatches and the impending death of the Ryder Cup?
The Ryder Cup does strange things to people though. Normally mild mannered, jovial golfers like Shane Lowry turn into the Incredible Hulk, veteran caddies like Joe LaCava suddenly forget all about decorum and behave in a shameful way doing things they would never dream of doing in a tour event and you have the likes of Brooks Koepka getting salty and making snarky comments about fellow golfers. Ok, so that last one isn't exclusive to Ryder Cups, but you get the point.
What Whistling Straits did to many US fans was make them forget how this works. A week is a long time in golf, let alone two years! Imagine saying last July that Brian Harmon was going to win the next three Opens because of how dominant he was at Royal Liverpool. You'd be laughed off the planet because it's ridiculous. It's no more ridiculous than the "Oh the US team are going to dominate for the next decade now" shouts though.
Golf doesn't work like that. Form comes and goes. A player can emerge from nowhere to be world number one inside 18 months (like Sheffler did and Hovland might be on the brink of doing) while conversely a number one can plummet down the rankings just because of a simple thing like he might lose confidence in his putter or driver, or take the money on offer from a rival tour rendering qualification for the Ryder Cup almost impossible.
Of course nobody could have predicted how the landscape would change with LIV golf and the impact that had on both Ryder Cup teams, but again, isn't that the point? You can't be making predictions about two years in the future because lots of mad shit can happen in the meantime, as we've seen.
So the same rings true now. I've seen it suggested that Europe are now "back" and will get even stronger with more young guns coming through like Vincent Normann and Rasmus Hojgaard for example. It doesn't work like that though. There are no guarantees other than Jon Rahm being Jon Rahm – the rock upon which everything is now built.
We don't know what will happen at Bethpage in 2025. We do know what happened at Marco Simone in 2023 though, so let's get into that now.
Firstly, the level of golf was off the charts. From both teams. The difference being that Europe produced it for three days and the US did it for two. But how many chip ins did we see? How many incredible long putts, both those that were holed and those that cosied up to inches from the hole. Prime example being Rahm's putt on 18 from about 40 metres that had to break over two tiers and ended up about an inch from the hole. Honestly, I can't achieve that kind of distance control from six feet on a flat, straight putt. It might have been the most impressive thing I saw all week given the pressure he was under.
We saw players hitting drivers at flagsticks on drivable par four holes with water on one side and jungle like rough on the other. I'm thinking Tommy Fleetwood on Sunday going right at the middle of the green even though Rickie Fowler had found the water. I'm also thinking Rahm on the same hole when he went right at the flag after Sheffler had found the green side rough.
There were just incredible shots all over the place. Justin Rose was making every putt he looked at and deserved far more than the 1-1-1 record he came away with. That record does not tell the story of his fantastic Ryder Cup. He was unfortunate that he ran into Patrick Cantlay in the singles. Rose would have beaten all but two or three of the Americans but sadly Cantlay was one of those two or three.
Ah yes, Cantlay – the centre of attention for much of this event. I don't like Cantlay and that's understating it, but I can't do anything except admire the absolute stones he showed over the weekend when all eyes were on him and he became public enemy number one for the home crowd. Many would have crumbled under that but Cantlay elevated his game.
He deserved the ribbing he took from the crowd. By that I mean the chanting and hat waving, I'm not condoning any personal abuse shouted at him by any individuals. I don't know if that did happen but I'd be surprised if not given how many fans are there and the fact there's sun and alcohol involved. There are always some dickheads, so Cantlay will have heard some things he shouldn't be hearing. I'm not a fan of that.
The hat waving though and chanting of "hats off for your bank balance" was great. As I said, I have no time for Cantlay, he's one of my least favourite golfers, but he handled this exactly how you're supposed to. He took it on the chin and then played good enough golf that allowed him to give some back. Good for him, he showed massive balls given the pressure he was under. I think he probably enjoyed it as it brought the best out of him and gave their team something to rally round.
I've got more of a problem with his snivelling little sidekick Shauffele. I don't like either of them and I wish they'd have both jumped ship to LIV like they continually threatened to. Maybe they will soon, LIV hoovered up all of the heels but somehow missed those two. The money grabbing greed of these two is just hugely distasteful and for them to be sullying the Ryder Cup with that nonsense justifies every negative thing I've ever written about the pair of them.
Golfers play for incredibly large amounts of money for 103 weeks out of every 104. This is the one week every two years when money is not involved. If you don't like it, nobody is forcing you to play. Yet I see takes on social media (99% of it from Americans) talking about the Ryder Cup like it's some kind of slave labour. "Why shouldn't they be paid?" they ask.
Because they shouldn't, that's why. The European players don't even think about money, they want to play for the honour of it and to follow in the footsteps of the greats that have gone before. Rose spoke very well on that subject afterwards. European players think about Seve, Langer, Monty, Jacklin, Olazabal, Faldo, Christy O'Connor Jr at the Belfry etc. Then you have Cantlay and Shauffele complaining to all and sundry about not being paid.
If people want to have a conversation about where the vast swathes of money generated by the Ryder Cup goes to then I'm all ears. I'd be interested to know where it goes too and if it isn't going towards the kind of things it should be then that needs addressing. It does not need to be going to the players though, that's for damn sure. They get $200k for their favourite charity and if that number goes up to $2m then that's great. It shouldn't go into their pockets though as that's just not what this is about.
If Cantlay and Shauffele have a problem with what the USGA is doing with the money, then talk about that. Highlight it, tell us what you know if you have any concerns that the wrong people are trousering the money generated. As far as the rest of us know the money goes to things like junior golf and player pensions. If that's not the case and greedy executives are lining their pockets then that's a problem that needs addressing. Nobody would argue about that. This event is about the spectacle and about using the money generated for the betterment of the game.
It's pure sporting competition, representing something bigger than yourself. The Europeans get that. Even the dickheads like Garcia, Poulter, Westwood get that and had they been involved this year they wouldn't have been wanting money. Some – actually no – most of the American team get it too. I saw Keegan Bradley saying that if he'd made it he wouldn't have given up a Ryder Cup spot for $10m and I believe him. I also think JT would happily pay $10m for a spot on the team.
Max Homa wasn't thinking about being paid. He was just living a childhood dream. What did Cantlay and Shauffele dream of as kids I wonder? Same thing they dream of now I expect, cold hard cash. It's distasteful and makes it easy to root against them.
Even some Americans find their own players difficult to root for in comparison to the Euros, who are just more relatable and likeable. I understand that but it's not like all of the US players are arseholes. They aren't all like Cantlay and Xander. There's always a few on the team that make them easy to root against though and I tend to not need much of an excuse when the Ryder Cup comes around.
Cantlay and Shauffele are easy to root against, while I don't like Harman or Clark much either. Despite how scathing I was of him two years ago, I've since grown to love JT and think he's a good guy, but not in Ryder Cup week. For those three days I can't stand him but that's exactly how he'd want it. He does my head in with his 'Captain America' routine but I'd never want to see him not there as the Ryder Cup is much more fun with JT than it would be without him. American fans who didn't want him on the team are crazy. You don't leave out JT for Lucas Glover. That's crazy talk.
JT has had an awful year but played pretty well in Rome and it was his partner Jordan Spieth who struggled far more. The biggest problem America had though was losing 4-0 on Thursday morning. That session basically decided the event. If they'd won that 2 1/2 to 1/12 then the Ryder Cup would be going home with them. JT and Spieth didn't play that morning so it's not on them.
Europe are just much better at foursomes, plus there's always a huge disparity for the home team in foursomes. The disparity is bigger on European soil but the US Team have a good record on their own turf. Foursomes tend to decide the outcome of these events though, and that was the case again here.
Individual talent doesn't come into it. Look what happened on Saturday morning when Aberg and Hovland eviscerated Koepka and Scheffler and made Scotty cry. Don't tell me that the American players don't care. I can't explain how they lost so heavily but it isn't because they don't care.
It was great seeing Brooks getting destroyed like that, but I'd have preferred it if he had a different partner. I like Scotty, he seems like he's cut from the same cloth as Max so I took no pleasure whatsoever seeing him in tears. There are a few others I'd have loved to see broken like that, but not Scheffler, he's one of the good guys.
Saturday afternoon was when it really exploded though. Cantlay had been getting it from the crowd all day and his match with McIlroy and Fitzpatrick was going down to the wire. Cantlay came up huge and birdied 16 & 17 before knocking a long one in on 18 to cause wild celebrations with the rest of the team who were at greenside. They all waved their caps and Cantlay had everyone pumped up. No problem at all with that, it's the Ryder Cup, you're supposed to be fire up.
LaCava definitely went too far though. At first it was fine. He's waving his cap at the crowd, giving some back after what his man had been subjected to all day. Then he waved his cap at the the other US players on the other side of the green. Again, all fine, even though at that point Rory and Fitz still had putts to tie the match and Rory had begun his process. LaCava fist bumped Cantlay, and then for some reason started walking back onto the green towards Rory's ball. What the hell was he doing?
He almost bumped into McIlroy as Rory walked towards his ball. We don't know what was said but I heard it suggested that Rory gave him a very curt "Move!" and then LaCava started chirping back. This is the point where the caddy should have realised his mistake and that he was out over his skis. A simple "sorry Rory, my bad" would have diffused it, but instead he kept chirping, even as Rory had got down on his haunches to line up his putt. You can't do that.
Lowry got involved and LaCava was yelling "shut the f*** up, Shane". Neither McIlroy nor Fitz were able to make their putt and Cantlay won the match almost single handedly and gave the US the juice they'd been lacking. It also fired up the Euro team too, not least Rory who let rip at poor Bones in the car park. When asked about that the following day he said that he was "yelling at Joe but doing it to Bones" as he was the first American he saw.
Lowry had to drag Rory away and bundle him into a car before it escalated further. God I love the Ryder Cup! There was needle on Thursday too when Koepka lost to Rahm and Hatton and made some petty remarks about Rahm hitting an advertising board in temper as he came off the 17th green. "Acting like a child" he called it. He'd know wouldn't he? All that nonsense he instigated with Bryson before then cashing in by playing him in 'the Match'.
Rahm was asked about it the next day and basically said he does what he needs to in order to get himself ready to play the next hole. If he needs to let off steam to clear his head then he'll do it. He was sat next to Hatton and then said something along the lines of "Neither of us are great examples for how to behave on the golf course" to which Hatton acted all offended and said "I'm just sat here watching TV, minding my own business". I love Hatton, he's hilarious.
I knew America was in trouble weeks ago when I saw Rahm fist pumping at the side of the green after seeing Hatton holing an eagle putt on 18 in a tournament that Rahm was also trying to win. Team is everything for Europe. It's just not for America. They'll still win at home because of their superior talent but it takes more than that to win away from home soil and they just don't have it.
Both Rahm and Hatton were involved in key singles matches on Sunday and had they lost then things could have turned very quickly. They were vital matches for momentum and Rahm's half with Scheffler was huge. What an epic tussle that was. Can we have those two up against eachother every time now? It should be agreed by the captains beforehand that they'll go out first on Sunday.
Luke Donald front loaded and sent many of his big guns out early to try and secure the four points that were required for victory. Rahm secured a half point, Hovland spanked Morikawa, and Rory took care of business against Sam Burns (who did not justify his selection ahead of Bradley). Hatton had already seen off Harman in match 6 so match 5 could have decided the outcome.
I like some of the US Team, I severely dislike some others and I'm largely indifferent to the rest. In Ryder Cup week though they're all the enemy, except for Max. He was playing Fitz in that fifth match and had a one up lead playing the 18th. Then his second shot plugged in the rough behind a bunker and he had to take an unplayable. Advantage Fitz. Max played a fantastic shot to give himself a chance at par, but Fitz had a very makeable birdie putt that would have won the Ryder Cup.
I had conflicting emotions. Of course I wanted Fitz to win it for Europe and for himself, but I didn't want Max to be the one who lost the decisive match. When Fitz missed I wasn't conflicted at all anymore. I wanted Max to make his putt. Let someone else be the one to lose it. Not him. He held his nerve to halve the hole, win the match and keep the Ryder Cup going. I'm happy for Max, he's a great lad.
We still needed a half and although the five point margin makes this look like a comfortable win, it really wasn't. There was a brief spell on Sunday when it looked like we might be needing Bob McIntyre to lead us home. He won his match in the end but would he have if that had been the one everything rested on? It didn't come to that because Lowry clawed his way back against Spieth and Tommy Fleetwood pulled away from Rickie Fowler.
It was in the balance though, it's easy to forget that now but anyone who says they weren't nervously looking at all the red on the board and shitting themselves that this might all come down to 'Big Shot Bob' is lying.
Much was made of the Rickie concession but I get it. They were not the last match on the course and the outcome was not resting on that two foot putt. Rickie still had to make one from longer than that and both Lowry and McIntyre were up in their matches I believe. I saw a stat somewhere about how over 99% of putts from that distance are made on tour so there was virtually no chance of Tommy missing. There are some golfers who would have made him putt, but Rickie is definitely not one of them.
So that ensured Europe had won as Fleetwood had secured a half at worst, but because the match was still in progress that wasn't officially the winning putt. Now the race was on between Fleetwood and Lowry to see who could secure their point first. It was Fleetwood, thanks to an unbelievable shot on 17 to a couple of feet. Fowler failed to make birdie and conceded the putt again to make Tommy the hero. Made up for him, we all love Tommy don't we? I'm yet to hear anyone say they don't like him, even if he is an Evertonian.
So that was that. Lowry was so overjoyed he wasn't focused on his own match and lost the final hole to finish tied with Spieth, while McIntrye brought it home against a dispirited Clark who seemed to give up once news of the result reached him. McIntyre ended up undefeated despite not really playing that well. He owes much of that to Rose and he was quick to say that. He's very self aware and easy to root for. Most Europeans are though. Some of the American team could learn from that, but they won't.
Bethpage in a couple of years will probably see another win for the home team as that's how these things go. Winning on the road is no the Holy Grail for Ryder Cup golfers as it's so difficult to do. Rory is already talking about it now, even though he'll be playing eight majors before that. It just means so much to European golfers that even the top stars like McIlroy and Rahm are already thinking about two years time. Do you think any of the American players are? I don't, and that's the difference.
MVP – McIlroy / Hovland / Rahm
Best Pairings – Hatton & Rahm
Best Shot – Rahm's putt on 18 on Sunday / Fleetwood's tee shot on 17 on Sunday
Most Fun – Fleetwood and… can't believe I'm saying this, Cantlay.
Must do Better – Every American other than Max
Best Newcomer – Homa / Aberg
Biggest Disappointment – Scheffler