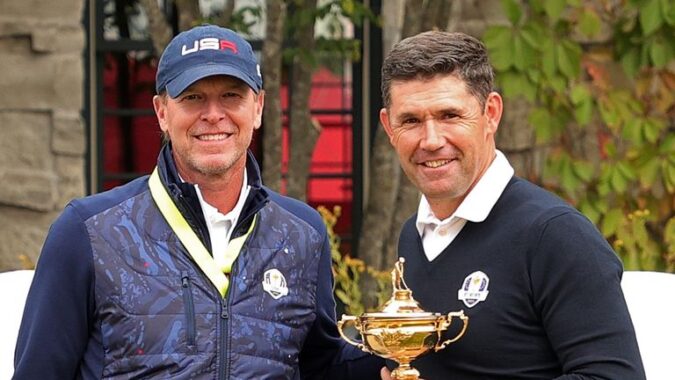 I paid very little attention to any golf this weekend as I'm just completely focused on the Ryder Cup. I watched about half an hour of the Fortinet Championship, or the Fortnite Championship as everyone seems to call it, but I went to bed before it finished and was delighted to discover the next morning that the immensely likeable Max Homa had won.
Max is great. Just a really nice lad with an impressive moustache and I'm happy for him to be back in the winner's circle after a rough few months. It's frustrating though that I didn't listen to my instincts and throw a couple of quid on him at 50/1. I had a good feeling about him going into this week after listening to him on his last podcast.
I've mentioned before that his podcast is a great listen, but sadly he's stepping away from it now because of the time commitment and also because of how hard it is to go on and relive bad rounds when really he wants to forget them and move on. What he was saying made sense but I love the insight he brings and I'll miss it.
Anyway, the point is, after hearing him talking about all this and describing how he's been playing really well but has been putting like shit, I felt like he'd be a good bet this week as he'll have had a couple of weeks to sharpen up on the greens. I should have backed him but *shrugs* I didn't. Regardless, I'm glad he won.
The wonderfully named Maverick McNealy finished second after double bogeying the 17th, but he followed that up with an eagle at 18 and he's a good bet for the next few weeks as he's going to breakthrough sooner or later.
I'm steering well clear of the Ryder Cup betting. It's far too unpredictable and I'd be letting my heart rule my head. Literally anything could happen, we know this based on previous tournaments.
The US preparation hasn't been great with 'Brooksy' making waves with an interview he did with Golf Digest. This was the bit that caused the most reaction:
"There are times when I'm like, 'I won my match. I did my job, what do you want from me?'" he added. "I know how to take responsibility for the shots I hit every week. Now, somebody else hit a bad shot and left me in a bad spot, and I know this hole is a loss. That's new, and you have to change the way you think about things."
The fallout from that was huge, with former USA captain Paul Azinger saying "I'm not sure he loves the Ryder Cup that much. If he doesn't love it, he should relinquish his spot and get people there who do love the Ryder Cup."  Ooof!
Ian Woosnam went even further. "The article Koepka has just done, that's not nice for his team. It's not good. He's basically said, 'I could do without this, it's getting me out of my routine doing this'. Christ almighty – get a life!
"If I was captain and it was one of my players, I'd be saying 'What the f**k you doing?' All this crap he's got going with DeChambeau – is it that bad or is it just false? Either way, it's not good for Stricker."
I just find him annoying. All this "I'm too cool for school" shit is wearing thin. He's trying to be an alpha like DJ and failing miserably.
Koepka also said he sees himself breaking Jack Nicklaus' major record. I read that and immediately thought of this:
He's even more of a knobhead than Bryson. Speaking of whom, the big fella's coach said this week that Bryson wants to 'end the feud' with Brooks. Of course he does. I've been saying this ever since I started these round ups. Bryson hasn't landed a blow in this fight since his playful jibe about Koepka "not having any abs".
Since then he's just been used as a punch bag by Koepka and his goon squad fans. No wonder he wants it to stop. Suggesting he wants to "end the feud" is disingenuous though as it suggests they're both giving as good as they get, when that's just not the case is it?
In golf terms he's six down with six to play and he's saying "shall we just call it a half and go back to the clubhouse?" Koepka has basically said he'll behave himself this week but after that the gloves are off again.
In the build up to Whistling Straits, DeChambeau has been obsessing over distance and for many observers it looks like he's more focused on being ready for the upcoming long drive championship than he is the Ryder Cup. At the same time though he's talking about how many par 4's he's going to drive this week and so I'm all in on it.
He posted an instagram video where he carried a drive 384 yards!! We read about these numbers all the time and kind of become numb to it all. But next time you play golf and you're on a 380 yard par four, just look how far away that green is and imagine being able to land it on there with your drive. It's absolutely insane.
View this post on Instagram
I don't know how many times Bryson will feature in the first couple of days but if I'm Steve Stricker I'd pick him in every match because he'll get the crowd right into when he's smashing drives onto the green, especially on the first which will be reachable for him.
Granted, when it doesn't go well he's either ending up in Lake Michigan or Lambeau Field, but this is an exhibition event after all so send him out there and let him entertain us. More Bryson, more better.
I'm picking Europe but honestly I have no clue what's going to happen as the Ryder Cup is hugely unpredictable and there are just too many variables. If both teams play to form then the US wins by a landslide as they've got the stronger group of players, but it rarely works out like that and often it's the big stars who don't perform and you end up with some of the lesser lights shining the brightest.
So who knows, maybe next week I'll be writing about Bernd Wiesberger taking Whistling Straits by storm and sinking the winning putt to beat DJ or Spieth?
The worry I have is the bottom of the US roster is packed with dangerous players like Patrick Cantlay, Daniel Berger and Harris English. These are great players who many casual golf fans won't have even heard of, but those are the players who tend to do better for the US while the superstar names usually underwhelm.
The depth in that US team is ridiculous whereas there are a lot of question marks about some of the European side. Will we see Ryder Cup Rory or Major Championship Rory? I'm hoping we see hatless Rory who looked really good in the Olympics. He just looks more badass without a hat.
What about my neighbour, Tommy? He was one of the stars of the last Ryder Cup but his form hasn't been that great in 2021. Lee Westwood started the year on fire but hasn't done anything for months. Poulter hasn't been great either. Will Hovland's iffy short game stand up to the pressure of a Ryder Cup?
On the flipside, half the US team don't even want to be in the same room as eachother, while having Phil as a vice captain also seems like a recipe for potential chaos. Morikawa has a bad back, Brooks has a bad wrist and Bryson's "hands are wrecked" from all his long drive practice.
I have no idea what to expect, I just know if Padraig says the word I'm ready to go and run through a brick wall right now I'm so fired up for this.
Fingers crossed for a European win. See you on the other side.