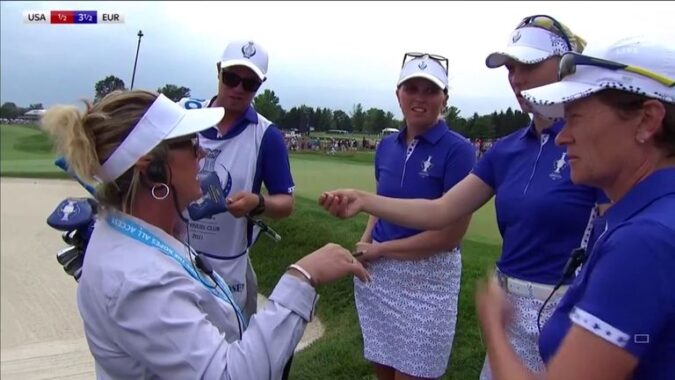 What an amazing few days of golf that was. Nothing to do with the snooze fest that was the PGA Tour Championship, this week was all about the women and the Solheim Cup, which was fantastic.
I'll start with the Tour Championship but won't spend too much time on it as it never captured my imagination at all. It isn't the fault of Jon Rahm and Patrick Cantlay that this was so dull, all credit to them and how they played. They produced some great golf and ran away from the rest of the field. Well, kind of. I mean it helped that they were already starting well ahead of most of them. I understand the logic behind the staggered scoring system but it just made the whole thing desperately boring as it virtually ruled out half the field before it even started.
The way Cantlay is playing right now if you give him a head start then Rahm is the only one who even has a chance of catching him, and so it proved. It would be like giving the second fastest sprinter in the world a 5 metre head start over Usain Bolt and 10 metres over the rest of the field. Bolt might run him down but nobody is getting close.
Rahm basically won the tournament as he shot the lowest score (ok, tied with Kevin Na actually, but you see my point), but for the second time this year he didn't win it on a technicality, in this case the handicapped leaderboard. Funny enough, the first time it happened it was also Cantlay who benefited from it at the Memorial when Rahm led by six after three rounds before testing positive for Covid.
I tuned in on Thursday hoping to see one of the chasing pack make a charge. Maybe Rory or my boy Cam. Ok, full disclosure, I really mean Bryson as I wanted to see him and Cantlay go at it again at the weekend. Never happened though, he just wasn't really on it, especially around the greens. He hit one terrible bunker shot and Rich Beem on commentary said "Very strange bunker shot. Just a total chunk". Not sure if he was referring to the shot or Bryson. Works either way.
I didn't watch much on Friday but I saw the social media uproar involving Bryson again. Some people genuinely lose all sense of perspective and reality when the big fella is involved. There were some Bryson haters out there implying that the PGA tour were favouring him by giving him a drop when they shouldn't have. Come on people, someone picked up his ball and walked away with it! You want him penalised for THAT?
Others went one step further and suggested he'd pulled a Shooter McGavin and hired the guy who stole his ball. He really brings out the worst in people doesn't he? He's had some very questionable drops this year but this wasn't that.
The collective fume whenever he deliberately hits down the wrong fairway to give himself a better angle is powerful enough to fuel the Hogwarts Express. I don't see the problem? He's thinking his way around the course looking for whatever advantage he can find. If the tour don't want him hitting up adjoining fairways then make it out of bounds. Until they do that, he's doing nothing wrong.
He made birdie after getting that drop on 18th but it was largely irrelevant as he was well adrift and it was already basically a two horse race. Not least because one of those two horses had been given a huge head start over most of the rest.
I settled down Saturday to watch it for a few hours but wasn't really into it and soon I switched over to the Solheim Cup as it was all kicking off over that "overhanging" putt ruling. After that, I never bothered with the Tour Championship. Cantlay won and made $15m compared to Rahm's $5m for finishing second. The huge prize money is supposed to make things more interesting, but frankly do any of us even care how many more millions are being won by someone who is already set for life?
The Solheim Cup was the complete opposite of that. It was all about the golf and not the cash. The atmosphere was a bit weird. Not as hostile as a Ryder Cup and it was almost a bit 'forced' as the US players were constantly trying to whip the crowd up and get them involved. It was a little irritating, especially Danielle Kang and Ally Ewing.
Not sure about all the hype and pageantry we saw on the first tee on the final day, but then if the people who'd paid to be there liked it then who am I to judge sat watching it on a laptop thousands of miles away.
Ewing is someone I'd normally root for just because of her surname and the fact I'm a massive Dallas fan. I just couldn't take to her though, she was doing my head in all week with the the nadir coming when she was on the first tee singing "Don't stop believing". Incredible scenes. Imagine the men doing this?
Actually that would be the greatest thing ever. If Bryson grabs the mic and starts singing "I did it my way" on the first tee on day one of the Ryder Cup, I swear to God I'll switch allegiance and support the US.
I could definitely see Patrick Reed belting out "America F*** Yeah!" if he was given the opportunity. He's trying to earn a captain's pick but his chances seem slim. That's assuming he's even well enough to sing after his recent brush with death of course.
Do we believe all that? I don't think I believe a single word of anything he said. Some of it has already been debunked as barefaced lies. Him saying he wasn't tested for Covid when he was admitted to hospital for example. 100% not true, which casts doubt on everything else he said.
He's a piece of work isn't he? He's desperate to make the team though and I'm just as desperate to see him on it just because of the potential for chaos with him and his mad wife.
I didn't like all the pageantry on the first tee with the people bouncing around whipping up the crowd artificially, but I tell you what I did love; some of the US players having the crowd cheering WHILE THEY TEED OFF. That was great, I'm all in on that.
Bubba Watson being a busy bastard, popping up everywhere and even doing a rap at one point, nah I'm not all in on that. I almost died of cringe. He inserted himself into the biggest controversy of the week too. More on that shortly. Basically though my point is, mind your business, Bubba.
Some of the golf was staggering. A highlight being when Austin Ernst almost made an albatross and ended up about 10 inches from the hole, only for Nanna Koerstz Madsen to hit a shot so good that it hit Ernst's ball and ended up a couple of feet away, meaning they both had tap in eagles. Ridiculously good.
Other observations. Lizette Salas hitting fairway woods closer than most other players are hitting wedges. Amazing. She needs to because she hits it so much shorter than most of her competitors, but it was fascinating to watch how good she was with those fairway woods and hybrids.
Mel Reid is feisty isn't she? Shame she kept missing short putts because I liked her energy. Bit of Sergio Garcia 'needle' about her.
Lexie Thompson putts with a glove on and that alone was enough to make me dislike her. Absolute deviant. That's the thing with golf, because we don't really know too much about the participants I need silly little things to help me decide if I like or dislike a player. Cam Smith's my boy because he won me money earlier in the year and because he's got a badass mullet. Conversely I don't like Harris English because he's got a weird pre-shot routine.
I was getting some strong 'mean soccer mom' vibes from Thompson and Ewing in particular and that made it easy to root against them. Ernst as well, she had the look of a woman that would call the police about people having a barbecue in a park. Strong 'Karen' vibes about her. All of that may be terribly harsh and inaccurate of course, I have no idea what kind of people they are. Just going on what I saw this week. I don't like the Kordas much either, they don't smile enough.
No doubt I'd feel entirely different if I was American, but I'm not, so.. *shrugs*.
Leona Maguire was incredible throughout, as was Matilda Castren who held her nerve to secure the all important point that ensured the trophy stayed with Europe. Emily Kristine Pedersen then made sure of the win by beating her boyfriend who was caddying for Danielle Kang in the final match. Those three were the standouts for me.
Pretty sure Charley Hull let out a sneaky fart when she hit a shot too. Fair play, we've all been there, although I prefer to do it when someone else is hitting.
Here it is, anyway….
So, that big controversy on day one then. Seemed very much like a case of a referee pulling the old Mike Dean trick and wanting be the centre of attention. If the ball was overhanging it was the correct ruling and the referee was technically correct in calling it. Madelene Sagstrom didn't think it was overhanging though and that should have been enough, unless you're questioning her integrity.
TV evidence wasn't conclusive enough but it was widely agreed that the ball wasn't going in even if it had been left there for another three days, let alone three seconds.
There were lots of angry European fans claiming that the US girls should have conceded the next hole to even it up. I don't feel strongly enough about it that I'd kick off on Twitter, but that's probably where I stand on it too. Bear in mind, I won't even take shots when I'm playing someone who is much better than me. Not because of ego, I just don't want any cheap advantage. If I win a hole I want to win it, I don't want it handed to me. You could put me and my 10 handicap up against Jon Rahm and I still wouldn't want any shots. Doesn't matter if I lose all 18 holes, because if I somehow won one hole I'd know that I actually won it.
So for Korda and Ewing to accept winning the hole like that, I dunno, I think it was cheap. They were entitled to do it, but wouldn't it have been great for the spirit of competition if they'd conceded the next hole to even things up? They did nothing wrong but there was an opportunity there to do something great and they didn't take it. They won the match because of that intervention by the referee. That wouldn't sit well with me if I'd been the recipient of it.
I really want to play that course though, it looked great. And I want to play it from the tees the women played from. I've said before that women's golf is more relatable simply because although they're playing the sport to a much, MUCH higher level than me, at least they're playing the same sport. Quite frankly I'm not playing the same sport as Rahm, Rory and Bryson as they're literally hitting drives a hundred and fifty yards further than me. They're hitting a 640 yard par five with a drive and an iron whereas I'm hitting drive, 3 wood and probably a hybrid, and if I don't flush all three I'm not getting there.
At least watching the women play you can see relatable distances off the tee and with their approach shots. I think Lizette Salas' gapping seems to be pretty much the same as mine as I too am hitting hybrid any time it's over 170 yards in.
The most relatable thing that happened for me though was Jess Korda completely whiffing the ball in exactly the same situation I found myself in a couple of months back at the London Club. I was representing T3.com against Golf Monthly's Neil Tappin and we played nine holes, with every shot being filmed (video should be out soon, unfortunately).
On the 11th (our second, as we played the back nine) I went through the back into some thick rough next to a bunker. I had to stand in the bunker with the ball well above my feet, sat in pretty thick rough. I gripped down the shaft and tried to knock it onto the green. And I missed the ball completely, with two cameramen filming. Nightmare.
When I saw Jess Korda facing that same shot in her match and doing exactly what I did, this was me….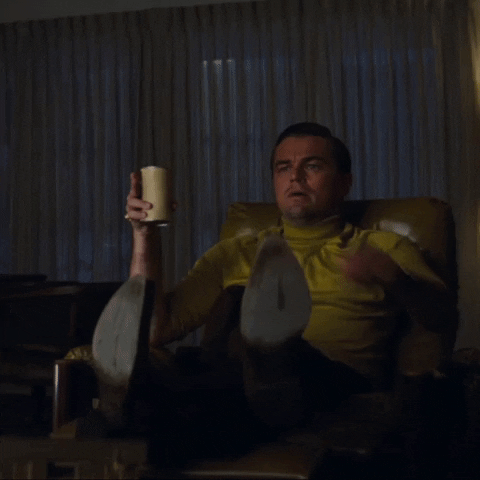 I felt pretty great about it but it had nothing to do with her being American and me rooting for Europe. It wouldn't have mattered who had done it, I'd have been happy because if even one of the world's best can't play that shot then it's fine for me to have made a mess of it too. So thanks for giving me closure, Jess. It's been bothering me for two months but now I can put it to bed.
Jess then got into a little Twitter beef with Lee Westwood, responding to a snarky comment he made (almost certainly about her sister) in relation to "Overlapping-Gate" by saying "Low blow…. be better…. you are better".
Is he better though? That seemed like a standard Westwood move to me, as he generally does have a fair bit to say and isn't one to hold back. He's not wrong either, although the way he worded his tweet did give him a potential 'get out of jail' card as he could always say he was talking about the ref rather than having a dig at Nelly. We all know what he meant though, and Jess couldn't resist biting back.
Other notes, the Danish lad who won last week? Well his twin brother won the Italian Open this week. How mad is that, them both winning in consecutive weeks. So much young talent coming out of Scandinavia these days. Felt like half that Solheim Cup team were Scandinavian. Just checked and it was five, so almost half. I'm old enough to remember when it was just Per Ulrich Johansson.
It was a great warm up for the Ryder Cup and I'm even more frothing at the mouth for that now. Will Brooks be there though? He pulled out of the Tour Championship with a wrist injury but I reckon he'll show up with a cast on, "playing through the pain" and trying to show everyone what a badass he is.
Like earlier in the year when he was pretending he couldn't bend down normally to line up putts. Or when he was crying about the galleries that followed him and Phil down the fairway because he was worried someone would bang into his knee.
There's a huge whiff of Ben Roethlisberger about 'Brooksy'. The Steelers quarterback is always hobbling around, making out he's seriously banged up, but then he's always out there for the next play. Just a big drama queen, exactly like Brooks.
Earlier in the week he had the chance to do the right thing and walk back some of the encouragement he'd given fans to heckle Bryson. Other golfers, such as McIlroy and Cantlay spoke out about it. They acknowledged that DeChambeau has brought some of this on himself but they condemned the behaviour of some fans.
Not Brooks though. Here's what he said:
"I mean, I get it," Koepka said. "Try to be as … everybody's trying to be as respectful as you can. Between me, the fans, everybody, try to live their life like that. So I think we all can do a better job. But at the same time, it's fine."
That's just not cool. Be a bigger man than that and just say it crossed a line and it should stop. Apologise for stoking the flames and say you don't condone it. How hard is that?
Brooks is Daniel LaRusso. He's the villain in this movie but somehow people think it's Bryson, who would be Johnny Lawrence in this scenario.
LaRusso showed up in town and immediately started hitting on Johnny's girl, running his mouth and turning everyone against him. Without provocation he turned a hose pipe on him when he was on the toilet and he then faked injury in the final to make himself look more heroic. To top it off, he won the match with an illegal kick.
Yet everyone watched that movie and rooted for LaRusso. It was only years later some of us realised we'd been duped and that Johnny was actually the good guy in that movie. Like Bryson. Maybe.
Shot of the Week:
This one from Nanna Koerstz Madsen, who responded to seeing her opponent almost make an albatross by doing this…
🗣 "That is incredible!" 😵

Austin Ernst is inches away from an albatross at the second, only for Nanna Koerstz Madsen to go close too! 🦅

📺 Watch the Solheim Cup live now on Sky Sports Golf! pic.twitter.com/mY0OyJz7aS

— Sky Sports Golf (@SkySportsGolf) September 6, 2021
Villain of the Week:
The absolute goon on the 18th tee who kept shouting embarrassing crap like "Sexy Lexie let's go!" And "FORE LEFT!" when European drives were going right up the middle. Also, Bubba Watson, the bad try hard. Actually, are we sure that wasn't Bubba on the 18th tee hitting on Lexie? I mean the guy was laying down chum all week.
Hero of this week:
I could easily have gone for the lad who had to caddy for the opponent of his girlfriend. Twice. Including the final singles match that decided which team won. I mean, damn, that's a no win situation for him whatever happens. But no, it's Leona Maguire who at one point halfway through Saturday had more points on her own than the entire US side had in total. She won four and halved one of her five matches. Absolute machine.