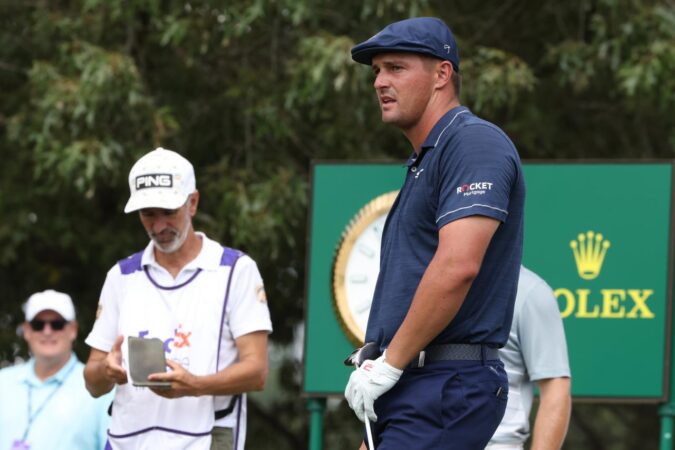 As ever, the man dominating the headlines this week was Bryson DeChambeau, who revealed that he isn't getting vaccinated because "I don't need it. I'm healthy. I'm a young individual that will continue to be healthy and will continue to work on my heath. But I don't think that taking a vaccine away from a person that might need it is a good thing."
Wow. Leaving aside the fact he isn't getting vaccinated, who the hell talks like that? "I'm a young individual"… "Continue to be healthy and continue to work on my health"… Any normal person just says "I'm young and healthy". Not Bryson though, he loves a word salad. Probably thinks it makes him sound smarter.
Weirdly, he seems to be under the misconception that there aren't enough vaccines to go around. Someone needs to tell him that nobody misses out if he gets one, but as I keep saying he has nobody around him that can keep him in line and stop him from putting his foot in his mouth.
He also said "As time goes on, if it's mainstream – like, really, really mainstream – and everything is vetted out, yeah I don't have an issue [getting vaccinated]." So which is it, you don't want to take a vaccine away from someone who needs it, or you're waiting until it's "vetted out"? Every time he speaks he makes people like him less.
Maybe he's cottoned onto that now, because for the rest of the week he gave the written media the cold shoulder. They weren't pleased, but they'd (justifiably) hammered him over the vaccine comments so what were they expecting? This is like rakes getting annoyed at Sideshow Bob because he finally realised it was a good idea to walk around them.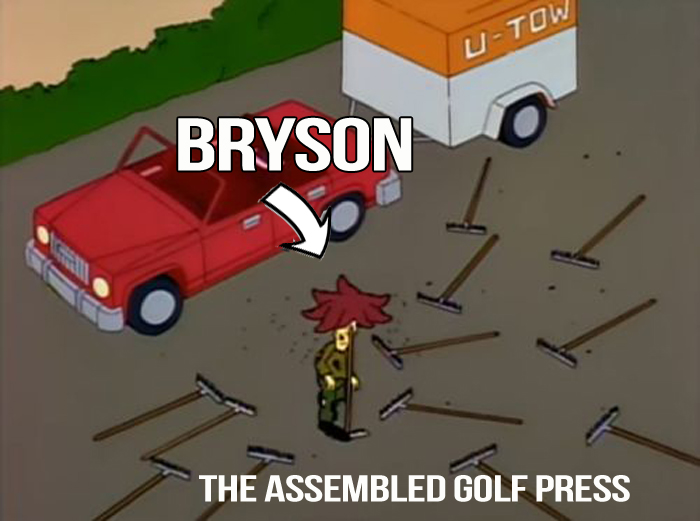 The biggest surprise of the week was that Brooks didn't show up on the first tee with his vaccination card around his neck on a lanyard. He's been quiet of late hasn't he? Mind you, it's hard to talk smack when you're playing as badly as he did this week.
So Bryson was the talk of golf once again in the build up and after round one he was still the name on everyone's lips. Not because of his play, although that was pretty damn good as he shot an impressive 65. No, golf social media was awash with Bryson content yet again because he smashed a drive into the gallery and didn't shout "FORE!".
In fairness to the big guy, there were probably several people on the tee who really enjoy yelling "FORE!" and he was just not wanting to take that away from them. Always considering others, you see. That's what greatness and humbleness is all about.
Considering the way he was grilled about it before the Open and how indignant he got about the question, you'd think he'd go out of his way to make sure he shouted it as that's just what any sane and normal person would do. Bryson knew people were onto him and that all eyes would be on him the next time it happened, yet he still didn't shout. It's so brazen it's almost Trump-like. Presumably he picked up a few tips from his pal Donnie the last time they played golf together.
Bryson may indeed be that arrogant that he doesn't care what people think, but he certainly isn't the only one who doesn't shout 'FORE!' so maybe there is more to it? Do some players not shout because it benefits them if the ball hits a spectator and therefore stops short of the thick stuff, or if they're really lucky bounces back into the fairway? In Bryson's case it might be both, but he definitely isn't the only one who doesn't shout. He isn't the only one who hasn't been vaccinated either, as 30% of players on tour are in the same bracket. Rightly or wrongly, DeChambeau is judged differently to other players on tour.
In terms of his golf, for three and a half rounds he was terrific this week, but just like at the US Open it all unravelled for him on the back nine on Sunday. It wasn't pleasant viewing. Not because of his awful play, which was actually great entertainment. No, the unpleasantness came from the crowd that was following him, both those who were supporting him and those who weren't.
When he was going well every tee shot was accompanied by some goon yelling "BOOM!!". I don't know if it was one of the Tik Tok kids who live with him or just some random moron, but it was so annoying. I hope we aren't going to get this crap at the Ryder Cup but in all likelihood it's going to be much worse. Bryson is like a MAGA magnet.
Then when the wheels started to come off out came the hecklers. Shouting "get in the water" virtually the second his club made contact with the ball. God I hate that. No golfer should be subjected to that, irrespective of how much of a tool they are. Sure, he brings it on himself but this shouldn't happen during a round and it's a stain on golf. Criticising him in the press or on social media is fair game, it goes with the territory, but the unpleasantness on the course is a different matter.
For one thing, that "Brooksy" crap needs to stop. It wasn't that funny the first time someone said it and it sure as hell isn't funny now. The TV coverage picked it up once, when a woman said "let's go Brooksy" and Bryson responded sarcastically with "good one". There are some actually criticising HIM for that! I'd say he was extremely restrained all things considered.
It's easy to say he shouldn't respond because it only encourages them to do it all the more, but if you're hearing that all the time you're probably going to react eventually. It's high time those Tik Tok kids started earning their keep by identifying the hecklers and either dealing with it themselves or if they don't have the stones for it then report them to the marshals.
Bryson, for all of his many, many faults, is by all accounts one of the most engaging players with the crowd so he shouldn't have to deal with this. It's just not golf and something needs to be done about it. This is on Brooks though. He's pulled a real life Shooter McGavin move there; only instead of offering to hang out with the hecklers he's bribed them with free beer instead.
I feel bad for Bryson's playing partner, Harris English. For so much of this tournament he was flawless. He was in complete control and seemed like a certain winner but then the whole sideshow that comes with playing in a group with Bryson derailed him big time. Not so much the crowd thing, more the slow play aspect of it. They were put on the clock and English just didn't deal with it well at all. It threw him off his game completely.
We all know Bryson is, let's be diplomatic and say, very deliberate before shots, but this wasn't just that. He needed a ruling when his ball nestled against a boundary fence and that put them behind the group in front. Did it really matter though? They were the last group on the course and weren't holding anybody up. That slow play warning probably cost English the tournament because he was visibly unsettled by it. Not that I was complaining at the time; to my shame I was loving it.
Why? Gambling, that's why. Like I've said before, when I've got money on a player it completely changes how I view them. Similarly, if I don't have money on someone and they're going well against one of my bets, they become the enemy. I had no opinion whatsoever on Harris English before this week. He was just a random, inoffensive name I regularly see on a leaderboard, but when he was churning out all those birdies and keeping my boy Cam Smith at arm's length, he may as well have been playing in a Manchester United shirt, such was the sudden disdain I had for him.
Gambling on golf just brings out the devil in me. "Oh his pre-shot routine is so annoying" "Look at his stupid face" "Oh well of course he made another birdie, he's so predictable and dull. God I hate him".  Gambling turned me into that. No wonder they call it the root of all evil.
English had a four shot lead at the turn and he was five ahead of Cam and me. I'd all but given up but then out of nowhere English completely imploded on the back nine. Even as I cheered every dropped shot a part of me felt bad for him and also a little guilty for wishing it on him. Still, me and Cam were right back in it again now which was all that mattered.
A birdie at 17 or 18 would win it for us. We went close on 17 before Cam completely lost his mind on the last hole. That was definitely karma evening the score. Against me I mean. Not Cam, he was just collateral damage. I brought that on myself, and him, by revelling in the misery of poor Harris English.
Cam's brainfart on 18 put me in a tricky spot though because he's my favourite player and I didn't want to be mad at him. In fact, when we made three consecutive bogeys around the turn to fall five shots back I vowed that no matter what happened Cam wouldn't be joining Rickie Fowler in the doghouse because he's my boy and we've had two wins this season.
We had the low first round score at the Heritage (couple of quid at 35/1) and then we won the Zurich with big Leish (a fiver at 11/1) so I wasn't going to turn my back on him just because we didn't get the win here. I'm a bigger man than that. At least that's what I thought. Turns out I was wrong.
Full disclosure, I was really mad at him on Sunday night when I went to bed. What the hell was he thinking? Just knock it out, wedge it on and try to make the putt (he actually did that, when it was too late). Just get in the playoff, that's the only thing that he should have been thinking after the bad tee shot put him behind the 8-ball.
Trying to hit through a tiny window in the trees should not have been a consideration and he got exactly what he deserved when the ball hit the tree, flew back over his head and out of bounds. Notice I said 'he' and not 'we' there. Because I wanted no part of that insanity. He was on his own now. Well not quite, he had Rickie for company on Sunday night.
Cam Smith bettors won't forget this pic.twitter.com/h5dVsHKKrx

— GolfBet (@GolfBet) August 8, 2021
Then I woke up on Monday, read Cam's explanation for what he did and immediately hated myself. I was the one in the wrong here, not Cam.
"I wanted to win. I didn't want to chip it out and leave my chances in my rivals' hands," Smith said. "There was a little gap up there. I had to hit like a medium flight draw and I tried to hit it. I wanted to make sure I had a good look at birdie and I just didn't execute it."
There are four little words that sum up my mentality on the golf course: "He who dares, wins". I've never seen a shot I didn't think I could pull off, even though I'm crap. Doesn't matter though, I'll hit driver when I should be laying up, I'll try to carry the lake even when I have a bad lie and if I'm in the trees I'm sure as shit not hitting out sideways if there's another option, no matter how risky. If I had Cam Smith's talent I daren't even imagine the stupid, impossible shots I'd be taking on.
So how can I sit in judgement of him when he's done exactly what I would have done and the outcome was the same as if I'd have tried it? He could have played safe but the little "Del Boy" in his head piped up and said "He who dares, my son. He who dares".
If I'd have been on his bag and he'd said "should we play safe and hope to make the playoff, or should we try and win this now?" I'd have said "Go and win me my eighty quid and then we'll crack open a few coldies to celebrate!"
So now I've had time to process it, I realise I wasn't mad at Cam for deciding to go for it; I was just mad that it didn't work out. On reflection I love him even more for the balls out, go for the win and screw playing for the prize money mentality. He's the golfing hero we all need, and how about that round of only 18 putts eh? Incredible. That's a front nine for me, and that's on a good day. I love Cam Smith.
I think I need to lay off the gambling though, not for any financial concerns as I'm only sticking a few quid on each week and besides, I'm playing with house money after hitting with 150/1 shot Stewart Cink earlier this year. The gambling is supposed to be a bit of fun to make the events more interesting, but it's only fun when you win. It's definitely not enhancing my enjoyment of the golf when I'm not winning, and being mad at Cam is not a nice feeling. So no more bets for a while. Although I have a strong hunch about Kevin Kisner this week….
After Cam did what he did I was hoping English could birdie the last to get himself into the playoff. He gave it a good go but fell just short and Abraham Ancer triumphed when he overcame Hideki and Sam Burns at the second extra hole. Happy for Abe, I like him a lot and he seems to be on the leaderboard every week without winning, so this was well deserved.
He's a great story actually as he's completely self taught, has never had a golf lesson and doesn't have a coach. Watching him play is fascinating as he seems to move the ball around a lot. That's the beauty of shot tracer, you can see the flight of these shots whereas in the past we didn't really have any idea what the pros were doing with these approach shots. Ancer was hitting some massive draws on his approaches and he's fun to watch.
You know what else was fun to watch? Si Woo Kim hitting 13 on a par 3. I love all that. Nothing against him personally, it just makes me feel good when a pro does something that is so bad I think "I actually could do better than that". Maybe I'm kidding myself, but I reckon I could have played that hole, in those conditions, in fewer shots than 13.
That kind of thing fascinates me though. My bucket list of holes I'd most like to play are the 12th at Augusta, the 17th at Sawgrass and the Postage Stamp at Troon. That's because I've seen some pros have bad meltdowns on those holes and I always wondered what makes those holes so difficult. I'd love to find out for myself one day.
Finally this week, the women's Olympic golf was class. I didn't bet on it but if I had I'd have gone with Danielle Kang who as it turns out came nowhere. I only nipped in and out of the coverage so didn't see too much but I watched a couple of hours on the final day to see the conclusion and it was class.
There's something more relatable about watching the women play. Don't get me wrong, I'm not saying there's any comparison whatsoever in quality that I can relate to, but because the distances are at least in the same ball park as a lot of us mid-handicappers it's just more relatable.
Many of the drives were carrying around 230 which is only about 10 yards past where I'm carrying my driver so it feels like they're playing the same sport I am, they're just much better at it than I am.
The commentator will say "She's got 155 yards to the pin and she's hitting 7 iron" and you think 'hey, I'd be hitting 7 iron too'. When you watch the men and see Rory hitting a wedge the same distance that my hybrid goes it really is like a different sport. So yeah the women's game is much more relatable to those of us who aren't hitting it off the planet.
Distance is just about the only thing I could relate to though, as the quality was off the scale. I'm always wary about coming across as being condescending when praising the standard of women's golf but, honestly, there is nothing condescending in this at all. They're incredible and the only difference I see between the top women and the top men is distance. To back that up, Nelly Korda ended up -17 which was only one shot worse than Xander when he won the men's event.
Korda was the pre-tournament favourite and lived up to her billing by taking gold, but she didn't run away with it and it was a really competitive event. I was rooting for India's Aditi Ashok because it felt like she was way overmatched and was having to battle for everything she got. Nelly Korda and Lydia Ko were like thoroughbreds and she was Scrappy Do, chasing after them and fighting and clawing to stay in it.
She's number 200 in the world so she was punching well above her weight. She just doesn't miss any putts at all. It was relentless and just massively impressive, especially for a terrible putter like me. What I'd give to be automatic inside ten feet. Hell, what I'd give to be automatic inside six feet. I'd even settle for automatic inside three feet.
Ashok just came up short of a medal which was a real shame. Japan's Inami Mone missed out on a playoff for gold after bogeying the 18th and leaving the way clear for Korda to win with a par, but she did overcome Lydia Ko in a playoff to claim silver.
Nelly Korda's swing should be in the Loevre. You could watch that all day, especially the super slow motion. It's so good it makes Adam Scott look like Jim Furyk. She doesn't smile much though does she? Everyone else seemed to be having fun out there but she was just all business. Even after she sank the winning putt her sister Jess seemed happier about it than she did.
Maybe it was that euphoria that caused her to come out with this nonsense afterwards "This is almost legend status as a golfer, period, male or female. It's tough to win out here and she makes it look easy, but those girls are good. So for her to be doing this, it's insane to me. This is like total GOAT status to me."
Am I missing something here? One major, an Olympic title and a spell as world number one doesn't make her the "GOAT". It makes her Justin Rose.