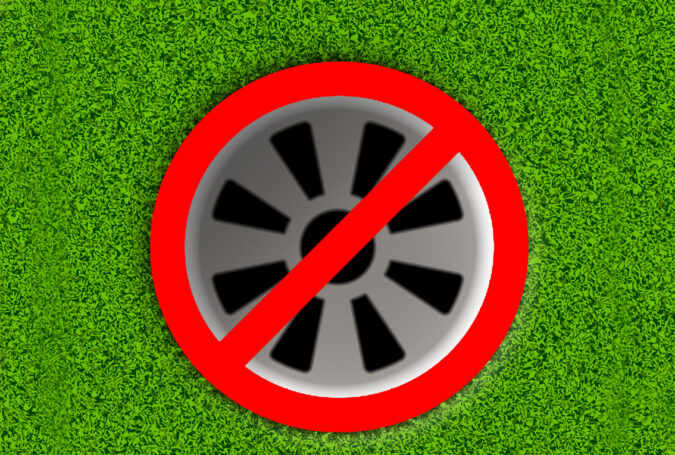 That mid-70s round I've been smelling these last few weeks? Well it came, right on cue. A 76 (+6) on Beacon Park. I've threatened it a few times lately only to throw up all over myself on the back nine.
Not this time though, but I did wobble a bit due to a complete inability to make even the shortest of putts. Three bogeys in the last five holes, all from inside five feet. The easiest part of the game and I'm hopeless at it.
Aside from that it was really consistent golf and I can't actually believe I'm doing this. It was only a month ago I was slicing two or three drives a round into trees. I'm now driving it like a single figure handicapper but I'm putting like someone's nan on the Crazy Golf at the seaside.
I shot 76 without holing anything and I actually missed twice from inside three feet while also gagging on a four footer. It sounds mad, but 76 was three or four more shots than it really should have been, because tee to green I reckon I played close to level par golf. 34 putts again though. Feels like I'm doing that every time I play 18 holes.
I mentioned last week how we will often look at the shots that got away and forget about the putts we probably had no right to make, or some of the slices of good fortune we get along the way. This wasn't like that at all. I didn't hole any long putts, or any medium ones for that mater (and the short ones were something of a lottery). I didn't have any moments of particularly good fortune either and at no point was I thinking "I got away with one there".
Actually no, there was one errant 7 iron on the par 3 14th that pitched wide of a green side bunker, hit a slope and rolled around the back of the bunker onto the green leaving me 12 feet away. But I three putted that so the golf gods were clearly not having that bit of good fortune. That was the only bit of spawn in this round as I hit virtually every fairway and if I wasn't on the green putting for birdie I was usually just off it needing to get up and down.
The only time I was in any trouble was when I was blocked out by a tree and had no shot other than to play out sideways and ended up making double on the 5th, a hole I absolutely hate. It's short but nasty and if this hole were a person it'd be Bernardo Silva.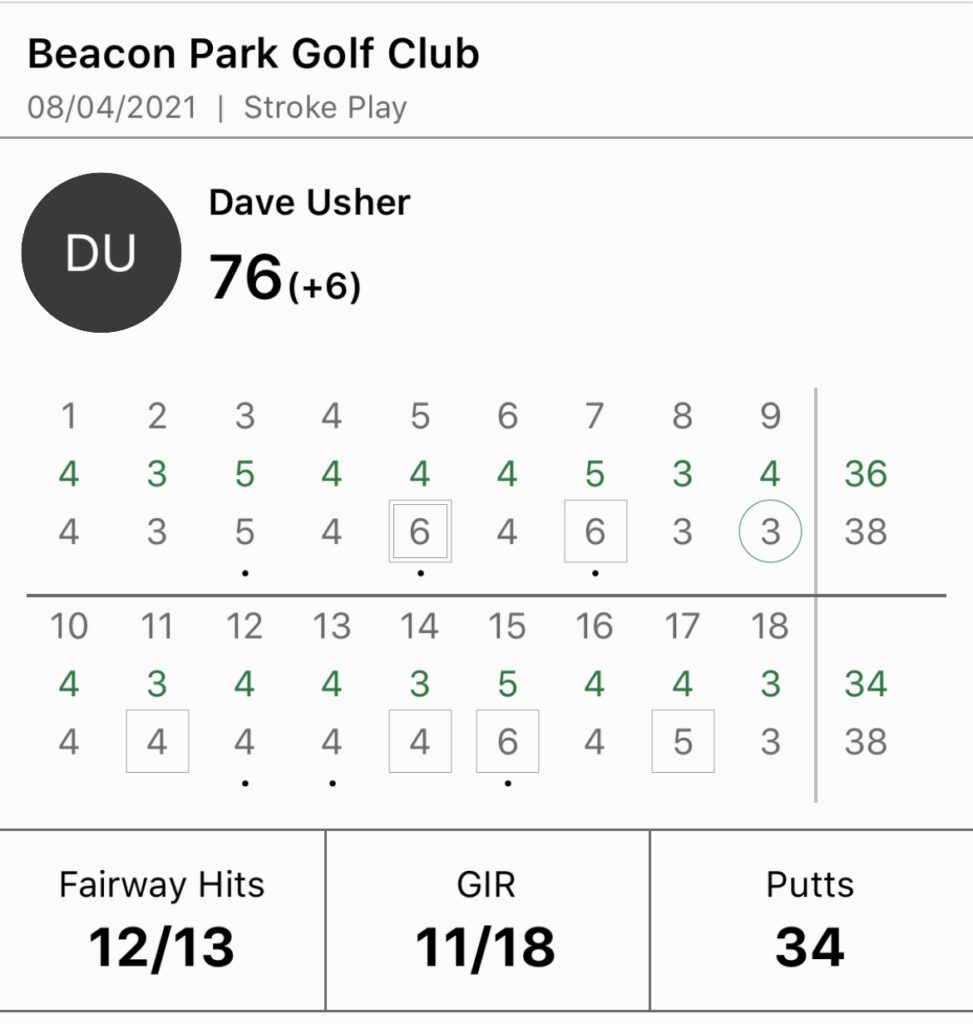 I played again a few days later. Same course, different conditions. They hadn't cut the fairways and it was raining so it was playing considerably tougher. I shot 85 this time. Golf eh?
It was a mad round though. I had 10 pars and only two bogeys, but the other six holes yielded five doubles and a triple. Mostly just stupid mistakes but the putting was pitiful again and I had a full on Tyrell Hatton rage going on for most of the back nine. The only thing stopping me breaking a club is the fact I have to pay for them myself.
I hate seeing the way Hatton conducts himself at times but equally I totally get it. This is the most infuriating game there is. I never lose my rag when I hit a bad drive and I rarely do it with a poor iron shot either. I think it's because I see those as being difficult. If you mess those up, it's understandable. It's on and around the greens where the red mist gets me. Chipping and especially putting. Even someone who never plays golf can knock in a three footer, so when I'm missing them it's hard to keep a lid on my temper.
I can't put into words how galling it is to me. Of course it's galling to any golfer, but it's worse for me now because I turned our front driveway into a putting green last March and it doesn't seem to have helped me one bit. It's utterly soul destroying. I spend on average an hour a day out there practicing. I've literally hit thousands of putts over the last few months but then I get on the course and can't make three footers. How is that even possible?
Is it technique or mentality? I think it's both. It isn't nerves or not coping with pressure on the course because I'm just as bad with the short ones on my own putting green when I'm just out there messing around and under no pressure. And if I can hit a drive up the middle when the pressure is on then there's no reason I shouldn't be able to putt from three damn feet.
But so much of this is in the mind. If you expect to miss you probably will. But if you miss as frequently as I do then how can you expect anything else?
I reckon I'm 60% successful from four feet and maybe 70% from three feet. The amount of three footers I miss defies all logic. I'd probably have a higher strike rate if I closed my eyes and just guessed where the hole was.
I mean look at the absolute state of this….
How do I fix this? It's not like I have the yips, I'm just a really bad putter. That's why I spent all that money on a putting green so I could work on it and become dead good. That was the plan and I honestly thought that after six months solid practice I'd be like Jordan Spieth or my boy Cam Smith. It wasn't supposed to be like this.
I've watched every video there is to watch on making short putts. I've practiced my arse off for six months. Every other area of my game has improved with far less work than I've put in on the greens, but I can't make a straight three footer on a really slow green.
From checking my scorecards, I seem to be averaging 34/35 putts every round, which is crap. If I was hitting every green and two putting then that would explain those numbers, but I'm not doing that. My chipping has been decent so I'm getting it within a couple of feet a few times per round, meaning there are quite a few one putts. The three putts are absolute killers though and I have four or five of them most rounds. Partly because my long putting is bad, and partly because my short putting is even worse.
I know I should be focusing on the fact I shot the second lowest score of my life and I played superbly to do it (sometimes you shoot a good score and know it could easily have been a lot higher but this wasn't that) and I am genuinely happy about that. I've got a real buzz this week because of how I'm playing, but the short putting thing is just a massive dark cloud.
In football terms, I feel like Brighton. Lots to admire about how they play but they don't put the ball in the net enough to take full advantage of everything they do well.
Changing putter is an option but I've tried that countless times. I collect vintage Ping putters so I've tried all shapes and sizes but keep going back to my Wilson Staff Infinite 'the L' putter.
For the 76 round I actually dug out the old Wilson Harmonized putter I used to shoot the lowest round of my life four years ago (a 73 on Kirkby, which was the only time I'd broken 80 until doing it twice in the last few weeks). When I missed three footers on consecutive holes that went back in the bag (it's never going to see a golf course again) and 'the L' came out for the last three holes, but I know from all the hours practicing that I'm still ropey on short ones even with that (see the above video).
So I'm going to spend the next week absolutely hammering short putts until I feel like I'm getting somewhere. And if that doesn't work then I'm going to have to seek professional help.
How embarrassing is that though?
"Hi, I need help with my putting"
"Sure, what distance is giving you the most problems?"
"Three feet".
"……."