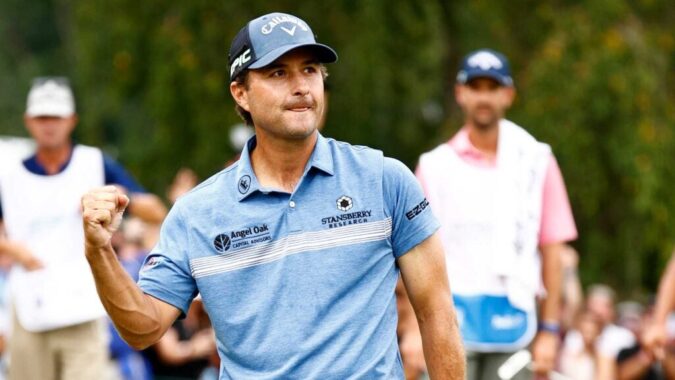 It was a slow news week in golf, mainly because there was nothing Bryson related going on. Love him or loathe him, the big fella is responsible for at least 50% of the golfing storylines in an average week so it's only fair that he gets 50% of that $40m "Player Impact Program" dough. Just so long as Brooks doesn't get the other 50% from basically just riding on Bryson's coattails.
It wasn't just Bryson that was missing from the Wyndham Championship though. Hardly any of the big names were there. Not great for the tournament sponsors but when you're scheduled the week before the playoffs then you're only ever going to get the 'best of the rest' plus any big names struggling to get in.
Like Justin Rose and Tommy Fleetwood for example, who showed up needing a good finish to secure their place in the FedEx Cup playoffs. They both failed, in Rose's case hilariously so, but I'll get to that in a second.
This is mad to a casual observer like me though. How are those two not in the top 125 when they've been playing over there pretty much all year? Rose especially. I don't follow him closely but it seems like his name is usually on the leaderboard most weeks. Not necessarily threatening to win, but his name is usually visible most weeks.
How's he fallen this far? It's not like he's gone crap. He contended at the Masters (he led after the first round and ended T7) and he was two shots from making the playoff to win this event, so his game hasn't fallen off that much. He actually won the FedEx a couple of years ago and now he's not even in it. Crazy.
The main reason he isn't in it is because some cat named Chesson Hadley – who I'd never heard of until now – shot 62 on the final day (including a hole in one at the 16th and a birdie on the last!) to leapfrog Rose into 125th place. To make matters even worse, Rose had bogeyed the last after a three putt. Ouch.
As for my neighbour, Tommy, he's had a really disappointing year for someone of his obvious talent. Bet he brings his A-Game to the Ryder Cup though, the European lads always do. There's not too much wrong with Fleetwood's form but he just hasn't quite been at it it all year. He's played 17 events and only missed four cuts (two of them in Majors) but he's just not contended for anything. He's just been there to make up the numbers, like his beloved Everton.
Rickie Fowler was another big name that needed a good finish to get in too. He missed the cut though (by six shots) and I feel bad. I know I've ripped on him recently after he let me down on a bet but it's sad seeing him like this. There's no joy to be had in Fowler suffering as by all accounts he's a great fella. Hopefully he bounces back next year.
Speaking of bounce backs though, guess who was in the money this week? If you read last week's round up you'll already know, but if not then to quickly recap, I said last week I needed to quit gambling on golf after some recent hard luck stories (specifically Cam Smith's misadventures in the trees on 18 last week). I then added the caveat "although I have a strong feeling about Kevin Kisner this week".
Ka-Ching! Just when I thought I was out, they pull me back in! Two quid each way at 40/1, and "Kis" came through in the clutch for me. I'm now a hundred quid better off but it was another emotional rollercoaster. The last hour of that tournament was as exciting and incident packed as it gets. Absolutely great TV.
Six players ended up tied on -15 and it should have been seven. The man to miss out was Russel Henley, who led the tournament basically from start to finish and then three putted the last to miss out on the playoff, having also earlier missed from inside two feet. Golf is brutal isn't it? If Fleetwood is the golf equivalent of Everton then Henley has to be Leicester City, who two years running were in the Champions League places for the entire season only to drop out on the final day.
So as Henley dropped out that left half a dozen to fight it out for the win. My guy Kisner was joined by Adam Scott, Branden Grace, Si Woo Kim, Roger Sloan and Kevin Na.
I can't take Kevin Na seriously and I don't really know why. Every time I look at him I roll my eyes, Koepka style. He just seems like a proper little busy body and I can't shake that memory of him lecturing DJ, with a condescending hand on the shoulder, back at the World Matchplay over not conceding a putt. There's just really strong 'traffic warden' vibes about him.
The Matchplay thing was hilarious, not least because of DJ's perplexed, bemused "whatever bro" attitude towards it. Technically Na was in the right but there was something really uncomfortable about the way he handled it. Instead of knocking in his three footer for a half and then just saying his piece to DJ as they went to the next hole, he didn't attempt his putt because he said he couldn't focus after what DJ did.
So he told DJ he wasn't going to penalise him but that in future he needs to wait until the putt is conceded, and that he wasn't going to hole his putt either and they should call it a half.
They'd make a great comedy cop duo. DJ as the maverick, play by his own rules but get the job done gunslinger, and Na as the straight-laced, do everything by the book, boring little dweeb.
If you don't remember this or missed it at the time, here you go, and you're welcome!
So anyway, the six man playoff was wild but I almost missed it as I tuned in around half six expecting to see the leaders just starting out. I switched on, saw the leaderboard and my guy Kisner was there tied at -15 with seemingly half the field. Then I saw he'd played 17 holes and some of the others were already in. At half six UK time? What's going on there? Maybe they went off early because of weather warnings, or it could have been for TV reasons as the US Amateur Championship was this week too. Doesn't matter now, I'm just glad I didn't miss the finale.
It almost never even got to a playoff though as 'Kis' had a putt to win it on 18 but it was quicker than a hiccup down that hill and in the end I was just relieved he got it down in two to make the playoff. After what happened last week with Cam it would have been the ultimate kick in the balls if Kisner had also missed out on a playoff after blowing it on the last.
So the playoff starts and immediately it was advantage Adam Scott as almost everyone else was struggling to make four, including Kisner who chunked his second shot and was well short of the green. He was then an inch away from holing his pitch shot for a three. Golf gods, why do you mock me so?
This was a 505yd par four and Scott had hit his drive 350 and then put a wedge stone dead to four feet. Ridiculous. This is a different sport to what I play. 505yds is drive, 3 wood and a prayer for me.
Sloan was on the green not too far away but he didn't make his birdie, and everyone else managed to get up and down for four. Fair play to them for giving it their all to make par, because with Scott so close it would have been easy to assume it was all over and lose a bit of focus. Maybe they all knew something?
I was fairly sure Scott would make his putt but because it's him there was always a slight chance that he wouldn't, especially as he had to wait 13 minutes from hitting that shot to eventually getting to putt.
In that time he'd seen everyone else hole out for par which had to have been a little disconcerting as (other than Kisner who had tapped in) every one of them was putting from further away than he was. We all know that feeling, when your playing partners all hole putts and you're left thinking the law of  averages means someone is likely to miss, and you're the only one left!
Still, it was only a four footer and it was a straight putt up the hill. Realistically he wasn't missing that. It even crossed my mind to switch it off and have a little sulk about another hard luck story, but there were two things that gave me pause.
Firstly, Scott uses one of those long handle putters and you only use them if you're no good at putting. When you see someone on crutches you immediately know there's a problem with their leg, and those weird putters give off exactly the same message. If you're a reliable putter you aren't using one of those.
Scott's putting shortcomings have been well documented and it's almost like the universe inflicted that on him to balance out the handsomeness and flawless golf swing. So there was always a possibility he'd miss but the thing that really grabbed my attention was seeing him standing over the line of the putt, legs apart, trying to feel for any break. Then he was looking in his greens book for extra reassurance. Mate, it's a four foot putt, don't overthink it, just knock it in!!
Seeing him deliberating like that was a big red flag, especially as Si Woo had just knocked one in on virtually the exact same line. You could tell Scott wasn't confident and his putt was so bad it barely even brushed the edge of the hole.
4' 3" putt for the win on the 1st playoff hole …

Adam Scott was 53 of 54 for the week inside 5 feet. pic.twitter.com/P4aQJYnjfy

— PGA TOUR (@PGATOUR) August 15, 2021
That was just like watching me as I am absolutely pitiful on short putts, although I haven't yet admitted defeat to the extent that I'll switch to a broom handle. I can relate though and being crap at short putts is soul destroying. Scott obviously isn't too bad or he wouldn't be contending, but when the pressure is at its most intense that's when any flaw in a putting stroke is going to rear its ugly head.
Unlike 'Scotty' though, I don't have movie star looks, the most desirable golf swing on tour and millions in the bank to fall back on as a consolation for my shortcomings. I'd actually settle for not being able to hole from four inches, let alone four feet, if I had all that. So don't ask me to feel sorry for Adam Scott as it ain't happening.
Him missing that putt meant everyone else was still in it, including Kisner who got a perfect drive away on the second go around. He was further down the fairway than everyone else so, like Scott on the first playoff hole, that gave him the luxury of seeing how everyone else fared before hitting his approach.
Other than Grace, no-one else really had a shot at making a birdie and the NBC commentary team set things up perfectly by telling us how this position was perfect for Kisner to hit his favoured draw. Faldo said "ten feet right of the flag and draw it back" and thanks to shot tracer we saw that's exactly what he did. Great stuff.
Watching golf with all this technology is so cool but I feel a little cheated in a way because we didn't have this back in the 80s and 90s, when I pretty much watched every single bit of golf that was on TV. I'd have loved all these shot tracers and hole graphics back in the day when Faldo, Ian Woosnam, Greg Norman, John Daly and my guy Payne Stewart were lighting it up.
But back to the present. Kisner hit it to four feet and when Grace's putt slid just past, it was right there for us. Thankfully 'Kis' doesn't have the same weakness from four feet that me and Scott have and he knocked it in to get us the win. Nice boost for his fairly slim Ryder Cup hopes but more important than that, it ended my losing streak which had gone on for three months.
I started the season like peak Tiger and felt like I couldn't lose, hitting bets from all over the place. Then all of a sudden I became Louis Oosthuizen – always there or thereabouts but just unable to get over the line due to one thing or another.
Now I'm back and all that crazy talk about laying off the golf bets can be put to bed. Why would I stop when over the course of the season I've turned an initial £20 stake into £250 and counting?
I rarely bet on favourites but I can't see past Rahm or Spieth this week. I also have to back my boy Cam out of loyalty, while Sam Burns at 50/1 caught my eye too.
I've seen a lot of social media chatter among Americans this week as to whether Kisner should be on the Ryder Cup team. It's not really any of my business so I have no opinion on it, but it seems to be causing a bit of division among US golf fans.
If he was European would I want him on our team? Probably not. He's a short hitter and by his own admission longer courses don't suit him. I saw these quotes from him on that earlier in the year and I thought they were great. You don't often get this level of self awareness and honesty from golfers.
"Probably not," Kisner said when asked if he could win anywhere. "I'm not going to win at Bethpage Black or Torrey Pines." He was then asked why he even bothers teeing it up and he said "Because they give away a lot of money for 20th. I don't think I can make up enough ground in the areas that I'm great on certain courses, so I just don't attend those." I love that.
So he's probably not going to the Ryder Cup but as long as Bryson, Brooks and Reid are on the US Team I don't care. Get Phil on there too. I just want the drama, so the more 'characters' in there the better. Hell, I hope they pick Kevin Na as I'd absolutely love to see him try that 'arm on the shoulder' chastising thing on Sergio or Poulter. Imagine!