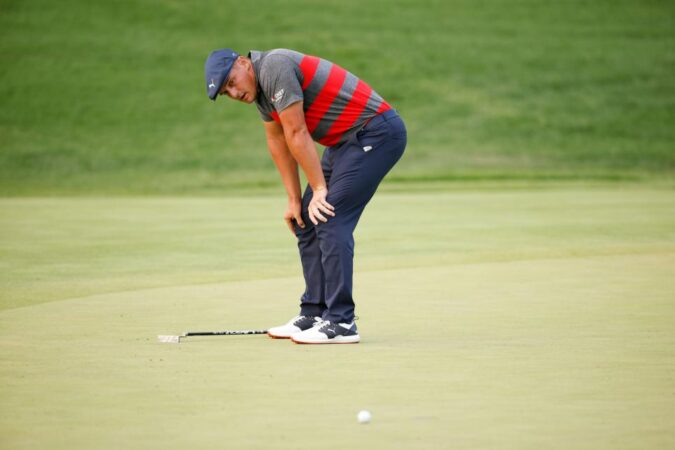 This was the best tournament of the year bar none. That playoff was just something else. It had everything. Great shots, missed putts, angry Bryson, happy Bryson, we even had whistling Bryson at one point, which was a personal favourite.
Patrick Cantlay on the other hand was just deadpan throughout. His expression never changes, his mannerisms never change, in fact he's actually a bit creepy. Gotta be honest, when he removed his hat at the end of that epic battle my first thought was that he looked like he'd just climbed out of Dracula's coffin. How can you live in a hot country like America and be paler than an Irishman?
I read somewhere that there is going to be heart monitoring at the Ryder Cup and we'll get to see the results. Cantlay's pulse isn't going to change one bit is it? That's if he even has one. I've got my doubts.
What a tournament though. A lot of golf fans won't like the really low scoring and that's fair. Every player in the tournament ended up under par, even Phil, which shows how easy the course was playing. But I loved it. It was something a bit different and Bryson shooting 60 after missing a six footer on the last for a 59 was great entertainment. Do I want them playing courses this easy every week? No, but now and again it's fun to see them all shooting the lights out.
Rory got himself back on track this week. He must have read this column last week, as there's nothing more motivating than being compared to Arsenal. He took that personally.
Sergio had a great week too and secured his place for next week. He could even afford the luxury of leaving it in the bunker twice on his way to a double bogey on Sunday. Great seeing him come into form just in time for the Ryder Cup. Hopefully it's him or Poulter up against Bryson on the Sunday.
By the final round Cantlay and DeChambeau had separated themselves from most of the field and they were paired together in the last group. Bryson strode onto the first tee in a stripey top that made him look like a fat Freddie Krueger, but he was in good spirits and, just as he had all week, he was joking with the fans and generally being engaging with everyone.
Say what you like about him (and I will) but he's one of the best at that. He taunted the crowd by reaching for an iron when they wanted driver. The fans booed, Bryson laughed heartily and then pulled out the driver to huge cheers. There's just not enough of that kind of thing in golf and I love it, even if I don't love Bryson himself.
That final round was great. Nobody really got close to them so Cantlay and DeChambeau went head to head and there was virtually nothing separating them all day. It was fascinating as it felt like every hole was Bryson bombing it to the front edge of a par 4 and then making an easy birdie, while Cantlay was miles back hitting 7 iron with his second shot and then holing a 30 footer to match Bryson's birdie. It was epic stuff.
Bryson was Ivan Drago landing the huge bombs, while Cantlay was Rocky Balboa just absorbing them and then firing back with his own shots while shouting "ain't so bad! ain't so bad!". At least he might have done if he'd shown even the tiniest bit of personality, which he didn't because he's just a stone cold killer.
It felt like Bryson had the edge all day and that Cantlay was just hanging on in there thanks to some other worldly putting. He produced the best putting performance since they started keeping records on it. And it needed an all time putting week to stop Bryson because he was that good this week.
Down the stretch Bryson looked like he was finally wearing him down though. He knocked in a birdie on 16 to go one shot ahead and he then struck a pose and a half. Too funny that. It backfired because he didn't win but that pose will live long in the memory. He's such a dork!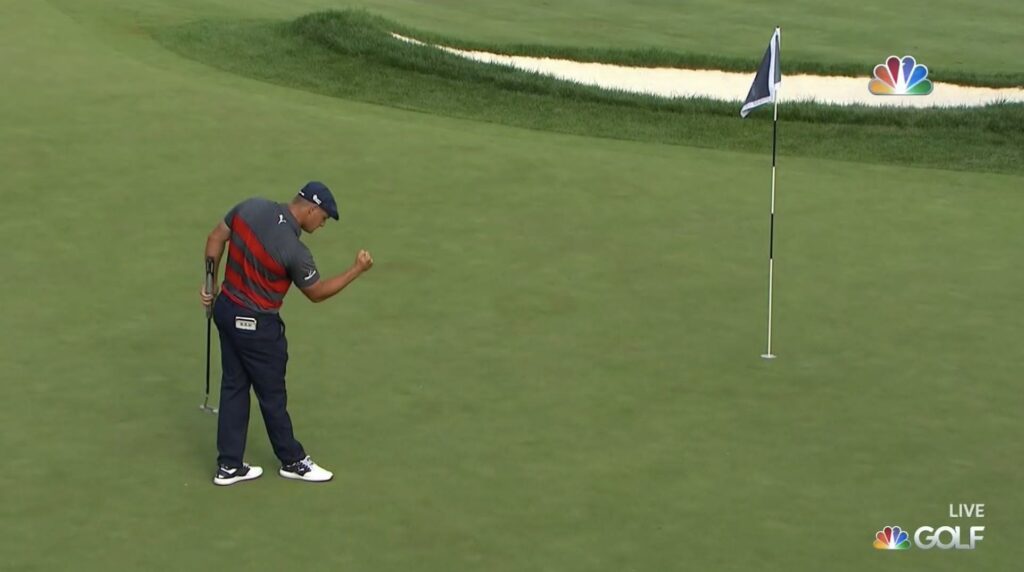 So advantage DeChambeau and then it looked like it was all over when Cantlay found the water on the par 3 17th. He gave himself a chance of a bogey with his next shot while Bryson duffed a chip to leave a tester for par. Cantlay made his putt and then Bryson missed. The hole was effectively halved but it felt like Cantlay had gotten out of jail there and he was still only one shot back when really he ought to have been out of it. That mistake would cost Bryson dearly.
The last hole was played the way so many others had been before it. Bryson bombing one and hitting a wedge in pretty close and Cantlay outside of him relying on his putter. He knocked it in for birdie and Bryson couldn't match it.
Onto the playoff then. So much tension and drama and it was the best Sunday of the year by far. Even better than any of the majors mostly because it was Bryson that was involved. Replace him with anyone else in golf, and I mean anyone, and it's still a thrilling playoff but it just doesn't have the same juice that this one had.
Cantlay suddenly became Mr Popular and had the crowd chanting his name. That's not happening if he's playing anyone else and half of those in the crowd chanting his name wouldn't even recognise him if they walked by him on the street afterwards. Didn't matter though, he was up against Bryson.
The playoff followed the same pattern with Bryson pushing and Cantlay fighting hard to stay with him. They played that 18th hole over and over again it seemed. And Bryson kept hitting the same spot on the fairway. It was astonishing really. You could see the little cluster of divots by his ball, and those divots could only have been made by him. Imagine being able to hit it that far and keep hitting the same spot almost all the time.
His driving all week was different level but sadly for him his putter went cold at just the wrong time. He could have put Cantlay away on the first playoff hole when he left himself with a makable putt and Cantlay found the greenside rough. Cantlay almost holed with a sensational flop shot but it lipped out, leaving Bryson with a putt for the win. It was a good try but it didn't fall. Every missed putt saw him jawing to his caddy about something. No wonder Tim quit, the stress of that job must be off the scale.
Back they went to 18 tee and again Bryson found his little zone in the fairway, narrowly avoiding one of his own divots. Cantlay left his approach short on the lower tier of the green and Bryson stiffed a wedge to six feet. Cantlay's putt was well short and was still outside of Bryson's ball. He knocked that in for par meaning Bryson had another putt to win. Everyone thought he'd make this one, including Cantlay, but it lipped out and the drama continued.
Bryson was incredulous after that one, but then he's like that any time his ball doesn't go in the hole. It's really funny to watch. In his head he's never hit a bad shot has he? There's always some external factor that causes it. At one point he hit an approach shot and was saying "oh be good" only for it to come up about 25 yards short of the green!
Incredible, how can you misjudge it by that much and be calling it in the air as though it's all over the flag? Only Bryson. That really ought to have incurred a one shot penalty as it just isn't acceptable. He was club twirling like Tiger at one point too. That was second only to the whistling for me.
Give the devil his due though, despite that blown chance to win he stepped up on the next playoff hole (the 17th) and hit his approach to five feet. What a shot that was. Game over now, surely? Nope, the drama was just getting started as Cantlay hit an 8 iron to two feet. Wow. Just wow. As much as I was tired and was desperate to go to bed, this was compulsive viewing and I had to see it to its conclusion. The best golf of the year by far.
Bryson held his nerve and made his putt. Cantlay tapped in and on we all went back to 18 again. This time Bryson didn't find the fairway. He found the water hazard on the right. Advantage Cantlay, who found the middle of the fairway again. Cantlay then hit one onto the green to the kind of distance he'd been making them from all week. Bryson was on the ropes but he knocked a wedge to a few feet to save par.
Cantlay couldn't hole for the win and on we went again. I thought it would never end, mainly because Bryson's putting was beginning to look like mine. He was playing unbelievable golf tee to green but the putts were no longer falling and it was stressing him out.
Eventually Cantlay put him out of his misery by showing him how it's done and rolling in a 20 footer. Bryson had a chance to match it as once again he was inside Cantlay's ball, but once again he missed and that was that.
Cantlay said afterwards that the crowd were calling him "Patty Ice". Really? Do we believe him? That kind of smacks of him coming up with a nickname for himself and hoping he can put it out there so it catches on. Like Paul Ince calling himself "the Guv'nor" or that episode of Red Dwarf when Rimmer wanted people to call him "Big Man" "Duke" or "Old Iron Balls". I just can't see "Patty Ice" catching on but if it annoys Bryson then maybe it will.
There was clearly no love lost between the two of them and the handshake after 72 holes and then after the playoff was cursory at best. No words exchanged at all from either of them. Very frosty.
Cantlay was no doubt fuelled by Bryson asking him to "stop walking, Patrick" as he prepared to take his shot on 14. He was well within his rights to do that but, as with everything else, because it's Bryson it becomes a much bigger thing. Cantlay said they'd been told by the officials to speed things up so he was trying to do that, which is fair enough (Cantlay is even slower than Bryson). But if him walking was distracting Bryson then he's entitled to say something I guess.
It just added to the drama of it all and therefore I loved it. Bryson in contention on Sunday just gives tournaments a whole load more juice. Love him or hate him, either is fine and I see both sides of it, but don't ever try to tell me he's not the greatest draw in the sport currently because he is. By a long way. Golf is just more interesting when he's involved because he's the pantomime villain.
Afterwards he was obviously frustrated that he hadn't won but he still had the good grace to give his hat to a kid as he left the 18th. Then as he walked up the hill to get the hell out of dodge, some dope waited for him to walk past before shouting "nice job Brooksy". Wow, he's as brave as he is witty.
Bryson turned and started walking back towards him with fiery intent. Sadly he came to his senses and just told him to "get the F out" instead. I live for the day when he eventually snaps and just decks one of these hecklers.
It will happen. It's inevitable. I've seen it happen back when I was a kid. We had this big ginger lad in school who wore glasses and everyone would call him 'Beaker' from the muppets. The reason we all did it was because he'd often run after whoever it was that was calling him it, so it became like a sport. You'd taunt him until he lost it and came running after you.
I never did it because I thought it was cruel. Also because I wasn't a fast runner and I couldn't fight my way out of a wet McDonalds bag. Others did it though and I saw it happen plenty of times. The big lad never caught any of them though because there was a hole in the tennis court fence that was too low down for him to be able to get through quickly, so that's where everyone would make for as once you got through that gap you were free and clear.
One day, however, a lad tripped as he approached the fence and 'Beaker' was suddenly on him. We had often wondered what he would ever do if he caught someone and that day we found out. He kept running at full speed and then as his prey tried desperately to get back to his feet, he just booted him in the head. It was brutal. Everyone watching was shocked. No-one ever called him 'Beaker' again though. Not to his face anyway.
So if people keep goading "Beaker".. sorry I mean "Brooksie".. no, BRYSON, yeah I mean Bryson… he is going to eventually snap and rip someone's head off. And I for one am well and truly here for that and will defend his right to do it. If you keep poking the bear, even if it's a huge dorky bear, don't be surprised if you eventually get mauled.
The USGA have now said anyone who calls him "Brooksy" will be ejected. Hard to disagree with that, but I still think a better option would be to drag them out of the crowd, bend them over in front of Bryson and let him see how high a clubhead speed he can get with his driver. Honestly, it would soon stop.
You may have noticed I haven't mentioned a word about gambling this week. That's because all of my picks flamed out spectacularly. Sam Burns was the only respectable performance from my stable this week. I'm steering clear of next week because the format is so unusual I wouldn't know where to start. I'm rooting for Cam, obviously, but I'd like to see Rory build on this week's encouraging showing and I need Bryson to be in contention on Sunday just for the drama.
I don't want him to win but I don't strongly NOT want him to either as I just love the drama whenever he's involved. He posted another video to YouTube this week and it was as toe curlingly bad as ever.
It was titled "Heavy squats and shenanigans" which is just the most Bryson thing of all time. Actually no, the most Bryson thing of all time would have been "Heavy squats, shenanigans and whatnot". He's the only person in the world who uses the word 'whatnot' and I'm not gonna lie, I find it hilarious.
This latest video was him and his bros trying to to put together a basketball hoop and not being able to figure it out (some scientist he is). So instead they hired a handyman to do it while they pumped some iron and pulled each others shorts down. No really, that's exactly what happened and it's on YouTube if you don't believe me.
In fact, I'll save you the trouble of looking for it. Here it is…
The best bit is when Bryson tells all of us subscribers (yeah that's right, I subscribe, it's a guilty pleasure) "Thanks guys for your support. I'm going to keep giving you the best of me. Providing content. Providing knowledge. Interesting things that I do to get better".
Truly amazing. I don't think there has ever been a sportsman with less self awareness. I can't decide if I love him or hate him. It's a very fine line.
There was other stuff going on in the golf world this week but I've spent so much time on the Cantlay / Bryson duel I don't really have much room for it. Danish sensation Rasmus Hojgaard won his third European Tour Event and he's not even 21 yet. Pick him for the Ryder Cup, Padraig. Get him started early and pair him with Hovland.
Other golf news included Phil going off on one on Twitter about the USGA's decision to ban any driver longer than 46 inches. A fan replied to him saying any pro using a driver longer than 46 inches is being "gimmicky"."Are you calling the reigning USPGA Champ gimmicky?" was Phil's response. What a man.
Meanwhile, someone paid $333,000 for a putter that belonged to Tiger. He never used it, it was his back up putter for a couple of years, but someone paid that stupid money for it. Jesus. For that kind of money I'd want Tiger to deliver it in person and give me putting lessons whenever I needed. Given the state of my putting, he'd be better off moving in with me.
I'm just counting the days until the Ryder Cup now though. I can't wait. You've got beefs all over the place in that US team. Bryson and Brooks. Bryson and Cantlay. DJ and Brooks. If Reed gets in then that just adds to it as no-one really likes him. If they lose their locker room afterwards is going to look like a Royal Rumble.