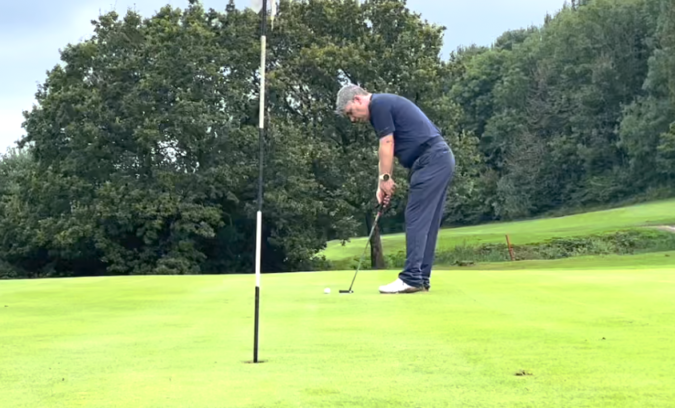 The last instalment of the diary was me crying like a baby about not being able to make short putts. Or medium putts. Or long putts. Basically I couldn't hole anything despite having a putting green in my front garden and practicing on it every day.
Have things changed? Initially yes, but ultimate no, not really. I've played two rounds since the last update, both at my regular course, Beacon Park. Two good scores but both left me feeling frustrated and thinking it should have been much better, mostly because of risible short putting again.
I had thought I was onto something after a lot of work on my putting green and in the first round I played following all that practice I made four or five putts from between 10-20 feet, which is frankly unheard of for me. The ones I didn't make were usually left within a few inches leaving me with tap ins, which again is definitely out of character.
I shot 77 that night despite dropping three shots on the last two holes. I'd be a lot more upset about that if I hadn't been playing them in near darkness. Playing golf in the dark is nigh on impossible. It was so dark on the 18th that a bat actually flew over my head when I was putting. Probably laughing to himself as even a bat can see how bad I am on the greens.
Up until the darkness (literal, not figurative) came it was going great. I was only three over after 14 but the light was quickly fading and it just got really hard after that.
When you don't know where your ball has gone it becomes a lottery, even with good shots. If you don't know what side of the fairway to look then you've got no chance of finding it if it's trickled off into the semi rough and it just adds to the overall stress of everything. Golf is hard enough in perfect light.
I three putted the last from about 12 feet but it was so dark I just couldn't get any feel for the distance or break so I didn't let that worry me too much. Overall my putting in that round was really encouraging, with one notable exception….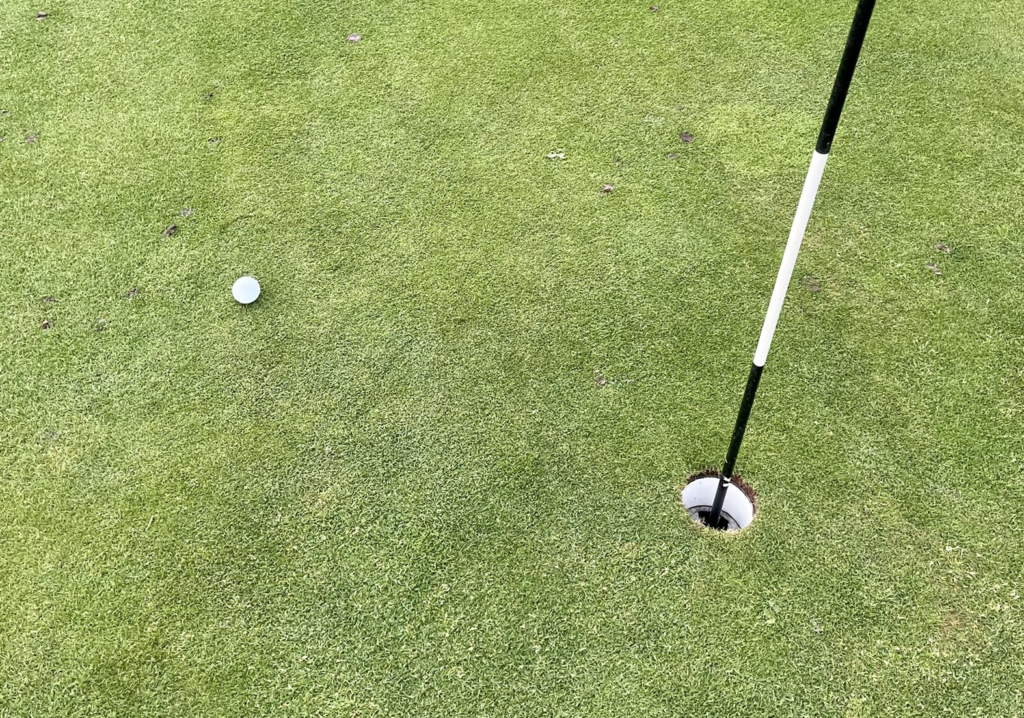 The above was where a six iron from 165 yards ended up. It was almost a hole in one. Incredible shot, I absolutely flushed it and it was over the flag the whole way. That was on the 11th and would have got me back to just one over par for the round. It was maybe two feet, possibly a little less. But when I got onto the green and saw how close it was the only thing I could think was "Oh God, what if I miss it?"
I took the photo as a memento of the approach shot, but I think I knew what was coming because I didn't ask my daughter (who I'd dragged out with me just to stop her from lying on her bed watching Tik Tok videos all night) to film it, whereas I'd had her video most of my other putts that night.
It is an undulating green but the ball was so close all I needed to do was play it left centre and hit it firmly. That was the plan but to my disgust it didn't even reach the hole. It ended up about four inches to the right and short. Disgusting, but that's what happens when all you can think of is the fear and embarrassment of missing.
My daughter was laughing her head off when I missed (from now on she can stay home and watch Tik Tok) but I was just distraught and I couldn't keep a lid on my emotions, yelling  at myself "You dickhead! You absolute dickhead! How can you miss that?"
I immediately put another ball down and rattled it in dead centre. I repeated this two more times, which merely added to the disgust I was feeling at what I'd done with the one that mattered. It's a tap in but I missed purely because my arse went. And I was furious with myself.
Now here's the thing. I've read so many times from players and golf coaches that when something like this happens you need to be able to move on immediately. Or 'shake it off' as a wise young woman once famously sang.
You can't change it, so just forget it and focus on the next shot. Jon Rahm was asked about something similar this week and he said "As Ted Lasso says, be a goldfish".
I couldn't though. I was steaming. I was more Ted Bundy than Ted Lasso at that moment. It didn't matter that I had a great score going and that I'd just made par on a hole I usually make a right mess of. I'd missed a tap in birdie putt which I hadn't even reached the hole with. What an absolute loser. That's all I could think.
I was distraught, disconsolate, angry, disgusted, full of self loathing, you name it I was still feeling it when I reached the 12th tee. Shaking it off wasn't an option as I knew it would be with me for the rest of the round, the rest of the night and probably the rest of the week. And I was right. I'm still stewing over it now two weeks later.
They always say not to let one bad shot lead to another so in a perfect world what I would have done was calm myself down, clear my mind and then just hit my next tee shot with 3 wood. There was no chance of that though. The red mist had descended so I did what they tell you to never do; I pulled out my driver and I said to myself "I'm going to smash this bastard ball as hard as I possibly can".
I often do that after a bad hole because the truth is I need to. Keeping it bottled up isn't going to help me at all, so I find that one massively hard swing to hit the absolute crap out of the ball can often help. Even if it doesn't find the fairway you've released some anger and tension from the body.
And this one went right up the middle with a touch of draw. It was perfect. Did it make me feel any better about the putt? Nope. It did release a lot of the anger though, which was important. So although this advice probably goes against everything that the actual experts would say, my tip when you're struggling with anger on the golf course is to reach for your driver and just try to kill the ball.
Forget all that Jedi nonsense about anger leading to the dark side. You know what leads to the dark side? Keeping your anger inside and shoving it all the way down, hoping it doesn't come to the surface. Let it out, swing for the fences. And if it doesn't work and it gets you into more trouble, well that's just more anger to fuel the next drive. I'm a firm believer in this.
I made par on that hole but I had to sink a 12 footer to do it. I was more confident over that 12 footer than I was over the 2 footer and it's definitely because there is no fear of missing a 12 footer. You're not expected to make it so if you do miss then there's no shame in it.
I scrambled for a really good bogey on the next with a great chip and putt, and then chipped to within a few inches to par the next. That's when the light faded. Some holes you can play in the dark, others are almost impossible, like the 17th at the Beacon. I finished bogey, birdie, bogey, double but at least two of the shots I dropped wouldn't have happened in proper light.
So a 77 which was nice, and plenty of good putts which made me think I was on the right track. Turns out it was a false dawn.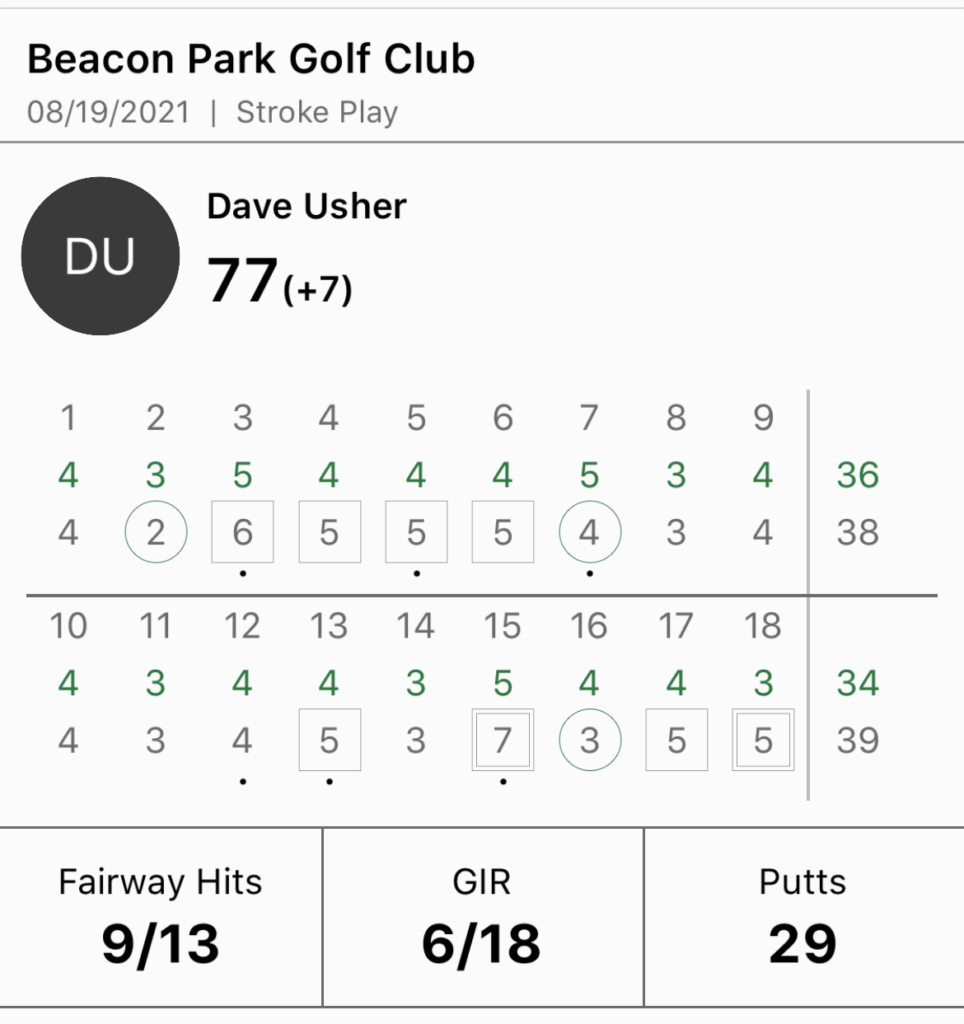 Next time I went out I shot 80 which included four putts missed from inside three feet. Three of them were inside two feet. Honestly, I missed three two foot putts and still shot 80. Even the ones I made had me sweating. For example, this was for birdie on the 3rd (my nemesis hole) after I'd hit a 7 iron to a couple of feet.
I mean look at the state of it. It so nearly missed and most of the others I had from similar distance did miss. How can something so easy be so hard? I three putted from six feet on the 7th. I mean seriously? I went from having a six foot par putt to walking off with a double. Scandalous.
I saw Viktor Hovland broke his putter last week and ending up using his wedge. At one point in this round I used my wedge to finish off from two feet, not because I'd broken my putter but because I rationalised it in my head that if I missed it with the wedge I had an excuse. It went dead centre.
Will I ever fix this? I don't think so. Not fully anyway, I've just got too much scar tissue on missing short ones. If I was playing me in matchplay I'd never concede ANY putt, no matter how short.
The rest of my game was really good. I hit one big fat 9 iron where the divot went further than the ball but other than that I barely made a bad full swing all round. Chipping was crap and putting was even worse though.
The most memorable thing about this round was what happened at the 11th though. The par 3 of the infamous missed two footer the week before. I hit 6 iron again and incredibly it's only gone and ended up about four feet away. Not quite as close as the one I missed a week earlier but nevertheless a chance to redeem myself. Could I do it, or would it be more shame and misery?
Take a look and see, and then I'll catch you next time.