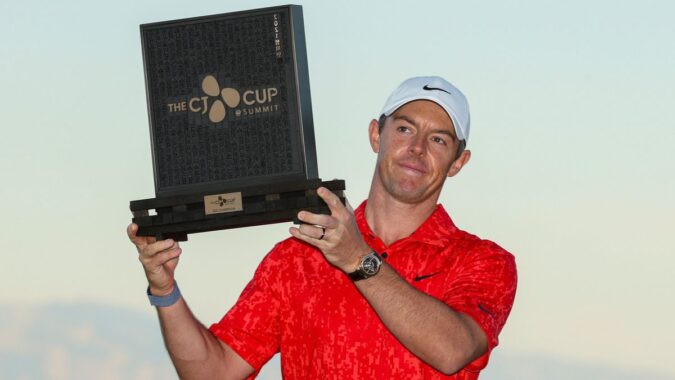 He's back! That must have been some pep talk of Shane Lowry's at the Ryder Cup because Rory not only went out and won his singles match at Whistling Straits, but he then went and won the next tournament he played in too. More than that, he looked like Rory f'in McIlroy again.
Can we make Shane player/captain for the next Ryder Cup? That's certainly preferable to Lee Westwood, who seems to be the favourite to succeed Padraig. It's not that I dislike Westwood, it's just for whatever reason I can't envisage him being a good captain. I don't even know why, it's probably unfair, but that's my gut feeling.
Whatever though, let's talk about Rory. Does this win mean he's turned the corner? I'm going to say "hell yes". Well he's turned 'a' corner. Whether he's turned 'the' corner remains to be seen but he looked like himself again and that's great to see.
That doesn't mean he's going to start reeling off majors again the way he did in his pomp but he looked really good this week and he's back into the world's top ten so that's a big step in the right direction. For his confidence if nothing else. He had his swag back on that back nine on Sunday.
Earlier in the week he said he believes when he's playing at his best he's the number one in the world. I think he's right but even if he isn't that's how he's got to think. That's how every top player will think. If you don't think like that you'll never be the best.
DJ, Rahm, Morikawa, Spieth, JT, Bryson, Brooks…. 100% they all believe they're the best. Not just them either. Everyone in the top 50 probably thinks if they go into a tournament and play their best golf they will win. This isn't the Tiger era when everybody out there – even Phil who was number two – knew that no matter what they did they couldn't win if Tiger played like Tiger.
Rory's best is better than everyone else's best, with only a few possible exceptions. So is this win something or nothing? When he won earlier in the year it was probably nothing but this feels different. I didn't think he looked that good when he won the Wells Fargo back in May. It was a course where he can win in his sleep and he played ok that week, but it wasn't the start of anything. This could be.
This was an easy course but Rory did not make many mistakes and he looked in absolute command of his game on the back nine on Sunday. He was hitting every fairway and he was holing putts. His iron play wasn't even that good but it didn't need to be, especially when he's completely overpowering par 5s and getting easy birdies and eagles. That's such an advantage over probably half the field.
On 14 he hit a 3 wood 340 yards and almost all of it was carry. Rickie Fowler was equally impressive, smashing his driver miles and still hitting virtually every fairway. Contrast that with the third member of the group, Abraham Ancer, who was taking driver off every tee and absolutely swinging out of his little shoes just to stay within a hundred yards of them. That takes a toll and Abe just never really got it going at all.
Length is such an advantage and Rory has it. When he's also got his accuracy there and he's holing putts it's almost impossible for the shorter hitters to stay with him as you need to be virtually perfect to have any chance. Poor little Abe just looked worn down on that back nine from trying to stay with Rory and Rickie.
Golf purists don't like really low scoring but I get a real kick out of it when players are shooting 62. I don't want to see it every week, but any time there's a whiff of players maybe breaking 60 I'm all in on that and I don't care about how 'easy' the course is. You've still got to hit it close and hole the putts. There were countless low scores this week so I was riveted to this one all the way through.
Keith Mitchell flew out of the traps with a 62 followed by a 64. Its crazy that he was -18 after two rounds and still didn't win. He shot 73 on Saturday which killed him, before a 67 on Sunday got him back into the top three. The problem for him was that on Saturday when he was shooting one over, Rory was posting a 62 and Fowler a 63.
That set up a last day showdown between a pair who have been friends and rivals since they were teenagers on the Walker Cup. Fowler had a two shot lead going into Sunday and I kept thinking how ironic it would be if he won considering how much I ripped him for not winning when I'd bet on him a couple of months back. Now I had money on Rory and it was Rickie standing in the way.
Except it didn't turn out that way. Rickie faded away on Sunday as Collin Morikawa came roaring through. The Open champ was -7 on the front but thankfully he cooled off on the back nine and stopped making putts. He did eagle 18 and shot 62 but by that point you could see Rory was completely dialled in and there was no way he wasn't winning.
The course was way too easy for players of this level but I thought it looked amazing. I'd absolutely love to play there but the problem is I'd rather drink petrol and piss on a bonfire than go to Vegas. It's basically Blackpool on steroids. I'd rather go anywhere else in the US than Vegas. Unless I was flying in just to play that course and then flying straight back out again, in which case sign me up.
I understand why a golf of golf fans don't like seeing tournaments played on courses where it's so easy that it turns into a putting contest, but neither Rory nor Morikawa are known for their putting and they were one and two here. Even Rickie, who is known for his putting, didn't even putt well this week. The rest of his game was dynamite though and that suggests he may well be back on track now. I won't be betting on that though, been there done that.
A nice win for me and Rory though. £57 for me and a whole lot more for him, but that's ok as he did most of the heavy lifting. I'm not betting this week as I don't have any strong feelings about it. If there was a gun to my head and I had to choose I'd pick Hideki, but I've learned in recent months not to bet if I don't feel good about anyone.
One final point on this. That putt on 18 by Seonghyeon Kim that horse shoed on him and then eventually dropped in after 20 odd seconds of him standing there willing it to fall. How did the commentators not pick up on that being a rule breach? How did the player himself not know? I'm far from being a golf rules expert but even I'm sat there saying "nah, you can't wait that long lad. That's going to be a penalty". The first thing he should have done is get a ruling on that before signing his card.
Instead, he signed for a birdie even though it was always going to be changed to a par. He's lucky he was only given a one shot penalty and not disqualified for signing for an incorrect score. I just can't get my head around how he thought that was ok, or how the commentators didn't think it was a problem.
A putt that will leave your head spinning … especially if you wait until the end. 😵‍💫 pic.twitter.com/PQeoIgfJPv

— PGA TOUR (@PGATOUR) October 17, 2021
Meanwhile, over on the Euro tour, Matt Fitzpatrick came through a gruelling test of golf to win the Andalucia Masters at Valderrama.
I proper jinxed Rahmbo last week didn't I? "He's too good to play twice in Spain and not win" I said. I backed it up with hard cash too, throwing a fiver on him to win before he went out and shot the worst round of his pro career on Thursday! He wasn't that much better on Friday either.
Rahm clearly needs a break but it says a lot about him that he's shown up to play these events in his homeland. He's aware of how important he is for golf in Spain, so good for him for playing and for taking the time to sign all those autographs as well. Top man. Not all golfers are like that. Take Tom Watson for example, the ignorant old duffer. Yeah that's right, it might be 30 years ago but I'm not letting it go. Ever.
My other pick at Valderrama fared even worse than Rahmbo. Adri Arnaus had been beaten in a playoff the week before but he missed the cut by a mile after carding two scores (77 & 80) that even I'd be a little underwhelmed by. I won't be betting on the Euro Tour again as clearly I have no feel for it whatsoever, plus I don't enjoy watching it.
I tried watching. I tuned in for a bit on Thursday and saw Robert McIntyre hit an iron 263 yards into a green protected by water. He flew the water and landed about 8 feet from the pin. 263 yards, with an iron, off the fairway. It's genuinely incomprehensible what these fellas do at times. That was the only thing I enjoyed though I couldn't really get into it.
I reckon it was the course you know. I realise that people buzz off Valderrama but it just wasn't doing it for me. The players seemed to be finding it really hard and the scores were high. It was a real slog. That's fine in a US Open but it just isn't capturing my interest when I'm tuning in wanting to see great shots and birdies. Doesn't help when my two bets flamed out massively either of course.
I'd probably feel differently if the field was better. Put the big names from the PGA Tour in this event and I'd probably view Valderrama in a different light, but watching a B list field on a crazy difficult golf course just doesn't get my juices flowing.
You know what does get my juices flowing? The response of European golfers since losing the Ryder Cup. We've had victories for former players looking to get their place back (Willett and Cabrera Bello) and this week we had two members of the beaten team bounce back with wins. Others had solid showings too as Hovland, Hatton, Poulter, Sergio, Casey and Fleetwood were all -15 or better at the CJ Cup.
You know what, screw it. I'm off to bet the house on Tommy winning the Zozo this week.