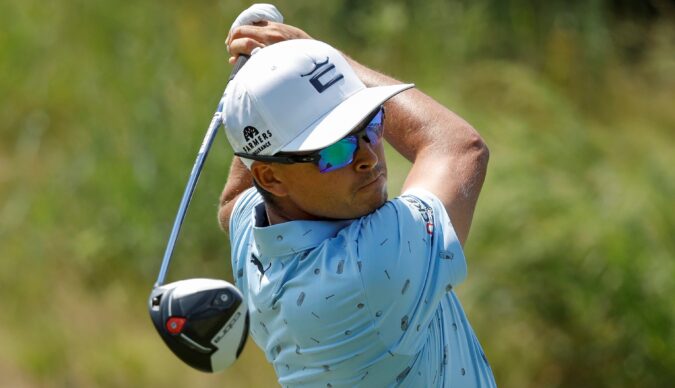 The big news in golf this week was Jon Rahm and Bryson DeChambeau being forced out of the Olympics after testing positive for Covid 19.
In Rahm's case this feels like a much bigger deal than is being reported. How can he test positive twice in seven weeks? That's not normal, so why is this not being questioned more? The news narrative is basically "yeah he's tested positive again, he's out" and that's it. I need more.
Assuming the test results are accurate then has he had it twice or is this just one prolonged bout of it? Either way I feel like this is significant because it goes against everything we know about Covid. Aren't we supposed to be immune for several months after getting it? And isn't it meant to be out of our system after 10 days?
Rahm famously tested positive at the Memorial in June and was informed of it as he came off the 18th green after completing his third round. He had a six shot lead and was blowing away the rest of the field and that forced withdrawal cost him a cool $1.7m.
So he isolated for a week, came back to win the US Open, had a top ten finish at the Scottish open and then tied for third at the Open Championship last week which took him to number one in the world rankings. He would have been a strong contender for Olympic gold but once again he's got to self isolate. There's just something very fishy about it.
After his US Open win Rahm said  "I've got it all. I had it, I got the antibodies, got the vaccination. I feel invincible at this point."
I know exactly what he meant. I had Covid back in March 2020 and when I eventually recovered and passed the antibody test I felt like Superman for a while. Covid can't get me now, I'm immune. That kind of thing. At least that's what I thought at the time because that's what we were told.
But if Rahm has it again, then WTF? Shouldn't this be headline news and not just in the golf world? And if he doesn't have it, then how come he tested positive three out of four times? Maybe he didn't have it the first time back at the Memorial and that one was actually a false positive?
I've googled it looking for the answer and virtually every report simply says he's tested positive for a second time and is out of the Olympics, but they aren't explaining how this can even happen. How come no-one else seems bothered by this? It's doing my head in.
DeChambeau has also tested positive for Covid and that has robbed us of something potentially truly magical. Seriously, just imagine Bryson with an Olympic Gold Medal. I like to think he'd go the full Kurt Angle, wearing that thing everywhere he goes and referring to himself as an Olympic hero (albeit a very humble one, obviously). Now that dream has sadly died and I'm probably more upset about this than Bryson himself.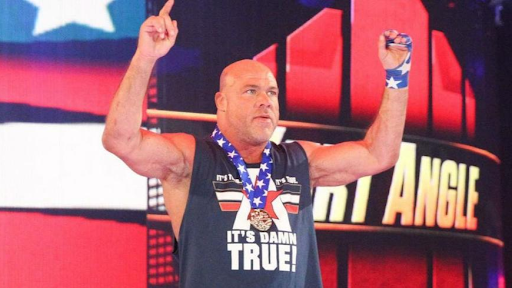 Some people believe that everything happens for a reason and maybe that's what this is. Covid has caused so much pain, suffering and disruption so this could just be the human race fighting back; "Here you go, Covid, try him on for size. Payback's a bitch!" A week isolating with Bryson might be too much even for the Corona Virus.
Of course because it's Bryson there are all manner of conspiracy theories doing the rounds. Did he really have a positive test or did he just not want to go and wanted to avoid the negative publicity of pulling out? Is this to avoid being tested for doping?
I'm just waiting for a Brooks tweet along the lines of "we know the real reason" accompanied by a load of needle emojis. That's not as far fetched as you might think, he has made steroid jibes before. Under-rated tweet that one. Anything with Kenny Powers in it is a winner.
Every cloud has a silver lining though and Bryson's spot has been taken by Patrick Reed, so we can all live in hope for some kind of cheating scandal to keep us all entertained. Reed has his critics but you won't find me among them as he makes life interesting, especially with his mad wife and her random social media outbursts.
On the course we had a lot going on this week. There was the Senior Open Championship, a major on the LPGA Tour, a European Tour event and the 3M Open over on the USPGA Tour. I'll be honest, I don't have the time or motivation to take in much televised golf so I tend to prioritise what time I do have with watching whatever is happening on the PGA Tour, and usually that's only because of betting interest.
This week I had money on Rickie Fowler, Matt Wolff and Bubba Watson. After round one I was sitting pretty with 45/1 shot Fowler leading after an opening round of 64. I had felt good about Rickie going in as he's been coming back into form recently and ended the Open with a 65 on Sunday.
So when he led after round one I was smelling myself a bit too much and feeling a bit too self satisfied. Then he did nothing in the second round and slipped down the leaderboard a bit. Ok, disappointing, but we're only a couple of shots back so no need to panic.
On Saturday he came out firing and at one point he was -6 for his round and leading again. I was playing golf myself that evening so I was only occasionally checking my phone for updates on how he was doing. I saw he had the lead and then didn't check again until I got home after my round. To my horror he wasn't even on the first page of the leaderboard.
I double checked as I thought I must have just somehow overlooked him. Nope, he's not there. Turns out he played the last six holes in +5 and had a snowman on the 18th. Not gonna lie, I was fuming. Still am.
There's nothing like gambling to make your view of a player change. I was rooting for Rickie to get his career back on track but he's in my doghouse now.
Rickie is the Paul Pogba of golf. Loads of hype surrounds them both but they're much more marketable than they are successful. You watch them play and wonder what all the fuss is about and where does that hype come from? Bright clothes and silly haircuts, that's where. Kids love them so those endorsement deals keep on rolling in and their faces are everywhere, regardless of how they perform.
You know I'm seriously down on Rickie when I'm comparing him with Pogba. In my world that's as damning as it gets.
The tournament was won by Cameron Champ who is known more for his long hitting than for his overall game. He's won three times on tour now though, which is considerably more than some of the bigger names I could mention if I wanted to be mean. I'm better than that though so I won't name names.
*cough* Oosthuizen *cough* Finau.
The thing is, there's just so much depth on the PGA Tour you never know who's going to win from week to week, other than that it won't be Louis or Big Tone, obviously.
The depth is greater than it's ever been and there are lads not even on the tour who would be capable of winning if they could actually get in.
Will Zalatoris was a Korn Ferry Tour player when he finished sixth at the US Open. He finished second at the Masters too, although at that point I think he was playing regularly on the main tour. The point is, he went from a nobody to top ten in majors in the blink of an eye.
There's so much talent out there it's just ridiculously competitive, which is great from a gambling perspective as there are high priced winners every other week. If you hit on one you can win big, but it isn't easy.
Look at the leaderboard in any given week and there'll be names you've probably never heard of because there is just so much quality out there. There were several very big names in in the 3m Open but Louis was the only one of them who really showed up.
He added another runners up spot to his collection but this wasn't a hard luck story or any kind of bottle job. He was never really in this tournament but he posted a score on Sunday and then others started falling by the wayside. He actually lipped out with an approach shot on 18 and if that had gone in it may have given Cam Champ a more nervous last few holes. But it didn't and Louis was second again.
Other big names who came up short were Finau, Reed and Sergio Garcia, while Bob McIntrye, world number two Dustin Johnson and my guy Stewart Cink (a 125/1 winner for me earlier this year, so he's like the anti-Rickie to me) all missed the cut.
Speaking of DJ, I caught a couple of hours of TV coverage on Friday night and saw him hit a bunker shot that went about 40 yards over the green. It was amazing, he got nothing but ball and airmailed it miles over the green and then had to play a massive flop shot out of rough and over a big tall tree just to get on the green. I love it when the pros make the same horrific shots that I do. Just gives me a nice warm glow.
In other golfing news this week, Jason Kokrak signed with Saudi Golf. I know virtually nothing about Kokrak other than I see his name on leaderboards regularly, but clearly this shows he's probably not someone you want to root for. When you look around and the only person standing with you is Gary Player, that ought to be a red flag for any rational thinking person.
Finally this week, I want to give a plug for Max Homa's podcast. Love it. I doubt there's a more likeable player on tour than Max and his podcast is refreshingly honest and open. He'll tell you his every thought and doesn't talk in the usual golf clichés.
When pros do post-round interviews it's generally just the same standard, stock answers. "Tee shot go away from us a little at 14 and we made bogey". "Just couldn't hole enough putts". "Golf course was playing tougher because of the wind so we just had to grind it out" That kind of thing.
That isn't a criticism, it's just how it is. They need to be short and snappy with answers as time is of the essence, both for the broadcasters and the players who generally want to do their duty and then get the hell out of there.
Max has his own podcast though so you get a deep dive into what happens, what his mindset was, how he reacted to specific situations, that kind of thing. Basically you get an honest account of everything that happened to him that week and it's brilliant. I can't get enough of it. Listening to him describe his double bogey on the opening hole of his very first Open sounded like me talking about a bad hole at my local course. So relatable.
I love listening to Max's experiences because he's so open and enthusiastic about everything. The other week he played with Bubba Watson and the insight he gave us on that was just fantastic. He described him as "the best 'golfer' in the world" which was surprising to a casual fan like me, but pros are judging it differently and the gist of what he was saying was that Bubba is just playing shots that no-one else would even consider and he's pulling them off just because of an outrageous talent.
When I listen to pros talking I want to hear things I don't already know. I want to be educated and to feel like I know something now that I didn't before. It doesn't have to be earth shattering stuff or some kind of magic tip to help me hole more putts. It could be anything, just something the average fan is not going to know. Max brings that kind of content every week without even trying.
Along with No Laying Up it's the highlight of my listening week. Give it a go, it's well worth it.
One more thing, I've got a strong feeling that the Olympic Gold Medal is going to one of the South Korean lads as they've got more incentive to win than most. Finishing in a medal position earns them exemption from two year's national service and both of them skipped the Open to prepare for this event, which let's face it you would do if it meant getting out of a two year stint in the army to stay on the PGA Tour.
So I'm betting on both Sungjai Im and Si Woo Kim because at least one of them is getting a medal, if not both.
And if not, they can join Rickie in my doghouse.