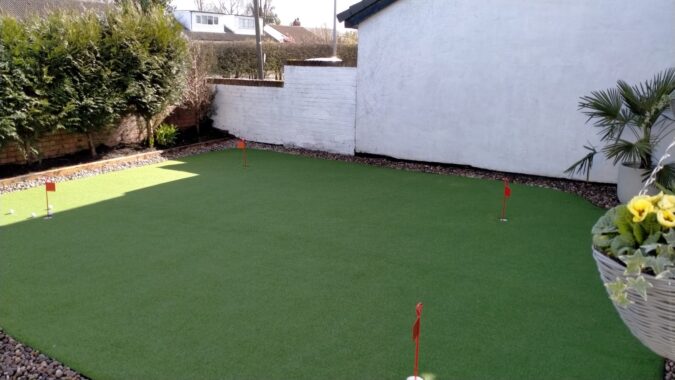 I've got a mid 70s score in me and it's coming soon. I can smell it. *sniffs* Can you smell it? I can smell it. I'm hitting the ball as well as I ever have and turning the front driveway into a 7mx7m putting green is finally starting to pay off as I'm no longer having 40 plus putts per round.
I've had chances to post a couple of rounds under 80 but the pressure just wears me down. Every round I play is marred by a couple of bad holes that wreck my scorecard and it's usually the same stupid mistakes that kill me. Lost ball to the right from a wild drive, three putts, duffed chips. It's always the same. Sometimes it's all three on the same hole.
I recently played Hurlston Hall which last week hosted the North West Masters. You may be aware of that because Peter Finch played in it and we all love Peter Finch, right? No? Well I do anyway, he seems like a top fella. So Pete shot 72 at Hurlston which is only 10 less than I shot a week earlier. I should be pleased with a round of 82 on that track but it's hard to feel good about it when I needed two pars for a 78 only to finish with a seven and a six.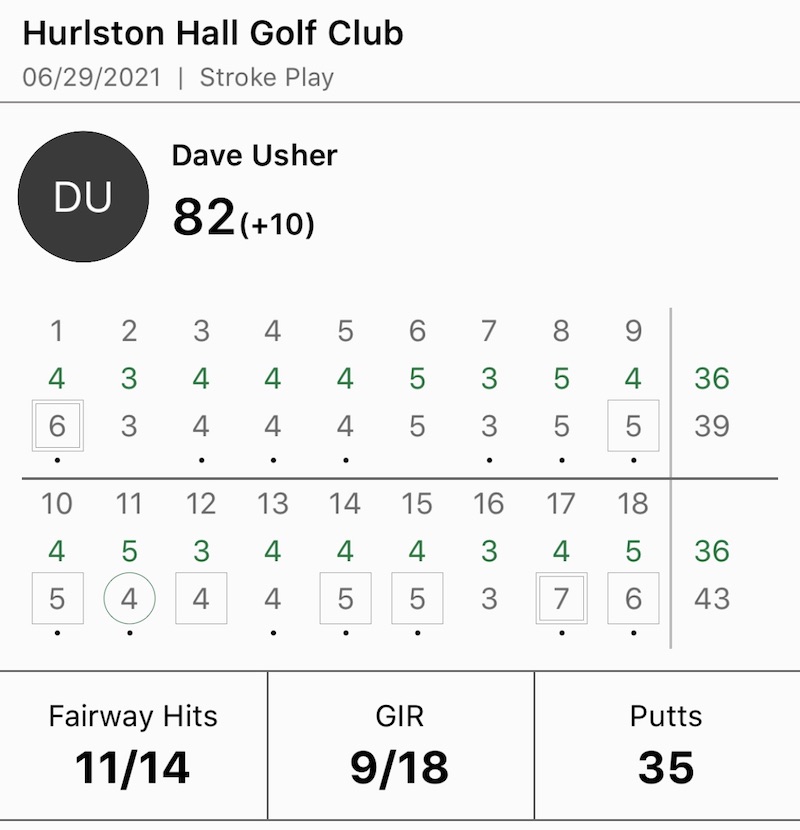 The worst part is I was actually green side for two on the 17th and then took five to get down because the old familiar failing I have of thinking I'm Phil Mickelson reared its ugly head. Bump and run, maybe hole the putt, at worst walk away with a five and then par the last for a 79. But no, the little Phil in my head says "lob wedge, open the face, fly that bad boy all the way to the flag". So I did. And I airmailed the green and ended up on the cart path, having short sided myself and needing to play another flop shot over a bunker.
And of course I always compound any bad situation with an obligatory three putt, so that triple meant I needed an eagle on the last two break 80. I've only had one eagle in my life but that didn't stop thinking I could pull it off. After a good drive that went about 250 up the middle I still had 240 left, which is about 30 yards out of range for me with a fairway wood. But that's not going to stop me thinking "I might get there if I catch it good".
Did I get there, I hear you ask?
Narrators voice: He did not get there.
Unless by 'there' you mean the pond that was 80 yards in front of me. In which case I most definitely did get 'there'. The funny thing is, and I know you can all relate to this, I felt like a made a good swing with that three wood and I immediately looked skywards expecting to see it flying off towards the horizon. No sign of it. I then see it hurtling along the ground as though I'd hit it with the putter.
I swear it never lost contact with the ground at any point after leaving the club face. It was bizarre, I couldn't do that again if I tried, but then 3 wood off the deck is one of the weirdest shots in golf. Sometimes you top the ball and it doesn't even feel like a top. Any time you see a pro top the ball, 99% of the time (and this is a genuine 99% and not a Bryson 99%) it's with a fairway wood. I don't know why it is, but 3 wood off the deck is pretty much the only club in the bag most people will top. See Justin Thomas at the Scottish Open last week. I remember Jon Rahm doing it at the Masters last year too. So at least I'm in good company.
I salvaged a six but the elusive sub-80 round eluded me (I've done it once before when I somehow shot 73 a few years ago on Kirkby Golf Course) but it's definitely coming. I played nine holes (on different courses) three times last week and was +4 twice and +6 (including a horrific triple). So if I'd gone on to play the full 18 I'd have been in contention to break 80 but would probably have soiled myself down the stretch again.
Big news though. I did actually have an eagle putt last week. It's nearly thirty years since I had that sole eagle of my 'career' because it's a real struggle for me to reach par 5s in two. The first at Aintree is reachable though with a tailwind and it was blowing strong the day I played. Nice drive, 3 hybrid right down the pipe and rolled 12 feet past. So a twelve foot eagle putt that I left four foot short. Thankfully I made the birdie putt but that pathetic attempt at a rare eagle is going to haunt me for a while.
The final round of the week came at Berrington Hall in St Helens and once again I pissed down my own leg when on course to break 80. I overcame a bad start (+4 through 3 holes) to somehow play the next 10 holes in one under. Then I had four sixes over the last half dozen holes to end up with an 82.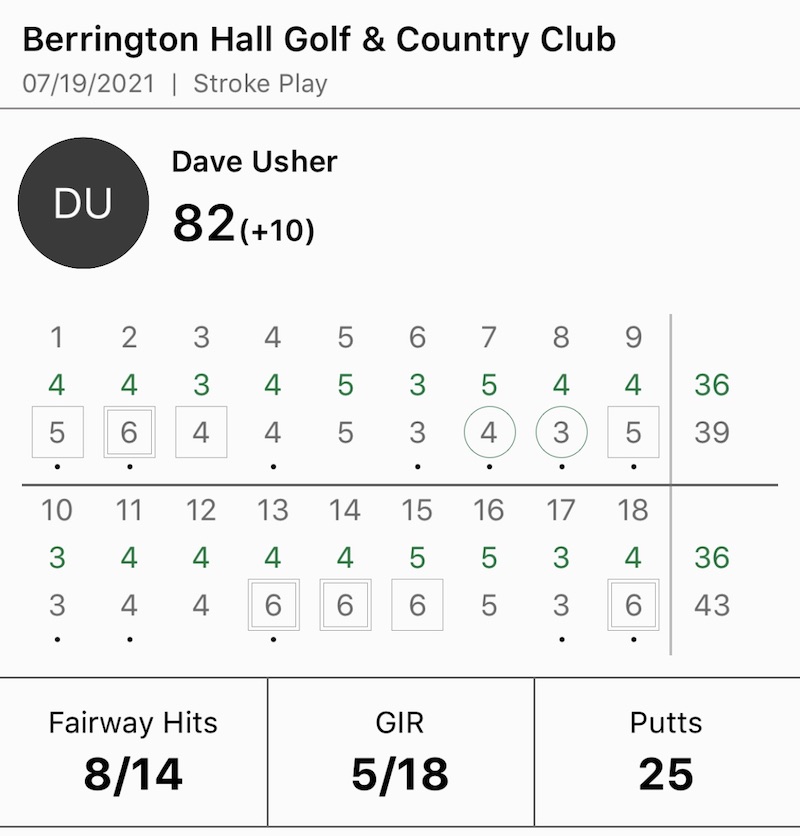 The frustration is getting the better of me now and I came close to doing a Tyrrell Hatton on the 18th when I duffed consecutive pitch shots on the way to a double on a 230 yard par 4. I couldn't decide whether to snap the club or hurl it in the pond but that indecisiveness bought me enough time to come to my senses. Hatton doesn't have to pay for his own clubs, I do.
Finally, I played in the British Open this week and followed up my good showing in the US Open at Torrey Pines last month with another solid outing. What am I on about? The Toptracer 9 hole challenge, which is a worldwide  competition run across all Toptracer enabled driving ranges.
Basically you hit nine approach shots of varying distances and the Toptracer tech tells you how far away from the pin each shot is and that is your score for each particular hole. So if you're 10 feet away, your score on that hole is 10. Lowest total score wins.
It's a great way to practice because instead of just machine gunning balls out there with the driver you're using a different iron with each shot and you have to focus more. The problem is it's incredibly addictive and when you post a score the only way it's ever going to go is down, so if, like me you post your score early in the week you have to watch your name slide down the leaderboard as more and more people take the challenge worldwide.
I posted a good score on Monday and then went back on Sunday to try and beat it. I failed, because it's bloody hard and one bad shot will totally sabotage your score. I did beat my nemesis 'stehargreaves' though. I say nemesis but I have no idea who he is, I've never met him, but he had the best score at Aintree for the US Open and I was second, and as Michael Jordan would say, "I took that personally". Not exactly Brooks v Bryson I know, but still, 'eff you' Ste Hargreaves, whoever you are.
These comps are great fun though, and the 9 hole challenge doesn't just run for the four majors so if there's a toptracer enabled range by you then give it a go as there are similar challenges all year round.