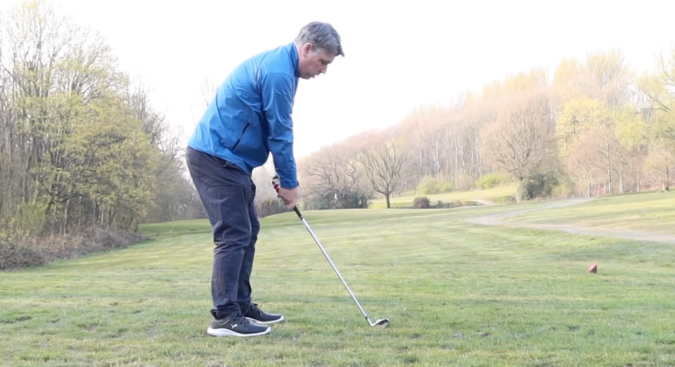 I said last week I could smell a mid 70s round coming and guess what? It still hasn't. I did break 80 though. Only just, but I did it. I've been knocking on the door of a score starting with a '7' and last Saturday I just sneaked in through the back door with a 79.
I'm pleased about breaking 80 but that 79 felt like it should have been lower. But then I suppose we can all say that about every round we play can't we? There are always shots we can look back on with regret and wish we could have them back.
Realistically I'm not good enough to justify feeling disappointed about a 79 but considering I missed birdie putts from 3, 6 and 8 feet it's hard not to think about what might have been.
Then again, I did hole one from about 50 foot on the fourth and that was one that I won't forget in a hurry. Not because I holed a monster putt, more because of how it went in. The greens at Beacon Park are slower than Wayne Rooney doing mental arithmetic so to get the ball to roll 50 feet with the putter I basically had to swing it like I was hitting a 3 wood. The benefit to the slow greens is that they don't break too much so I just aimed straight and gave it a good old smack.
It was on line the entire way and never deviated even one millimetre. It reached the hole and then…. stopped on the lip. There was a fella out walking with his wife and dog and I heard him say to his missus "wow what a putt that was". It was a great putt, but it didn't go in. It was just sat on the edge, not moving as I stood there, crestfallen.
It reminded me of my daughter's first swimming lesson when she was stood on the edge of the ball, toes hanging over the edge, terrified to move any further. The main difference there was I didn't have to add a stroke onto my score when I pushed my daughter into the pool.
So I walked towards the ball, very slowly. I didn't think for a second it was going to topple in (I'm not that lucky) but I was going to give it as much of a chance as I could. So I strolled down the green slowly, cursing my misfortune and generally feeling a bit sorry for myself as I was coming off a double on the third that really could have been much worse had I not somehow found my ball that was deep, deep into the trees. And then in she went.
I was overjoyed. I looked over to see if the fella walking his dog had seen it. He hadn't, but I felt like he needed to know as he'd been impressed with the initial effort. So I shouted over to him "did you see that?" "See what?" he replied. "The ball fell in as I walked towards it. It's a birdie!". "Nice one lad, that was a great putt. Those are the ones that keep you coming back".
Exactly. It's the little things like that which make golf worthwhile. For the minute or so between that ball going in and me pulling my tee shot on the next hole, I felt like I was on cloud nine. I was playing on my own and didn't really have anyone there to share the experience with, so I rang a mate and then I rang my daughter. Pretty sad really, but what can I say, I was excited about it. That kind of thing doesn't usually happen to me.
After 10 holes I was still just two over, but I sensed trouble coming because I missed a three footer for birdie on the short 8th (almost had a hole in one there) and a six footer for birdie on the 9th. The stretch between six and eleven is where you need to make your score on the Beacon as they are fairly easy holes. I missed those short putts though and was level on that stretch until I needlessly doubled the par 3 11th.
This is where the pros have a big advantage over the rest of us. If I'd have had a caddie on the bag I'd never have doubled that because a caddie would have saved me from myself.
It's a really easy hole, especially in the summer when the fairways are running fast. All you have to do is hit a shot onto a big bank on the right and it will just roll down onto the green. I've played that shot so many times. 7 iron onto the bank and let the slope take it down.
Except this time the pin was on the left of the green and I knew that usual shot wouldn't have got close. It would get on the green and then I could two putt it and walk off with a par, but I got delusions of grandeur and reached for my 4 hybrid, with the intention of flying it all the way to the flag. I hit it well but pulled it about six yards off line, it caught the bank on the side of the green and kicked down into deep rough. I hacked out, then duffed a pitch that didn't even make the green and just like that, two shots gone. What an absolute dickhead.
That was the start of the expected collapse. It happens every time I'm on pace to break 80. Last week I was +3 through 12 holes and then played the last six holes in +7. It's what I do, and it looked like I was going to do it again as I then went bogey, double, bogey. It was slipping away from me and although a par on 15 steadied the ship a little, I then missed a four footer and bogeyed 16 which meant I had no more breathing room.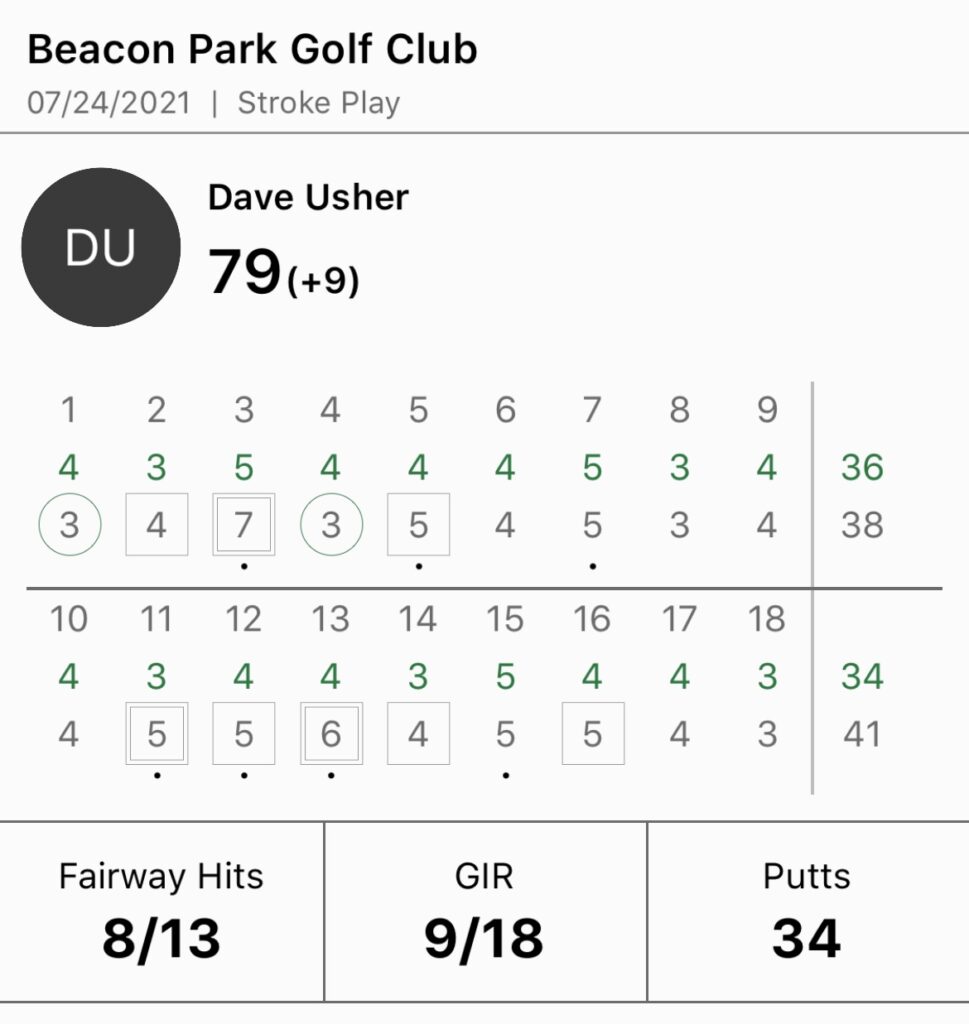 I knew I needed two pars to break 80 so the pressure was on. This time I held my nerve and did it. I say held my nerve, but that's not strictly true. I hit a bad tee shot on 17 that hit a tree and somehow bounced back perfectly into the fairway. Got away with one there, but I should have birdied 18 as I hit a gap wedge right over the top of the flag and then didn't even reach the hole with my eight footer. Slow greens you see, but a par was all I needed.
My recent run of good form has brought my handicap down from 14 to 11 so the next target is single figures. To get there I'll need that round in the mid 70s, but it's coming. I can still smell it. *sniffs* Can you smell it? I can smell it.