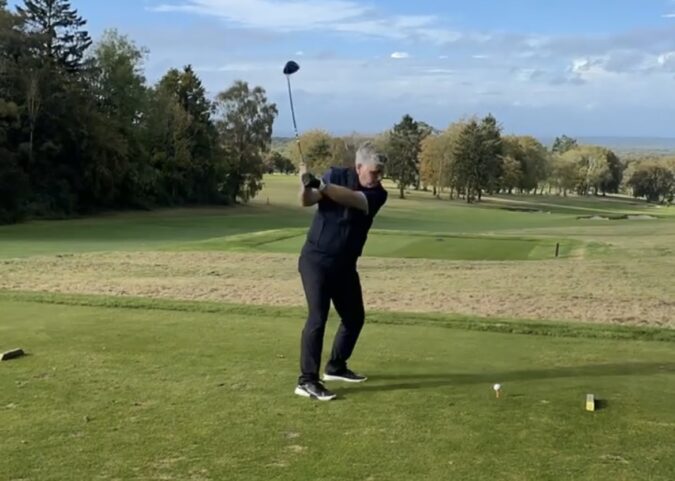 All this time I thought I was a terrible putter. I've written about it on here regularly, I've shared on social media my misery on the greens and whenever golf comes up in conversation with anyone it's usually only seconds before I'm talking about my struggles with the flatstick. I even turned my front garden into a putting green to try and fix the problem.
Last week I played 18 holes with a former European Tour player and I discovered that, despite taking 40 putts in a score of 88, I'm not a bad putter. That's the good news. The bad news is that it turns out I can't read greens. I'm not misreading them a little, I'm waaaaay off. If there's a form of dyslexia when it comes to green reading, then I've got the most serious case imaginable.
So how did I make this discovery? It's an interesting story. The venue was Effingham Golf Club and I was there with the rest of the Golf Monthly team for the winter testing day. A couple of items I was testing were the IB Sweet Spot putter and the new TaylorMade Spider Tour putter.
In my group was Joe Ferguson, a Golf Monthly team-mate and a pro who used to play on the European Tour. I told Joe beforehand that I was a nine handicap player but I think if I could get my putting to something above average I could knock four or five off that. I wasn't entirely convinced I was right, but I'm hitting the ball so well these days it didn't seem like such an outlandish claim.
So the round gets underway and I get off to a decent start with a couple of pars. Then the putting problems rear their ugly head. I was using the IB Sweet Spot to start with, and without going into it too much (I'll have a full review on Golf Monthly as well as on here) it's a putter with a tiny head which requires a lot of focus if you are to find the centre of the face. That's the logic behind it, it forces you to be locked in on your stroke and concentrate on hitting out of the middle, because middle is all there is. The face is not even as wide as a golf ball, see below.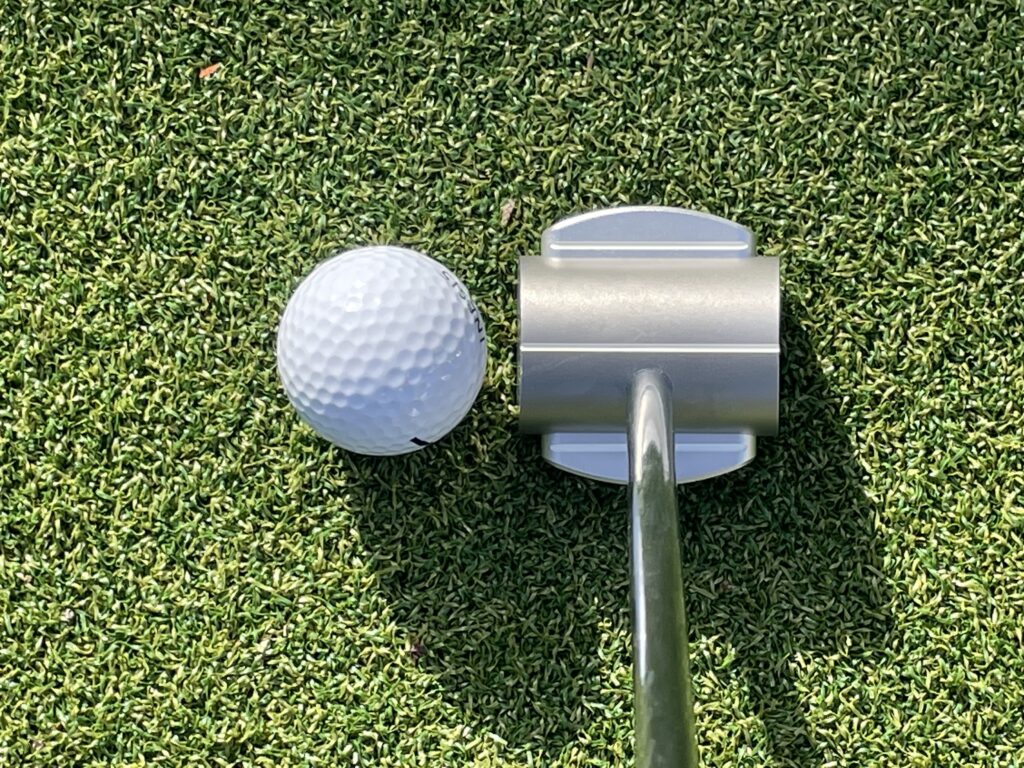 So anyway, I love this putter from inside of ten feet but it was a big problem on longer putts. There were a few reasons for that. Firstly, the greens were incredibly slow and not in great condition. Putts were jumping all over the place.
Secondly, the putter is really difficult to use on long putts. Again, without going into it in too much detail, the reason it works on the short ones is the reason it's so difficult on the long ones. A pendulum motion is great on shorter putts, but when you have to 'hit' a putt rather than just 'stroke' it then that tiny face begins to look even smaller.
And thirdly, I can't read greens. That didn't account for the amount of putts that didn't even get halfway to the hole (points one and two cover that) but it did explain the ones that were a foot or two offline.
I did knock in a couple of birdie putts from six and eight feet, and like I say I loved it from short range, but the putting was an obvious problem just as I had told Joe it would be. Initially he thought it was because of the putter I was using and kept trying to persuade me to ditch it for the Spider. I told him that this was not unusual at all and it's basically just a standard round of golf for me, regardless of which putter I'm using.
At some point early in the back nine Joe has seen enough and walks over to me as I lined up a putt. "Dave, tell me what you are seeing here" he says. "I'm seeing it as a couple of inches outside the left edge" I reply. "No, it's eight inches from the right". And so it was. I didn't make it, but it was a lot closer than it would have been if I'd gone with my read.
Onto the next hole and again Joe asks what I'm seeing. "Straightish, maybe a little from outside the left" I answer. At this point all three of my playing partners stop what they're doing and I hear them all yelling "SERIOUSLY???"
"It's a foot and a half outside the right, might even be two feet. How are you not seeing that?" asked an incredulous Joe.
I don't know how I wasn't seeing it, but I just know I wasn't. It did break around two feet. I nearly holed it and missed just on the low side. It was a really nice putt though. Joe then gets me to look back down the fairway at the lay of the land, and then back at the green. There's a massive slope on the fairway, I could see that, but I couldn't see it on the green. It's kind of worrying as I'm not sure there's any fix for this. At least my putting stroke isn't the problem though, so that's a relief.
It was at that point Joe tells me that my putting stroke is fine, there's nothing wrong with my technique and the reason I think I'm so bad is because I'm often not giving myself a chance as I'm starting everything on the wrong line.
He later told me that I hit the ball like a four or five handicap player but I lose too many shots around the green. That's what I had thought beforehand but it was nice to have that confirmed by a professional.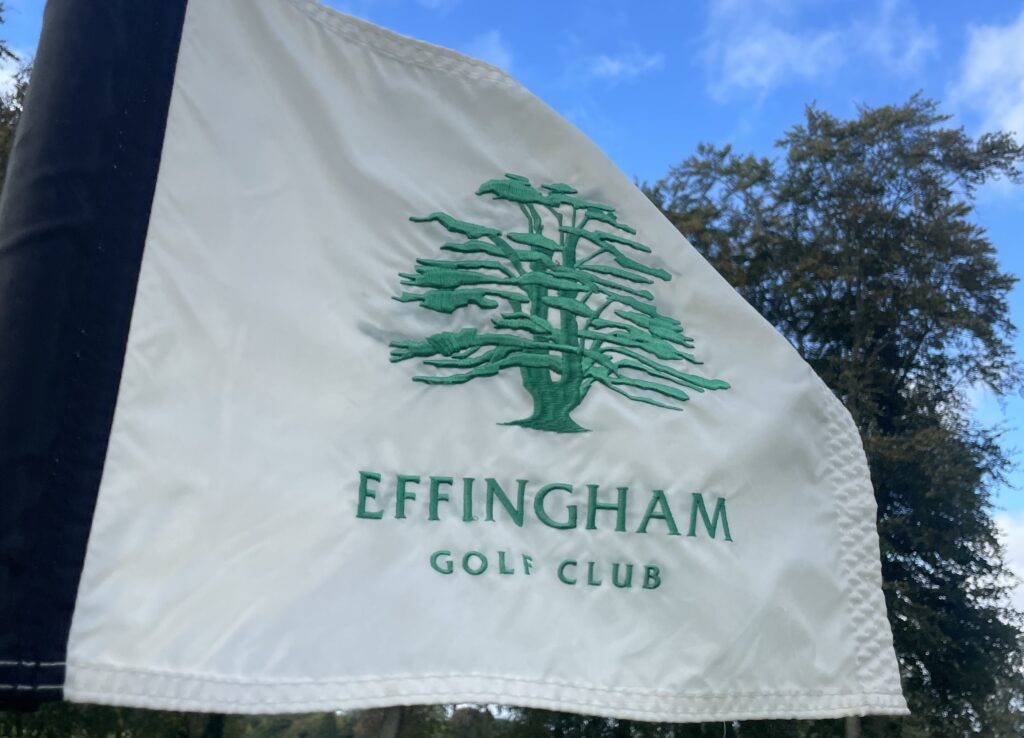 With a few holes to go I attempted to hit a 7 wood out of a fairway bunker and the ball hit the lip of the bunker and rolled out about 15 yards. Joe came over and asked what club I'd just used and I told him. "If I caddied for you I'd knock at least eight shots off your score just by reading putts and stopping you from doing fucking stupid things like that".
He's right of course. I get into so much trouble on the golf course just because of four little words that are always in my head when I'm weighing up a shot – "He who dares, wins!" The little 'Del Boy' in my head is responsible for so many doubles and triples. He's the reason I hit 7 wood in that fairway bunker.
He's also the reason why I attempted an open faced, flop shot type cut with a 5 wood from 155 yards around a tree. "Knocking out sideways is for wimps", I could hear 'Del Boy' saying in my head, and then "don't hit a wedge over the tree as you can't reach the green that way".
So I take out the 5 wood, open the face, aim miles left and take a three quarter length swing to try and slice it up and around the tree and run it down to the green with the left to right cut spin. I almost pulled it off too, it was a great try but it clipped the tree and landed me in trouble. Another three putt followed and just like that a triple bogey on a reachable par 5. "What a plonker" I imagined 'Del Boy' saying.
Any caddy would have quit on the spot if I'd attempted that with him on the bag. I know this, but I can't help myself. Why do I do it? Ultimately I think it's because the potential glory is worth the risk. I could have taken an eight iron out of that fairway bunker but that's not a shot I'd ever remember. If I'd smoked that 7 wood onto the green though I'd be dining out on that for a while.
You know what I was thinking when I pulled out the 7 wood? As ridiculous as this is, and believe me I'm well aware, I thought about Cam Smith hitting 3 wood out of a fairway bunker to a foot to set up an eagle on the 18th at this year's Open to make the cut. Why I thought I could do the same I have no idea, but imagine if I had? That's why I do it.
It's why I'll continue to do it too. To me golf is about having fun and making memories. I don't remember too many shots that I've hit in my lifetime, but the ones I do remember are because they were pretty damn special. They weren't lay ups.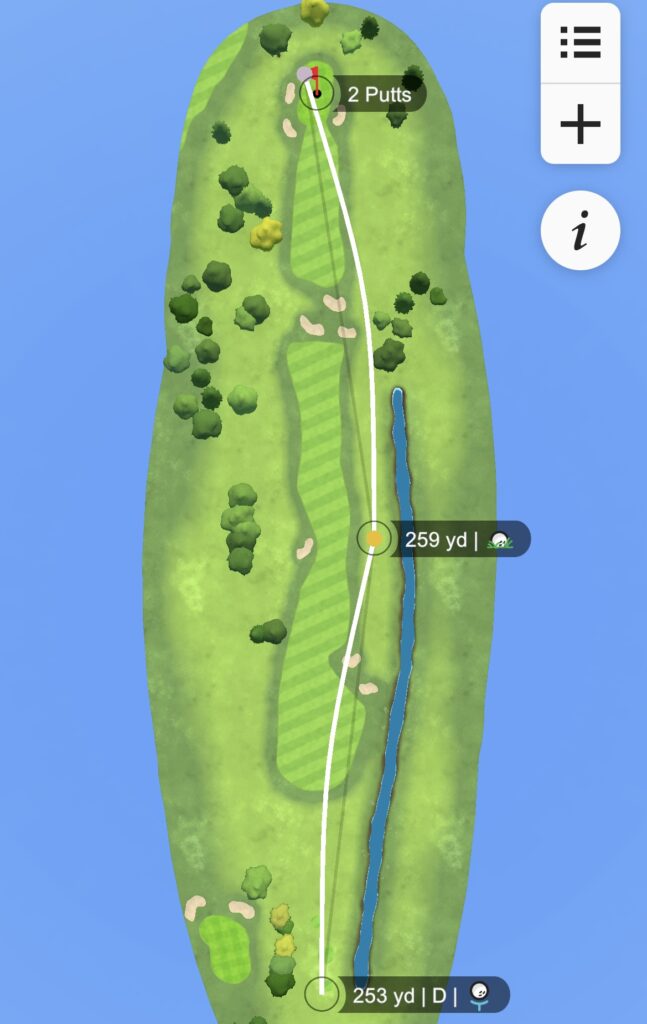 At Effingham last week I hit what might have been the greatest shot of my life (see above). On the par 5 17th with the wind behind, I'd hit a good drive up the right into the light rough. I still had over 250 yards to the flag though which is well out of my range normally, especially as I'd left my 3 wood in the car to make room for the second putter!
I reached for the 5 wood, made a great swing and the wind did the rest. The ball pitched short of the green and rolled right up there to the back where the pin was located. I had around 12 feet for eagle. Didn't make the putt but gave it a good run and narrowly missed, leaving myself a tap in birdie. That's what I'll remember from the day, along with the revelation of how dreadful my green reading is.
So now I'm looking for solutions. To start with I've bought a ball marker with a spirit level in it from Amazon. I'll let you know if it works!