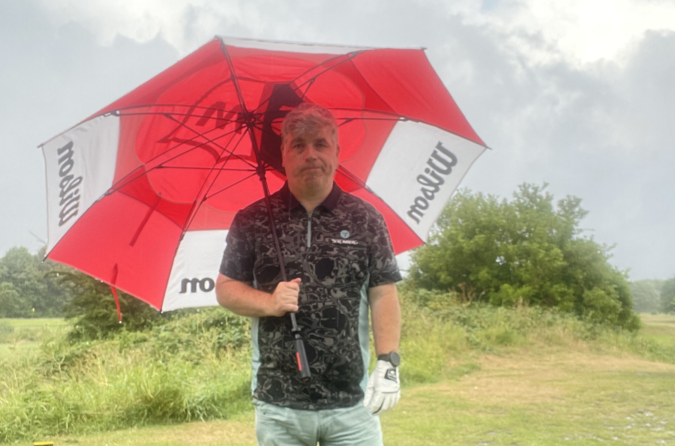 I've played a couple more rounds since the last entry and the emotional roller coaster continued. I love golf but I also hate it. Ok that's not quite accurate. I never hate golf, but I often hate myself and my inability to play it well. Not consistently anyway, I have my moments but sustaining them is beyond me.
I mentioned last time how I'd shot 76 (+4) at Southport and that I felt that the dream of a level par or better round was alive and kicking. Well after 10 holes at Bootle last week I was +1 and playing incredible golf. I wasn't holing the birdie putts but I made two lengthy ones to save par. The way I was hitting it, playing the last eight holes in one under didn't feel like it was totally out of the question.
Then I pushed a 9 iron on the short 11th, short sided myself and had no chance of getting up and down. A disappointing bogey but I've really been trying to work on the mental side of the game and focussing on not allowing myself to get too up or down depending on how things are going.
The 11th was a hole I should not have been bogeying but I handled it well. I kept my cool, walked to the 12th tee and hit a perfect slinging fade around the trees to leave a wedge in. That was incredibly satisfying as I've turned a huge weakness into a strength.
I used to be plagued by an occasional slice that got me into all sorts of trouble, but a lesson I had a few years ago fixed that. The slice was caused because I collapsed my wrists on takeaway which opened the face. Sometimes I'd get it closed on the way back down, sometimes I wouldn't. And when I didn't, I was usually missing the fairway by at least 30 yards to the right. A proper banana shot.
That doesn't happen anymore, I've virtually eradicated that shot completely which is a big relief, but when I'm on the range I will deliberately hit five or six where I aim miles left with the old 'collapsed wrist takeaway' and try to slice it back into the middle, just in case I ever need to do it for real. I can pretty much do it on command now which is handy when I come to a dogleg right hole like the 12th at Bootle.
So anyway, I hit a nice sliced drive and then wedged it to around 8 feet. Then I left the putt short, as I tend to do. Aaaargh! Next hole, massive dogleg left. If I could hit a hook on command the same way I can hit that slice I'd be laughing, but I can't so I smoked a straight one over the meaty part of the dogleg and had a lob wedge in for my second. I hit that one to six feet, and missed the putt again. At least this one reached the hole, even if it slid wide of it.
I really should have been level par at that point but only holing one of half a dozen birdie putts inside 12 feet had basically killed me (see video below). I had no room for error now and to be honest I'd stopped thinking about getting around in even par. That ship had sailed but I wasn't disheartened as I was still going to shoot a really good number, surely?
So the goal now was to try and beat my best score of 73, which was on Kirkby. I was +2 after 13 holes and playing the best golf of my life. Could I play the last five holes in level par for a score of two over par 72?
Narrator's Voice: Sadly he could not.
The wheels fell off. Spectacularly. My last five holes? Double, bogey, bogey, double, double. I still shot 80, but it felt like 90. I posted on social media that I'm not a good enough golfer to ever have the right to be disappointed with a round of 80, but that was a massive kick in the nuts. Gutted.
I rang a mate on the drive home to tell him what happened and to get some emotional support. He asked what went wrong and it was a tricky one to answer. It's not like I played horrible golf. I only made two bad swings on those closing five holes, but a lot of what happened was bad luck.
Golf is so hard. Even when you do everything right you can still suffer, and sometimes when you've only made a slight error it costs you a double. The pros will often talk about "missing in the right spots" and I've never paid much attention to it as I don't feel like it applies to me. I'm not good enough to aim for a specific side of a green, I either aim for the middle to give myself room for error on either side, or I'll just go flag hunting. Where I miss isn't a priority as I don't know where it's going half the time. Aim for the middle and hope.
At least three times in this round I missed in the wrong spot though and it cost me big time. Bootle at this time of year is really tricky as it's burnt out and lightning fast. That's good for driving distance but not so good when you've missed an elevated green on the wrong side. You can't flip a lob wedge up as the lie is too bare and the ground is too firm. You can't play a bump and run as the banks at the side of the green are rock hard and uneven. You can literally hit the exact spot you're aiming for and see it take one bounce and go in the completely opposite direction.
So you have to try to putt it, but how can you judge the speed on a 30 yard putt that has to travel over bumpy fairway, work its way up a 6 foot high uneven bank and then hold on a burnt to a crisp green?
The pros take on shots like that in the Open when the links courses get fast and crispy, but I'd love to see them attempt it at Bootle. There's no skill involved at all, it's a complete lottery. You hit a putt and the ball immediately jumps up from the uneven turf and straight away you know it's coming up miles short. Or it doesn't get that jump and it rolls and rolls and rolls and ends up off the green on the other side as its all downhill once you get over the bank.
I'm convinced that even Cam Smith couldn't get up and down from the side of some of these greens. Even Phil in his pomp would be blading wedges onto Dunnings Bridge Road if he tried his signature flop shot. They should hold an Open at Bootle to really sort out the men from the boys.
So I kept finding these horrendous spots on those last five holes and also ended up narrowly missing two fairways and both times finding my ball had settled next to a tree, giving me a restricted backswing. They weren't even bad drives, they flew arrow straight but my alignment was off. Good swing, good strike, poor alignment and big trouble.
It's a sickener though when I think about this. My chances of shooting par aren't great given I've just turned 50 and I don't know how many rounds I have left playing at a level where it's even a possibility. I'm certainly aware of my golfing mortality. If I play 30 rounds a year how many years do I have at the level I'm at now? Five? Six maybe, before I start losing distance? Opportunities to post a really good score are limited. This was a great chance and I blew it.
It's the putting though. I didn't make enough putts from inside eight feet. I didn't three putt either, for the second round in succession, so that's progress, but if I was a decent putter my scores would look a hell of a lot different.
I mentioned last time that I have that Bob Rotella book on putting and I have since started reading it. I've learnt plenty from it already and I tried putting some of it into practice at Bootle. It's mostly about having a positive mindset, look at putting as an opportunity to score and don't see it in a negative way. I walk onto greens and often think "|'ll probably three putt this". You can't do that. I needed to completely change how I think and this was the first step on that road.
I had some success with it, mostly on the longer putts where I was able to get close enough to avoid the three putt. I knocked in a couple of long ones for par too, which was a refreshing change. I took all the pressure off myself and just walked up to the ball with a free mind and told myself "it's fine, just knock this in" and incredibly it worked. It didn't work on the birdie putts though, so I need to read the rest of the book.
Anyway, next up was a trip back to Southport, the scene of my 76 from the previous week. A week is a long time in golf. I shot 83 this time but it felt like more. My ball striking wasn't quite where it has been although it was still pretty good, but I made some stupid mental errors and my putting was a complete disgrace.
I had a three putt (which wasn't actually that bad as it was from about 30 yards away) and a four putt, which was disgusting as it was from about 20 feet.
I didn't hole anything from outside three feet all night and the two birdies I had were basically tap ins, thankfully. I don't know where I go from here with the putting. I've been practicing plenty at home but there are some days when it just feels completely off and I have no belief in what I'm doing. And even when it's not shit it's not what anyone would come close to calling good either. "Not shit" is a win for me.
I'm thinking of switching putters again but I know that's not the answer. It might be a short term fix though and if it can help me have that one day when the putts fall that might be all I need to get that even par round. I think if it comes it will be at Southport, as it's an easy course if you stay out of the rough. If you go in the rough though it's like an old school US Open.
Update: I changed my putter and shot 77 on a thundery night at Bootle which included a half an hour delay huddled under a brolly hoping to avoid being struck by lightning. Tee to green was really good, putting was back to being 'not shit' but I didn't make the most of several short birdie putts, with the nadir being when I left a five footer a foot short as the five ball in front watched on (they were letting me play through, unlike the six ball from a few weeks ago). I also missed this short birdie putt too. It's utterly demoralising.
So yeah, that level par or better round that I know I have in me is not coming unless I can find a way to get the ball in the hole from inside 10 feet. I don't think I'm ever going to become a good putter so I'm relying on just having that one round when it all clicks. The last time I had that was when I shot 73 at Kirkby, which was over five years (and a dozen putters) ago now, so I'm due.