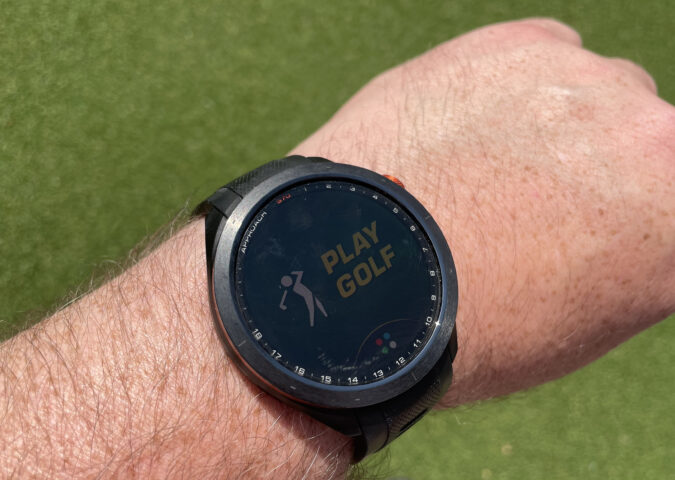 Garmin make great watches that cater for every need and every budget. Their golf watches are exceptional. I've tested the entry level Approach S12 and the high end, luxurious MARQ Golfer as well as everything in between. The best all around combination for performance and value was the Approach S62 which I've been using for two years.
The new Approach S70 replaces the S62 as Garmin's flagship golf watch, but it has a lot to live up to. Did the best get better or will the S70 disappoint?
There are some staple functions that you will find in all Garmin golf watches, plus some more high end tech that only comes on the more expensive models. 
The Garmin Approach S70 has improved those features, while also adding a raft of new functions relating to other activities like cycling, running, swimming and plenty more. Those are bonus features though that help to justify the lofty price tag. This is a golf website though so I assume you want to know how it performs on the course. In a word – brilliantly.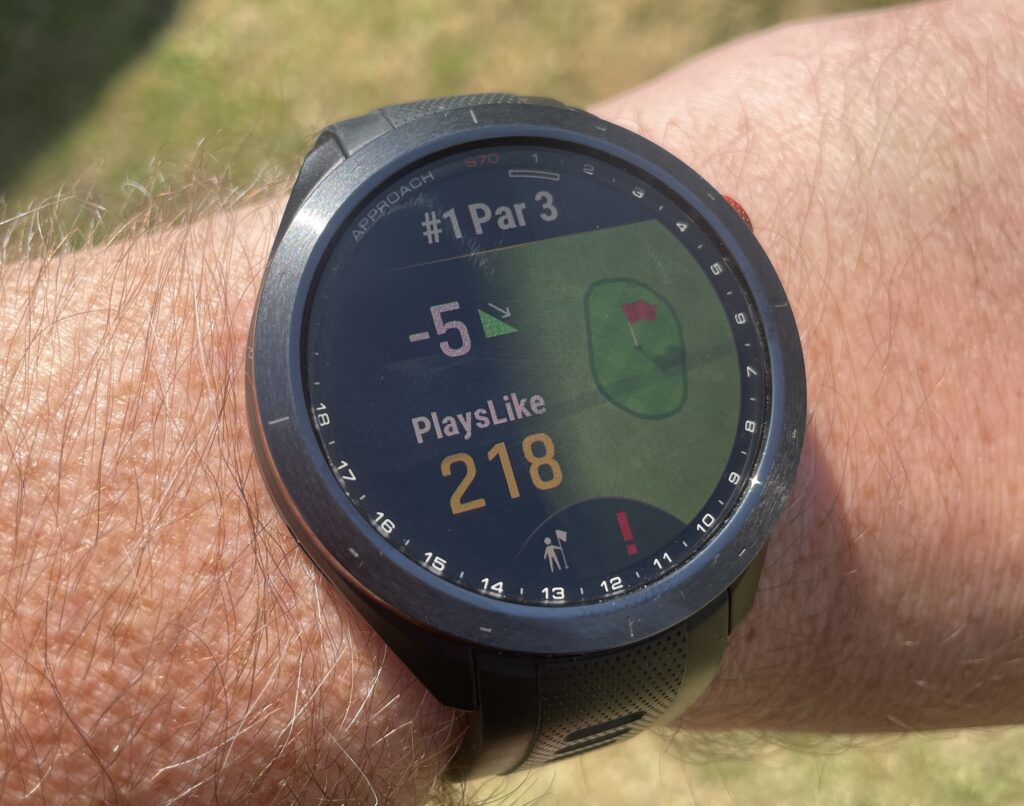 The watch comes in two different sizes with either a 1.2-inch or a 1.4 inch AMOLED display, which is the highest resolution available and looks fantastic.
The larger size is more expensive (£649.99) and comes with a black silicone strap. The slightly smaller model (£599.99) gives you a choice of white or powder grey strap, but both sized watches have a black ceramic bezel and other than the size look the same.
It's a stylish, lightweight build with a high quality ceramic bezel. It's a nice looking, modern smart watch that you would be able to wear in any social situation. For the price you'd expect that, as paying 650 quid for a watch you can only wear on the course seems excessive.
The S70 operates with a three button set up; an action button, a menu button and a back button. It's quite straightforward and doesn't take too much getting used to. The watch also features touchscreen options once you have selected the relevant menu using the menu button.
The strap is curved for maximum comfort and arches around the wrist nicely, but the downside there is that it doesn't lay flat when you remove it and lay it down (see image below when compared to the S62).
Other Garmin Approach watches I've used lay flat when you place them down on the table or bedside cabinet, but the pre-moulded shape of the S70 strap prevents that. I prefer the old straps but it's
The charger surprised me a little too. It uses a USB-C cable which is a pain if you're used to charging everything with a standard USB. I always charged my S62 using the USB port in the plug socket next to my bed. Now it requires a plug, but there was no plug in the box so I had to dig out one I used on my last iphone. This new set up is a little inconvenient, especially for non-mac users. Or maybe I need to move more with the times.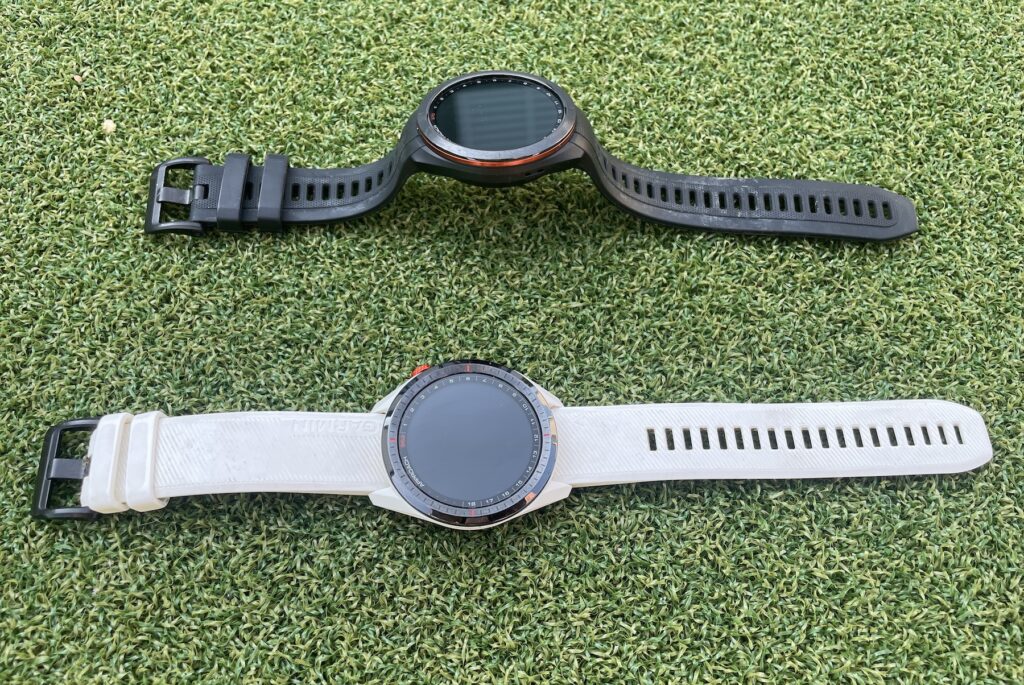 The Approach S70 does everything that its predecessor did plus a whole lot more besides. The existing golf features have been given an upgrade or at the very least a facelift. So the graphics are much crisper and the battery life has improved (20 hours in GPS mode or 16 days if you're not using GPS)
, while some of the cool features that made the S62 such a big hit are now even better.
For example, the Virtual Caddie has been upgraded, the maps are much sharper looking and when paired with a smartphone the PlaysLike feature takes the wind and temperature into account when giving you distances to the pin. 
Many of the more significant advancements relate to what this watch can do away from the course though. By downloading various free apps you can get as much out of your other activities as you do for golf. The S70 isn't just a golf watch, it's a high end smartwatch and it will help you monitor your health and general wellness.
There are so many features available that it's quite daunting and will take you some time to fully get used to. I've had the watch two weeks now and have barely even scratched the surface (not literally, the screen is scratch proof!) on what this thing can do.
Garmin Coach training plans offer over 1600 individual exercises via the Garmin Connect app. Some of these are specifically tailored to golf fitness which will be beneficial to those who are that way inclined. Fitness isn't my thing, even less so golf fitness. I don't take it that seriously. Hell, I don't even stretch before teeing off. 
Garmin's range of 24/7 health monitoring features allow users to track things like heart rate, body battery, energy levels, sleep patters, stress levels and much more. I did get right into all of this stuff though as it's fascinating. I'll get to that shortly.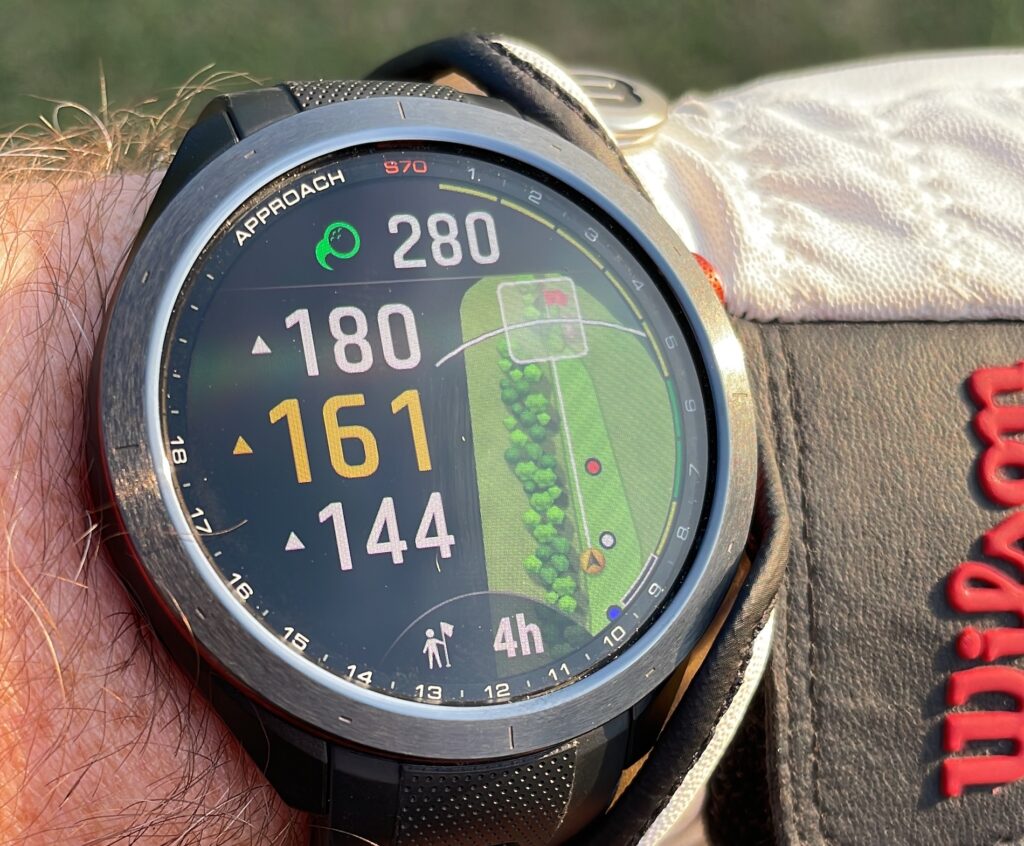 You all know how golf watches work. The basic function is to tell you how far you have to the hole. All golf watches do this, but the more you pay the more things the watch will do for you.
I was already familiar with most of the functions on the S70 because my trusty S62 did most of them too. The main difference is that the S70 does them a little bit better and looks a little bit slicker. 
So what does it do? Let me walk you through a typical round.
You will arrive at the course and fire up the watch by pressing the action button and then using the touchscreen to select 'play golf'. The watch will locate where you are and you select the course, tees and whether you want to keep score.
On the tee the watch will provide you with a map of the hole you are playing. The map gives you distances to front middle and back of the green while you also have distances to all hazards as well as a display showing various lay up spots.
A nifty little feature is it will show you on the map where your drive is likely to end up if you hit your normal tee shot. It knows this because on initial set up you will be asked for your usual driver distance. 
You can use the touchscreen to drag the pointer around to show distances you'd have left from specific areas of the fairway, and when you're hitting your approach you can drag the pin around the green for a more accurate number.
After you tee off the distance tracker automatically kicks in. I love this feature and I think it's probably the thing I value most. Without it I'm lost. Some watches will allow you to track the distance of your shots but require you to do it manually, and often I'll forget. The higher end Garmins just do it automatically and it's a real game changer.
Not only does it allow you to measure your drives, which is cool when you hit a good one (like in the image above), but it makes finding your ball a hell of a lot easier when you miss a fairway. If you know how far you carry a standard drive, it really narrows the search area.
When you have completed the hole you can enter your score, how many putts you had, whether you hit the fairway or missed left / right and if you had any penalties. This information is stored and will be saved to your Gamin Golf account (set up is free and well worth doing) after your round when you sync the watch with your smartphone.
Another feature I love is Pinpointer. You won't need this very often but when you do it's a game changer. It's basically a compass that will show you where the green is when you can't see it.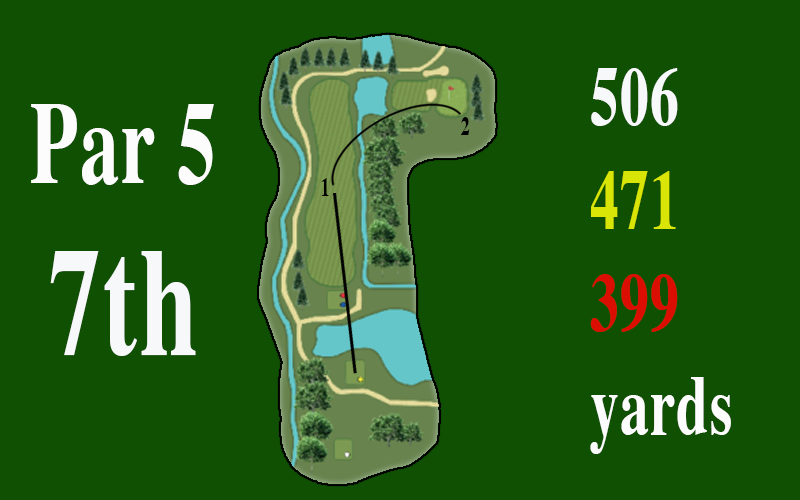 The 7th at Berrington Hall (see above) is a short dogleg par 5 where the green is behind some very tall, dense trees. You can't see the green from the fairway and most golfers will choose to hit to the bottom of the dogleg with their second shot so they have a clear view for their third. With Pinpointer I can go for the green with a short iron and play it with confidence knowing exactly what line I need to take. The most recent occasion I played there I hit drive and 9 iron to the back of the green while my playing partners laid up at the bottom of the dogleg. I still only made 5 but that's because my short game stinks. Pinpointer gives you a big advantage on blind shots.
The Virtual Caddie feature is improved and now shows your shot dispersion data and suggests a club based on shot history, wind speed / direction as well as elevation. This enhanced PlaysLike Distance feature utilises a built-in barometer, so instead of having the standard number based on distance alone, your distance will be how the hole is actually playing based on external factors. This allows the Virtual Caddie to be more accurate with club selection suggestions. It might actually be two clubs different and it's invaluable information. It's like having 'Bones' out there on the bag, hence the name 'virtual caddie'.
To get the full benefit from the S70 (and indeed the S62 and MARQ) Garmin suggest pairing the device with the CT10 club sensors, which can be bought separately. 
A Garmin Golf App membership is an optional paid extra, which among other things allows you to view the contours of the green you are hitting into. It isn't detailed enough to help much on short putts, but if the green slopes sharply from left to right you'll know on your approach to aim for the left side of the green and let your ball roll down. This feature doesn't yet cover all of the 43,000 plus courses pre-loaded into the Approach range of watches but thousands are available and more are being added weekly.
The S70 can also be of use on the driving range due to the Tempo Trainer feature. The idea is to hit the perfect sweet spot from back swing to through swing but I really struggled with that and would often get nowhere near the number even with good shots. It was causing me to not appreciate the good shots I was hitting so I don't use it much. Some golfers will love it, but it's not for me.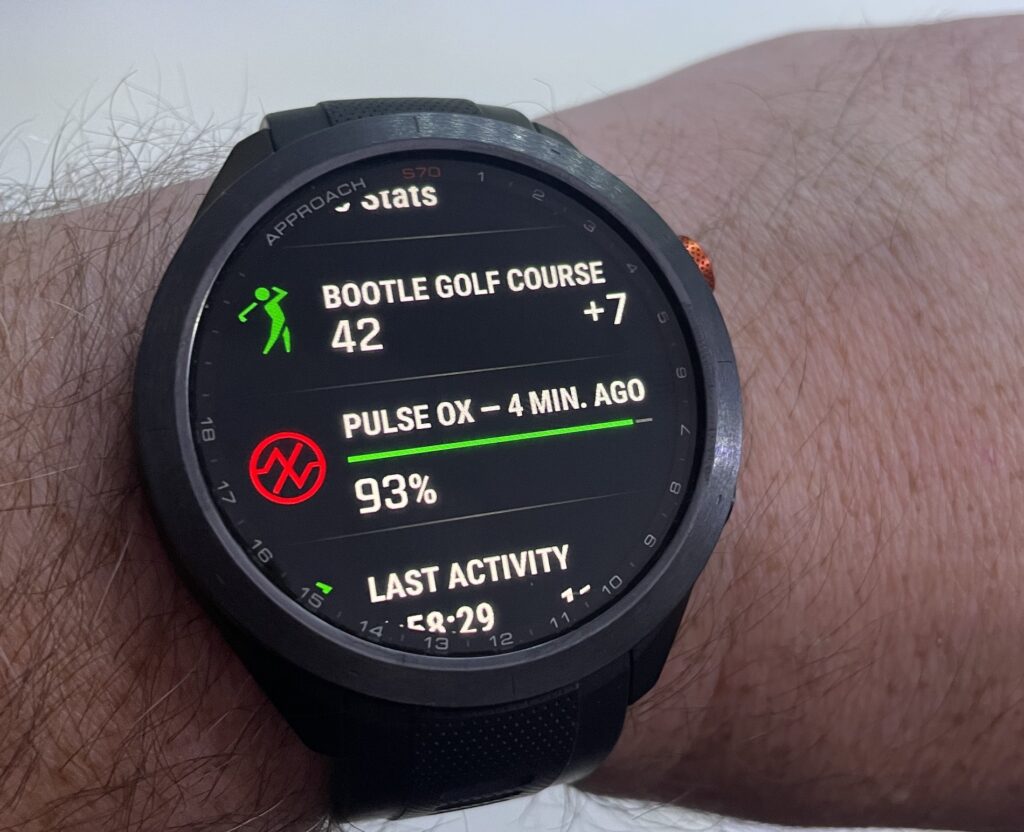 There is a wealth of non golf features you can add to the S70, whether it's running, walking, swimming or even yoga. None of those are of much use to me personally but I did find that the advanced step counter was useful to me, and I became quite obsessed with the sleep tracker and stress monitor.
The stress monitor was something I was initially very sceptical about. How could something sitting on my wrist possibly know what was going on in my brain? Sounds like a scam to me. Yet to my surprise it actually does work. I had a situation at home that was causing me some concern. Ok, full disclosure, what actually happened was that I impulse bought a fish tank on Facebook Marketplace and it turned out to be way bigger than I expected. I knew my wife was not going to be impressed when she got home so it was stressing me out all afternoon. As expected, my wife hit the roof when she found out and made me take it to the tip first thing the next morning, but the point of this story is that when I checked the watch there was a four hour spike in my stress levels that co-incided with me buying the fish tank and then having to tell my wife about it. My stress level average had been 23 for the week but it jumped to 72 during that period. That's incredible, right? It's not just me who is blown away by that?
The sleep tracker is interesting too, although I'm not sure how beneficial it is to wake up each morning and be informed that my sleep quality was poor and I "should expect to tire as the day goes on". That isn't going to help my stress levels! It is all extremely impressive though and quite fascinating, if you're into that kind of thing. I didn't think I was, but like I say I have become pretty obsessed with it. Technology, eh?
Other features the S70 boasts are Garmin Pay (which allows you to use the watch for contactless payments) and smart notifications so you can keep up to date on your whatsapps, calls, social media etc without having to keep checking your phone. Personally I find that a little distracting but the good thing is you can pick and choose which notifications you want, so I go with essentials only. You can also listen to music on the go when you download songs and playlists from Spotify or Amazon Music.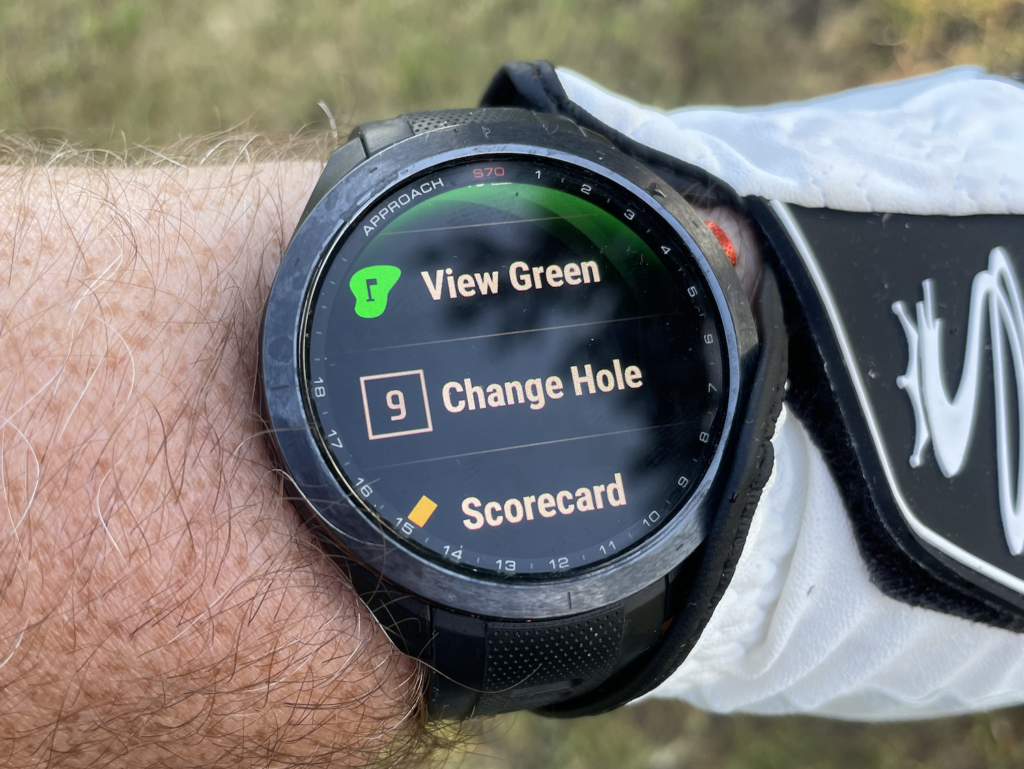 This is the best golf watch out there in my opinion. It isn't cheap, but that's because it isn't just a golf watch. It's so versatile and covers all kinds of activities and pursuits, as well as offering high end smartwatch functions and health monitoring features.
If you are buying a watch just for golf then there are much better value options out there, including several from Garmin. Try the S42 or S62, both of which should have come down in price since the release of the S70.
If you're looking for a top quality golf watch that can do a whole lot more besides and that you can wear all the time, then look no further than the Garmin Approach S70.