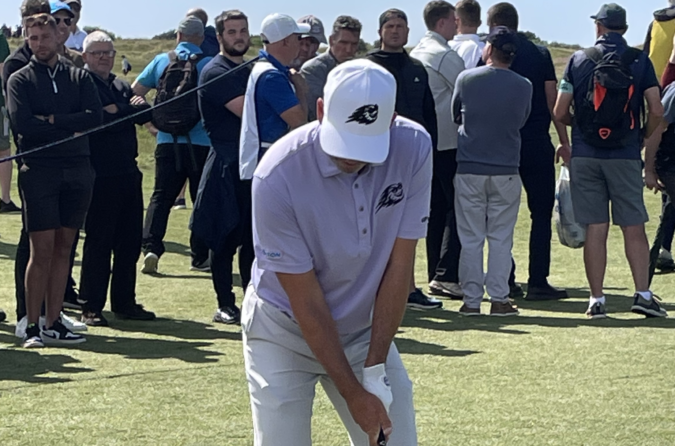 I would have gone to watch the Open Qualifying at West Lancs regardless of who was playing, as the chance to watch pro golf 20 minutes from my house doesn't come around too often. But when I found out Sergio Garcia would be one of the hopefuls showing up to try and secure a spot at Royal Liverpool I was buzzing about it. I was also keen to see what kind of scores these players would shoot on a course that I've played.
I have played there plenty of times but it was close to 30 years ago and I remembered nothing of the course as I walked around it. Not one single hole. In truth, had it been 30 days ago I'd still have struggled. It always amazes me how golfers have such a photographic memory when it comes to courses they play. Rory McIlroy will tell you each shot he played on a specific hole from a course he played 10 years ago. Honestly, I couldn't even tell you what I made on any given hole last week.
I have played West Lancs a lot though, albeit never legitimately. Back in early 20s a mate and I would get there at 4am and wait on the first tee until it was light enough to hit. We'd have 18 holes boxed off and be home having breakfast before the club shop even opened. Good times. All I remember about the course was that the greens were incredible and that it was ridiculously difficult whenever there was any wind. If you missed a fairway you probably weren't going to find the ball.
Anywhere on this coast is generally going to be gusty but it wasn't too bad for Open qualifying and that was reflected in the scoring. Matt Wallace stormed to the top of the leaderboard in the afternoon with an impressive round of 65, which was matched by Alex Fitzpatrick who also secured his spot at the Open.
For the record, the other three qualifiers were Kyle Barker, Matthew Jordan and the aptly named amateur from Germany, Tiger Christensen. Watch out for him, he's really good and hits it miles. Here he is making a nice up and down from the back of the 9th green.
I didn't see a shot of Wallace's round and even though he's a top player I didn't for one second consider following his group. I only had eyes for Sergio, despite not having the greatest opinion of him following some of his decisions and outbursts in recent times. I don't like a lot of the things he's said and done but he's still Sergio isn't he? Probably the greatest Ryder Cup player ever.
I don't have to like him to respect him, and to me the fiery Spaniard is one of the most talented golfers of his generation. I don't care that he only has one major, he's a legend and an incredible golfer. Or at least he was. He's been off the radar for me since joining LIV as I don't watch it and don't follow it beyond occasionally checking who won, and to the best of my recollection that has never been Sergio.
I don't know if his form has been good or not, but I assume it hasn't if he can't win in limited field events like they have with LIV. I didn't particularly care though, he was playing on my doorstep so I wasn't going to miss the opportunity to go and watch him. Who knows when I'll get the chance again.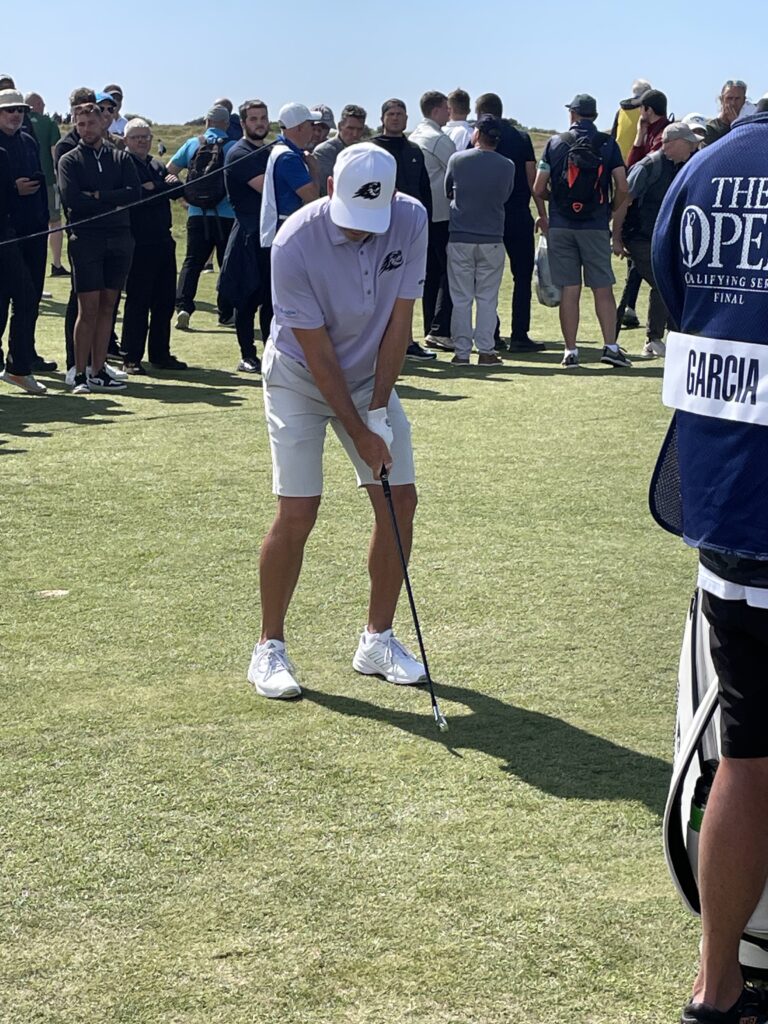 I got there just as he was finishing his morning round. He was second at the halfway point after shooting a 67 (-5). The lead was held by his playing partner, Matthew Jordan (-7) who had a good following of his own as he's a pro at Royal Liverpool, home of the upcoming Open they were all trying to qualify for.
It must have been quite the experience for Jordan to be playing with Sergio but he wasn't fazed by it, which bodes well for the Open. He might be worth an each way punt as he's playing well and knows the course like the back of his hand. I'd guess at least half of the spectators on the course were following this group and plenty of them were there to support the local lad. I took the below photo early in the round, but by the time we reached 18 there were twice as many people following.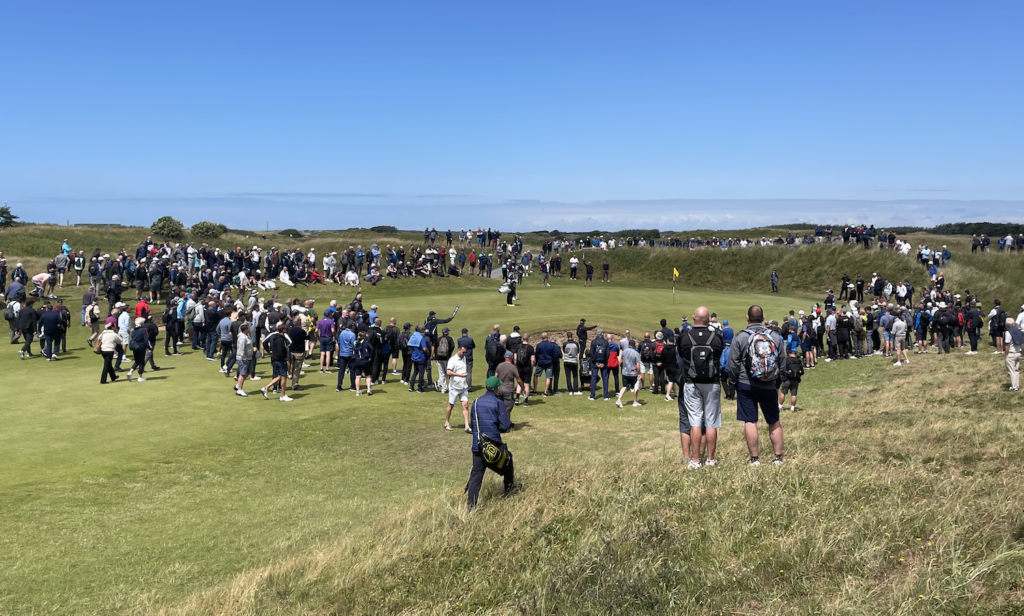 I enjoyed watching Jordan but Sergio was the reason I was there. I wanted to see him up close and personal and this was the perfect place to do it. At a Tour Event or a Major, everywhere is roped off and it's difficult getting close. This was nothing like that. The tee box was roped off so it was difficult getting close there, but as soon as they headed off down the fairway you could walk down alongside them. It was a strange experience. You're walking along the fairways they're playing on and you can walk right up to where the ball is sitting and wait for the player to arrive to take their shot. You cn then walk right up to the edge of the green to watch them putt. It was fantastic.
Eventually they had to bring out extra marshals to rope off around where the players were hitting, but we were still walking along the fairways with them and were able to stand a few yards away from them when they hit approach shots.
Being so close to Garcia when he was hitting iron shots in was quite the experience. The sound when he hits an iron is just different. I've never made that sound with a golf shot, even the purest strike of my life sounded nothing like it. In fairness, the sound is different to when other pros are hitting, let alone bums like me. He's a supreme ball striker.
Jordan was playing some fantastic golf and some of his approach shots were inside of Garcia's. The third member of the group, Jamie Donaldson, also hit some lovely irons in. I just couldn't get enough of the sound of Garcia's irons though. So pure. Not only could I watch him hit irons all day, but you could blindfold me and I'd happily just listen to him hitting them.
As usual, his putting didn't match the quality of his approach play. He didn't hole much and he missed twice from inside four feet. The second one was for birdie at a time when he desperately needed it. He immediately snapped at a green side photographer; "Dick! As if this isn't freakin' hard enough already". He's always had a short fuse but this might have been justified, I don't know as I was on the other side of the green and didn't see the photographer.
That was the moment he knew he wasn't going to qualify as he was treading water while others were making birdies to go past him, and I think the photographer was just in the wrong place at the wrong time as Sergio needed to let it out.
It's weird because I went there wanting to watch him play but I was by no means rooting for him. I used to be a big Garcia fan but there have just been too many outbursts, too many times when he's been a brat. His move to LIV didn't help either, and I went there not really bothered whether he qualified or not. I'm not sure why, but that changed quickly though. I wanted him to qualify for the Open and for most of the round it looked like he would do. A three putt bogey changed everything though as it dropped him out of the top five and it was getting very congested up there as others were posting good scores.
That birdie miss on 16 basically sealed his fate and to my surprise I was genuinely sad about it. Whatever his faults, there's a lot to be said about a superstar of the game showing up to play a qualifier to get into the Open. Plenty wouldn't have bothered, but Sergio didn't think it was beneath him to turn up to play a 36 hole qualifier at West Lancs and I respect that. I wanted him to get in because he was grinding and because the Open would be more interesting with him in it. Unfortunately he came up just short.
The highlight of his afternoon round was an eventful birdie on the par 5 11th when he carved his second shot way right and had to be given a free drop from a stone path. He hit a lovely shot out of the rough and then sank the putt. Look how close I was on that approach.
That was a rare good moment on a frustrating back nine for Garcia, who eventually ended up three shots out of the qualifying positions. He warmly congratulated Jordan on the 18th though and a few times during the round I heard him saying "nice shot Matthew". They walked up a couple of fairways together too, which was nice to see given how Sergio is viewed by many on the DP World Tour after his locker room rant when he left last year. There didn't appear to be a great deal of interaction with the third member of the group, Jamie Donaldson, but I'm not reading anything into that. Donaldson shot 68 in the afternoon but had played himself out of contention in the morning with a 73.
I've been to pro tournaments before but never like this where you could get so close to the players as they hit approach shots. I'd have liked to have been able to get behind them on some of their tee shots but there were just too many spectators following this group, and a lot of the tees are isolated and you aren't allowed up there. On the fairways and greens though you could get right in there and it was fantastic.
I know this is an obvious thing to say, but they're so much better than us. We know that already of course, but when you see it in person it really rams it home that these guys are playing a different sport. When they find trouble by missing a fairway they have a knack of just knocking it on the green anyway, or getting close to it and then getting up and down. When I miss a fairway it's usually a double!
I think my biggest take away from watching this was just how many four or five footers the pros have to hole during a round. And they do hole the vast majority of them. I have a similar amount of putts from that distance when I play but I miss loads of them. A stupid amount really. I made my peace a long time ago that I'd never drive the ball like the pros and I don't care that I can't hit approach shots like them either. I'm comfortable enough with my limitations and on the courses I play (and from the yellow tees) I hit it far enough to shoot decent scores, but the difference in short putting is really hard to take.
Seeing the routine way they relentlessly knock in four or five footers really brings out the green eyed monster in me. In theory there's no reason I shouldn't be able to do that. It doesn't take any great physical skill or co-ordination, like swinging a driver at 115mph does for instance. Anyone should be able to knock the ball into the hole from four feet, but it's incredibly difficult for me and takes a lot of enjoyment out of the game. Why can't we putt into those Foot Golf sized holes?
Yet I wasn't massively impressed with the putting I saw overall. Not just from Sergio's group either. I sat next to the 18th and 9th greens for an hour and watched several groups come through and nobody made a putt from outside five feet.
I expected players of this level to be going much closer with putts than they were. Loads of putts didn't reach the hole and several missed by a wide margin due to either bad reads or misjudgement in speed. Not what I was expecting and many putts I saw were no better than what I would expected from myself. My daughter was there with me and she said the same thing. We both expected putts to be a closer than they often were, but that's probably because when you're watching TV coverage they tend to mostly show the putts that go in which gives a false impression. The big difference of course is they never missed the next putt whereas I often do.
Overall though what a day. Getting to watch Sergio Garcia up close and personal for 18 holes and it being completely free? What better way to spend an afternoon.