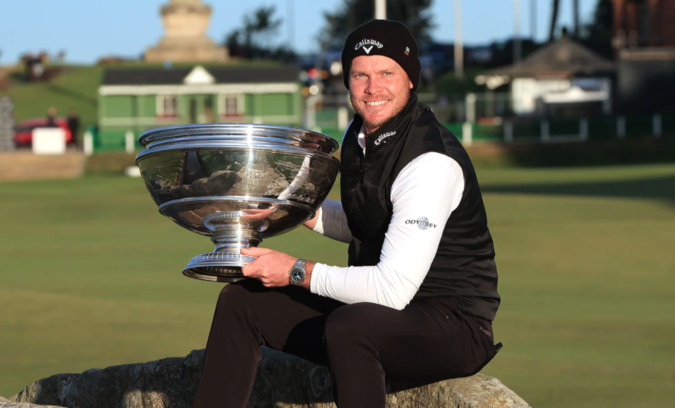 There was a big event on the European Tour this week at St Andrews and there was a PGA Tour event too, but I didn't hold much interest in either. Why? Bryson DeChambeau was in the long drive world championships, that's why. Normally I wouldn't care about long drive. I know Kyle Berkshire always wins (as he did this time too) and other than that I have no interest in it. Put the 'King of Content' in it though and everything changes.
Full disclosure; when I first heard he was entering it I expected him to finish dead last. Why? Well because he's a tour player and has only recently started with the long drive training. The rest of the lads out there have been doing it for years and train specifically every day to just smash the ball as far as they can. Bryson couldn't compete against that. Could he?
Turns out he could, which is absolutely mental when you stop and think about it. Not only did he compete, he absolutely destroyed most of them. He made it to the last eight and if he got the chance to redo that final heat again he may well have done enough to qualify into the final four. What he did was incredible and not enough is being made of it.
Loads of people don't like him, which is fair enough and I'm certainly not here to fight his corner. "Brysonsagoodguy Hill" is most definitely not a place I'm willing to die. He's brought a lot of deserved heat on himself with stupid things he's said but irrespective of all that, what he did this week deserves all the credit in the world.
He took a lot of flak for doing long drive training ahead of the Ryder Cup but he went out there and performed his role to perfection. Dustin Johnson was the star of the Ryder Cup but Bryson is the one many people will remember when the dust settles on it. He killed it with the driver but he was great with his wedges and the putter as well, so the long drive training didn't do him any harm did it?
Then he shows up against the world's longest hitters, guys who have dedicated their lives to this craft, and he slaps the piss out of most of them. Before Covid hit he was middle of the pack in driving distance. What he's done since shouldn't be possible, especially since he won a US Open within a few months of the transformation. And he's not finished. If he can get into the top six after so little training, he's got to be a genuine threat to his mate Kyle next year if he sticks with it.
The event wasn't even televised this year. You could watch it for free on YouTube, that's how little gravitas is attached to it. Bryson has put it on the map and I'll be amazed if it isn't picked up by a major network next year.
It's monumental shit that he's doing here. Unprecedented. But because he's such a big douche he isn't getting the recognition he should. He's almost regarded as a bit of a freak show but this fella is currently the 7th best golfer in the world and only five people on the planet hit the ball further.
This is like Andy Murray winning Wimbledon and then going to the Olympics and getting a medal at the table tennis. There isn't anyone else on the PGA Tour who could have done what he did this week. Not one.
He was at great pains to say none of this was about him and that his sole purpose for being there was to grow the sport and shine a light on these "amazing athletes". Hmmm. Was it really though? I'm sure that's part of it but it's also about his own ego and that's fine, there's nothing wrong with that because whatever his motives, he genuinely did bring a shitload of attention to an event that nobody would have cared about otherwise.
I can't wait to see what he does to St Andrews next year. It's wide open and a lot of the fairway bunkers that are there to stop players just hitting driver all the time aren't even going to be in play for him. He foolishly said Augusta was a par 67 for him (he was right, even if it put unnecessary pressure on him) so St Andrews might be a 64 on a calm day.
Speaking of St Andrews, we had the Alfred Dunhill Links this weekend. Danny Willett won it which excites me a little. He's still only 34 so if he has a resurgence and gets back to the level he was when was winning the Masters then that's huge for Team Europe at the next Ryder Cup. He's a fellow Red too, so that helps and I'm rooting for Danny to start tearing shit up again.
If he does make the Ryder Cup team in two years though, probably best to lock his brother in a cupboard somewhere just to be on the safe side after what happened last time. He's the European equivalent of Patrick Reed's mad wife.
Some of our current Ryder Cup lads showed some form too, with Tyrell Hatton finishing T2, Shane Lowry T4 and Tommy Fleetwood T7. Some would argue that it came a week late but in fairness I thought Lowry, Fleetwood and Hatton all showed flashes at the Ryder Cup so it wasn't a great surprise to see them doing well. Those three need to really kick on now though as we're depending on them to step it up.
Lowry is already starting fires ahead of the next Ryder Cup. He's stopped just short of going the full PJ Willett but he's been throwing jabs out all over the place since he got back. Here's a few of the best Lowry quotes post-Ryder Cup:
"Bryson Dechambeau's putter shaft is about four feet long so it was definitely not a gimme. Justin Thomas did the same thing and then I did the same thing but purely because Justin Thomas did it." 
"They made me hit a putt from literally 18 inches on the first so I did the exact same thing as Thomas did just because I was annoyed with the picture I've seen of him that morning."
"Some of the stuff is not very nice. But look, that's just the way it is. Some people are idiots, especially when they drink."
"The problem was, every time an American putted inside six feet, I was getting booed if I didn't give it to them. They obviously played up to the crowd. I wasn't giving them anything last week because I was getting booed. I was playing with Tyrrell Hatton on Saturday afternoon and he wanted to give them a couple of balls and I said, 'no, let's just let them see the ball in'. It was a bit of gamesmanship from me as well."
"Patrick Cantlay riling up the crowd on the eighth hole whilst I was lining up my putt annoyed me quite a lot. I didn't feel that it was good from him, but it is what it is."
"I cried today. I didn't cry when I won The Open. I'd another daughter a few weeks ago. Wendy is probably going to give me s**t for this, but I didn't cry."
"I wish golf was a team game. I'd love to be part of a team every week. It's very individually based. That's the way it is. God, I'd love to have this experience every week."
"I will be in Rome, and we will win it back. That's all I can say. My whole goal over the next two years is to be part of that team and to win that trophy. Obviously, I want to win tournaments, and majors but I really want to win one of these."
I'm loving the needle there but if Shane wants another crack at them he needs to up his game because he needed a captain's pick to even get into this one, which is not acceptable for a golfer of his ability (he only just missed out having been pipped at the post, but the point stands). If he'd qualified on merit then Padraig would have been able to take Justin Rose. Not that it would have made much of a difference, but Rose might have at least been able to contribute a point or two and lessened the embarrassment slightly.
So come on, Shane lad. Don't just talk about it, go out and get your payback in the Majors and then worry about Rome.
I see 20 year old Nicolai Hojgaard was a factor again too, finishing T14. Him and his twin brother Rasmus are carrying the hopes of an entire golfing continent on their shoulders as we're crying out for young talent to come through and fill the big shoes of Westwood and Poulter. It's a lot of pressure but at least there are two of them to share the load.
Putting them out there in foursomes could be interesting as you could just have whichever of them is in the best form hit all the shots. You'd need to be crafty about it because of all the cameras, but it's like that magic trick with the ball under the cups. Stick a big golf umbrella over the pair of them and have them move around really quickly behind it. Who's gonna know who is who? Hey, I'm just saying, we need to think outside the box here if we're getting that cup back.
Robert McIntyre is another who we're counting on but it feels like he only ever shows up at Majors. He had a T12 at Augusta and a T8 at the Open but hasn't really done anything else. Come on, Bob, other tournaments matter too. You're not Brooks Koepka.
He's actually more like Susan Boyle. Now hold on, I'm not taking a shot there. This is a good comparison as I'm saying he shouldn't be judged on how he looks as there's an incredible talent there that wouldn't be immediately obvious, like Susan when she famously walked onto the stage that time.
Be honest, if you didn't know who McIntyre was and he walked onto a driving range with Rory, DJ, Brooks, Morikawa, Bryson, Tiger, Phil and the rest, you'd think he was there to make sure they had drinks and to top up the balls when needed. You'd never have him pegged as this incredible golfer.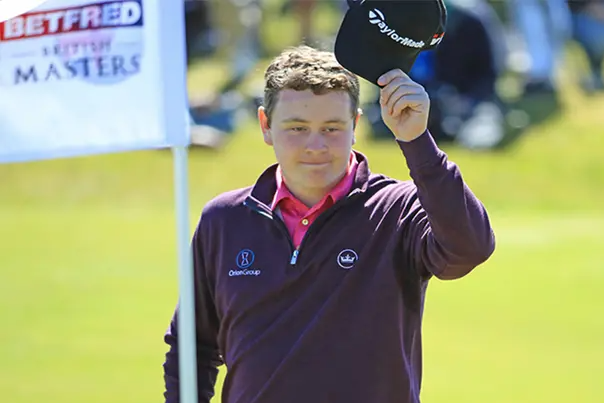 He's a big talent but he's been missing cuts galore recently. It wasn't that long ago he was beating Kevin Na and halving with DJ at the World Matchplay. He looked set to take the golf world by storm back then but it hasn't really happened yet and he missed the cut again this weekend. Scottish golf needs a new star and hopefully it will be Big Bob.
I always enjoy watching golf at St Andrews but weirdly I don't have any great desire to play there. I know it's the Holy Grail for a lot of golfers but it just doesn't grab me that much. I'm not sure why, but I'd rather play Royal Troon or Carnoustie. Don't get me wrong, if the opportunity ever comes up to play St Andrews I'll be there quicker than Shane Lowry arriving at a piss up, I'm just saying there are a lot of other courses I'd rather play, that's all.
Over the pond now and the Sanderson Farms Championship was won by Sam Burns. Nothing surprising about that, he was the best player in the field going in, both in terms of recent form and world ranking. He's really, really good. Not good enough to make the US Ryder Cup team because they're so damned spoiled for choice, but 25 year old Burns is currently in the world's top 20. Damn, I wish he was European. We're pinning our hopes on the likes of McIntyre and the Hojgaard twins eventually coming through, while the US already have Burns, Will Zalatoris and a load of hungry young stars freshly off the Korn Ferry tour.
I hadn't even heard of most of the names on the leaderboard this week but I suspect we'll hear a lot of Sahith Theegala in particular, who almost went wire to wire before falling away a bit on Sunday. I can see me losing a lot of money betting on him this year as I've got it in my head now that he's going to win fairly quickly, so while his odds are still good I'll be picking him every week.
He went viral on golf twitter over the weekend for two things. A filthy lip out on a chip shot that actually went more than 360 degrees, and an even filthier cut off the tee that must have moved over a hundred yards from left to right. Not sure why that was such a big deal as I've been doing that my entire life and none of my shots have ever gone viral. Presumably its only praise worthy when it stays on the fairway?
A cut above the rest. 😮 pic.twitter.com/XkRwF1TqqI

— PGA TOUR (@PGATOUR) October 2, 2021
The only thing more obvious than Burns winning this week was the defending champ Sergio Garcia missing the cut because of a Whistling Straits hangover. In fairness it wasn't just because of that, by his own admission he didn't play particularly well in the Ryder Cup and this week he didn't have Jon Rahm carrying him around.
Finally, I'm definitely feeling more philosophical about the "Shellacking at Sheboygan" now that the initial pain and shock has worn off. I know this because I saw Harris English on College Gameday and my initial reaction wasn't to swear at the TV and switch channels. I thought it was actually cool seeing him back at Georgia showing off the Ryder Cup. Good for him, it was a nice moment.
Now if it had been JT back at Alabama, different story entirely. That's one beef I'm not going to dropping any time soon. Cantlay can still do one as well. I'm with Shane on that.
Did you enjoy this article? Follow Bang Average Golf on Twitter and Facebook to make sure you don't miss any future content.
Also, feel free to share and invite your golf buddies to come and be a part of our ever growing community.