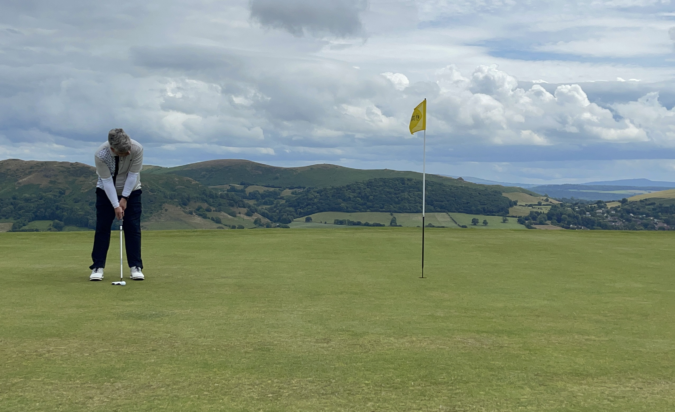 Wow. What a place this is! Located in the heart of the Shopshire hills, Church Stretton offers an incredible golfing experience at a more than reasonable cost. You'll be blown away by this place, both by the scenery and the challenge of the golf. Be prepared for an incredibly tough walk though. You might want to spend a little extra and get a buggy as this place is one hell of a slog with a trolley. 
There isn't a flat piece of land on the entire course so you're either going uphill or downhill, usually quite severely and both will have you blowing for tugs. Holding onto a trolley trying to race downhill is probably even more testing than the grind of going uphill. Often I'd need to take a couple of minutes just to get my breath back before taking my shot. The opening stretch is especially tough, as you can see below as I chugged my way up the 7th!
Playing here for the first time is going to be much tougher than if you've played before. Some courses you don't need any local knowledge as you can see everything right in front of you. Church Stretton has so many blind shots though and danger lurks where you least expect it. 
It's also important to note that there is some crossover on holes and it can be a little confusing to identify which green you're hitting to. The easiest way to figure this out is by flag colour. Front nine greens have yellow flags, back nine have reds. 
I played very well here and only made one bad swing all day. I still shot 17 over and part of that is because of not knowing where to miss. I'd hit towards a marker and maybe miss by 10 yards, but when I got up to the top of the hill and saw what was beyond it I'd realise that I'd missed on the wrong side and had no shot.
To score well, course knowledge is important, as is the weather. I played on a day when there were 30mph gusts of wind which made some shots virtually impossible. The highlight was narrowly missing a putt on the 14th (known as 'High Hole' due to its elevation) and then watching helplessly as my ball was blown off the green and 20 yards back down the fairway. If I'd been bothered about my score I'd have been fuming, but you can't be mad when you're in such beautiful surroundings.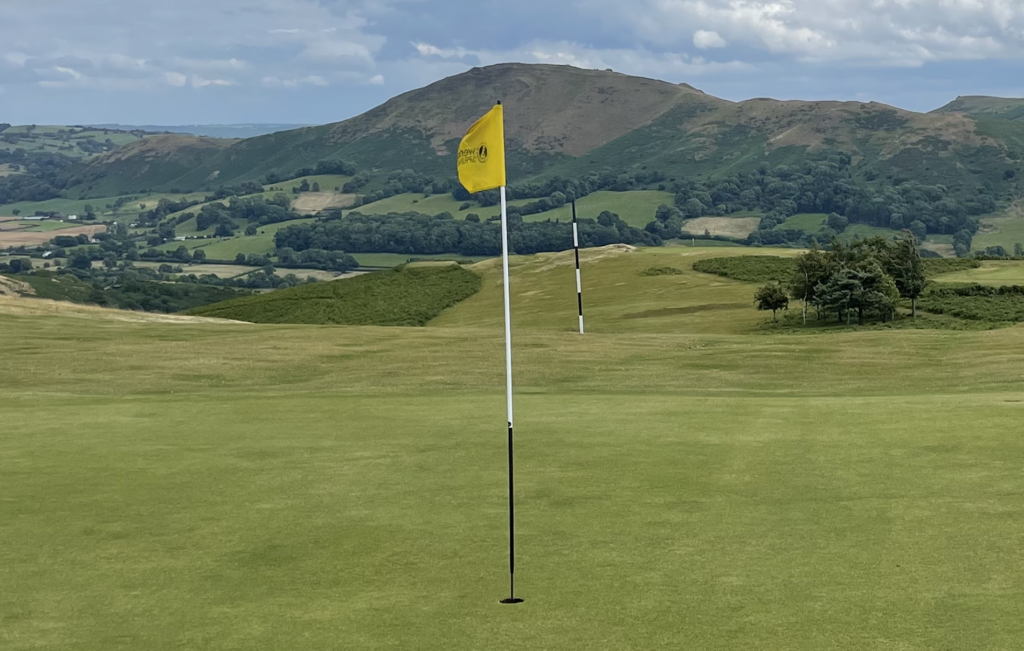 Possibly the toughest opening hole I've played. The conditions played a part but even on a calm day this is a nightmare opening tee shot. The last thing I want to be hitting for my first shot of the day is a 3 wood to an elevated dogleg green 190yds away. Some higher handicap golfers won't even be able to reach it and will need to play this like a short par 4 and lay up onto the fairway before wedging onto the elevated green. If you can get there and go for it, then short and right absolutely kills you so make sure you get good contact. Left isn't good either as there are trees that will catch any errant hooks or pulls. If you hit a solid shot that carries to the elevated green then there's a bunker to the right and if you go through the back you're in trouble as it's a steep drop into thickish rough.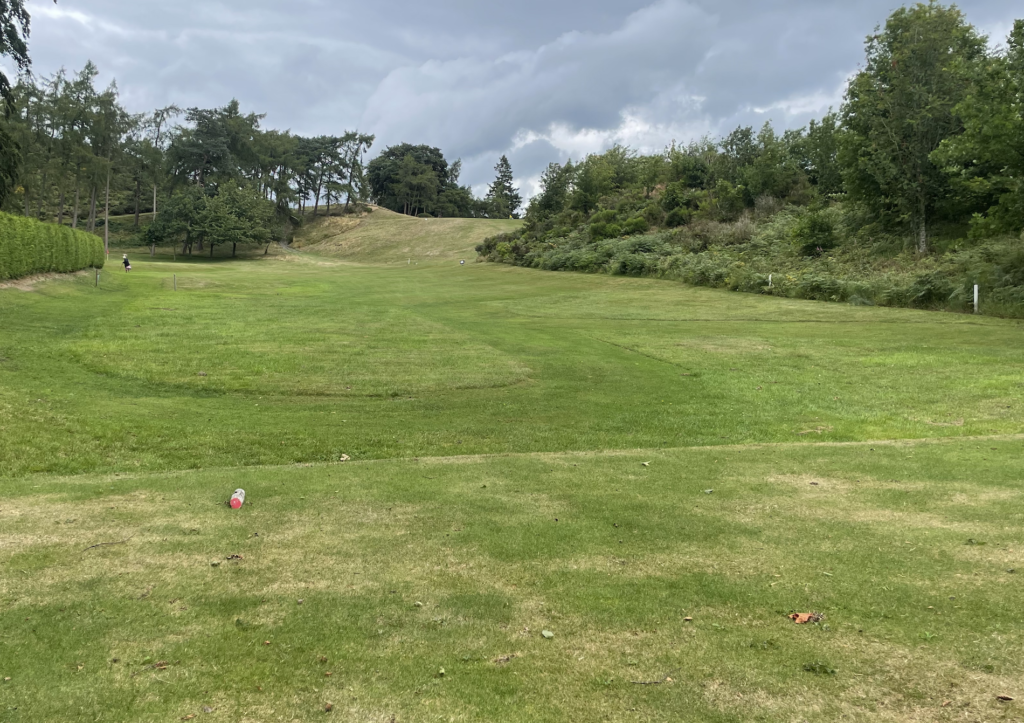 Another blind tee shot but do not go right of the marker as there's a huge valley of bracken and heather on the other side of the hill and everything slopes down that way. If you go right you aren't finding your ball, trust me as I'm speaking from experience.
I hit what I thought was a lovely drive off this tee. It drifted a bit right (maybe 10 yards wide of the marker post) but it wasn't until I reached the top of the hill I saw all the trouble. Left of the marker is the play here as your ball will catch the slope and roll into a nice spot for your approach. You don't even need to hit driver if you can reach the top of the slope with a shorter club.
There's plenty of room down the left and it will always kick back into the middle. The approach shot is straightforward as all of the danger is off the tee on this hole.
This is a spectacular hole with incredible views of the Shropshire countryside. It's yet another blind tee shot to a marker but ideally you want to hit a little right of it as everything rolls down the slope from right to left once you get over the hill.
I went a fraction left of the marker and my ball trundled all the way down to stop just short of the green side grass bunker guarding the left side of the green. I measured the drive at 285yds, which is about 50 yards further than I usually hit it. Once you catch that downslope though it will run forever, so a little right of the marker gives you a better angle for rolling down to the green. Not too far right though or you'll catch the rough.
Just a pleasure to play this hole. I love a par 3 from an elevated tee where you're looking down on the green. I don't think there's a more inviting shot in golf than this. Figuring out which club to take is a little tricky and initially I hit 8 iron which was too much club and caught the trees on the left of the green.
Because it's such a great hole I then decided to hit another, and stiffed a 9 iron to four feet. It's a perfect hole to finish on as it allows you to breathe and just enjoy the experience. Some of the other holes are tough and stressful but 18 feels like the final stretch of a marathon where you can just soak it all in knowing you've come through a huge test of endurance. The 18th encapsulates everything that is great about this course.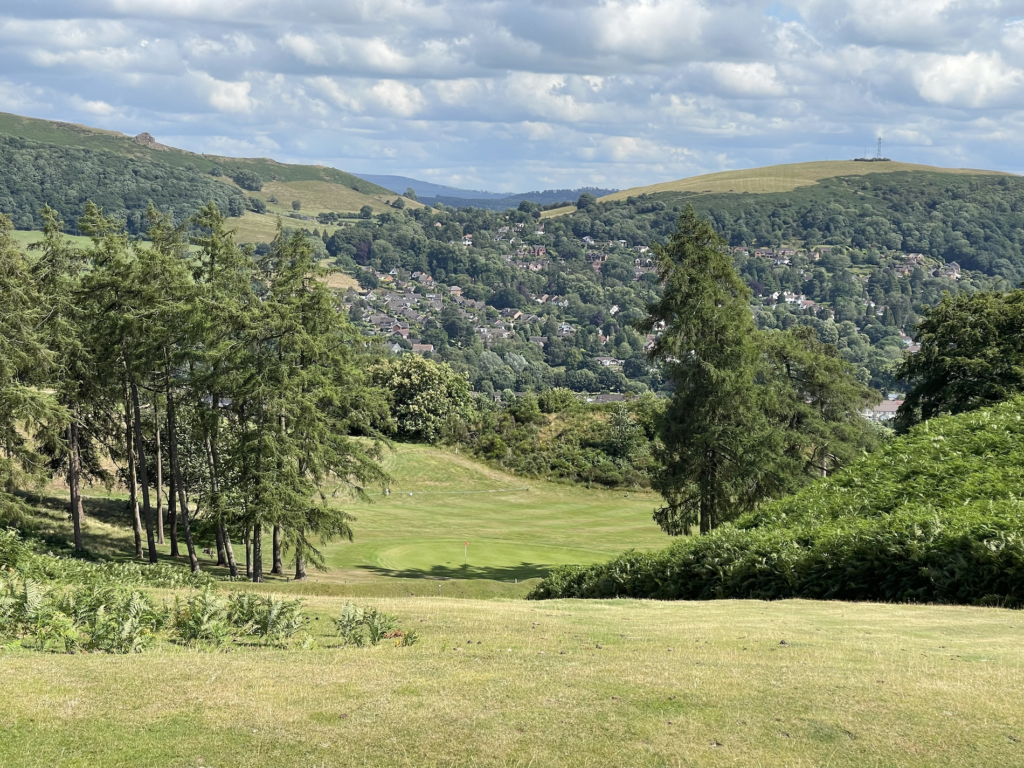 The 1st hole requires you to pull up your big boy pants and hit a long, accurate shot to an elevated green tucked away on the right hand side behind heavy bracken. May God be with you.
The 2nd is a short hole with a blind tee shot but there's room up the left side of the green. Anything too far right might find the bracken and leave you with no shot. The trickiest part here is club selection, the shit itself is straightforward as long as you trust your number rather than your eyes.
On the 3rd hole left is fine as it's wide open but anything that misses the green right is lost. You can't see that from the tee as the danger is hidden.
The 4th is a lovely hole. It's uphill and plays longer than the yardage. Off the tee you've got loads of room left but that leaves a longer second. You don't want to go right as there's a cart path, lots of bracken and if you go really right you're at the bottom of a huge valley. There's very little trouble around the green though so if you're hitting a long second shot in there's no real danger if you miss.
The 5th is straightforward and has a stunning backdrop. A par 3 from an elevated tee where you can see exactly what is required. Clear the big grass bunker in front of the green and you'll be putting. 
Note: There are two greens visible from the tee (see below) but you are playing to the furthest one. Remember, front nine flags are yellow and back nine are red.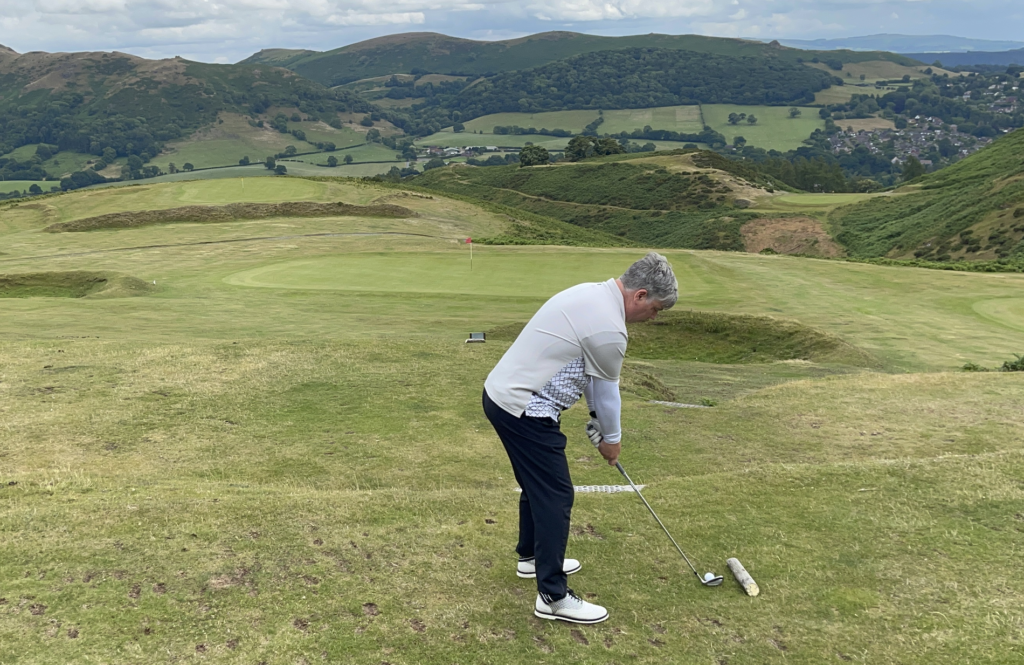 The strategy on the 6th is simple. DO NOT GO RIGHT. If you're right, you're dead. You can hit driver if you like, but it's not necessary as anything that goes over the ridge will roll down and leave you with a short approach. Right is the valley of death though, stay out there.
The 7th is severely uphill and not for the faint hearted (see the video higher up the page). Avoid the thick stuff on the right off the tee, and then the thick stuff on the left with your approach.  
Just don't go short right on the 8th. A lay up to the left is fine, but anything right will see your ball end up in a deep valley of bracken and gorse unless you can carry it 190yds or so to clear the danger. 
The 9th is a straightforward uphill par 4. Avoid the thick stuff on the right.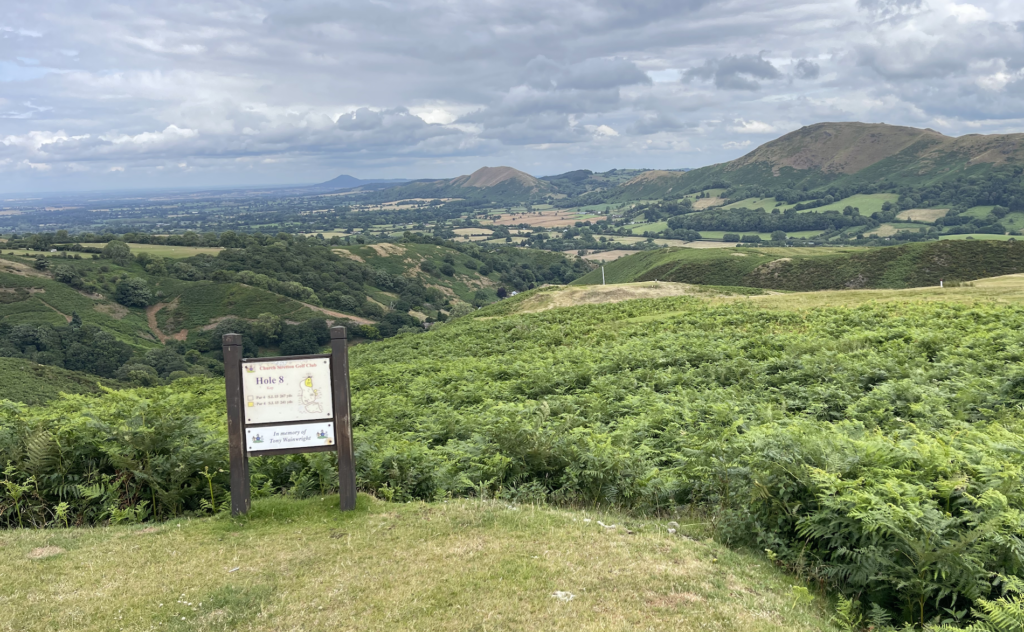 One of the easier holes on the course is the 10th. A short par four with very little danger.
The 11th is known as 'Long Hole' and plays 429yds from the yellows with a blind tee shot. That's deceptive though as once you get over the main hill your ball will run down the slope leaving you with a straightforward approach shot. There is a cluster of trees on the right so stay left of centre off the tee and you're fine. 
The 12th is a long par 3 up the hill but with very little trouble anywhere. The distance is the challenge here.
Next up is the lengthy par 4 13th. Not too much in the way of trouble off the tee (just a few small trees dotted around) and the second shot isn't too taxing either.
The 14th is an uphill slog but there's not too much to worry about other than the length as it's nice and open. This green might be the highest point on the course and it can get very windy up there.
When it comes to spectacular views, the 15th takes some beating. You can see the green from the tee but there is a big hill that obscures your view of everything else. Hit at the marker or right of it and your ball will down nicely and leave you with a short approach.
The 16th is a short par 4 that some will be able to reach with driver. There's not much to worry about other than some thick stuff that will gobble up anything wild right.
The 17th is an inviting tee shot to a wide fairway. You can't see the green as it's on the other side of a ridge but there's very little trouble other than a severely undulating fairway that can take away anything that doesn't fly all the way to the green.
A perfect closing hole, the 18th is an inviting par 3 from an elevated tee. Nothing hidden here, you can see everything about this hole in all its glory.
A definite five star course. Stunning views, great golf, a friendly welcome and fantastic value (as little as £15 in midweek with a 2 fore 1 voucher). If you get the chance to play here then don't let it pass you by. This is a course that will certainly live long in the memory of anyone who plays it.
Church Stretton Golf Club
Hunters Moon, Trevor Hill
Church Stretton
SY6 6JH
website: https://churchstrettongolfclub.com/
email: enquiries@churchstrettongolfclub.co.uk
Tel: 01694 722281/ 07973 762510
Facebook: CStrettonGC
Twitter: @CStrettonGC