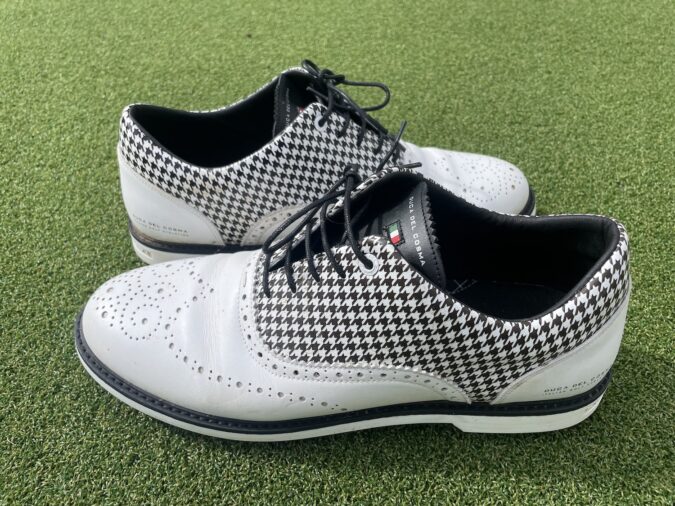 These elegant shoes are very much aimed at the golf fashionista who enjoys the classic look. You'll either love them or hate them. Personally I love them, which put me in a minority of one when I showed them to my golf buddies. I took some stick but I didn't care. What do they know about golf fashion?
I grew up wanting to be Payne Stewart and these are exactly the kind of shoes he'd be wearing now if he were still alive. He wouldn't be wearing any of these trainer style golf shoes and he sure as shit wouldn't be wearing no hoodie!
The Dandy is for the discerning golfer who favours a traditional look so it's right up my alley. Duca del Cosma actually gave me my pick of any of their shoes to review and despite there being a vast array of great looking shoes to choose from, the Dandy was the one that caught my eye so that was the one I requested.
When they arrived I was like a little kid at Christmas. I couldn't wait to get the box open to get a proper look at them and I wasn't disappointed. Stunning. The box is very stylish and there's a lovely cotton bag to keep them in. You also get an extra pair of laces. The shoes have black laces but the extra pair is white so you have a choice. If I lived in a country with great weather I'd have gone for the white laces, but the black is a better option for the courses (and climate) I play in.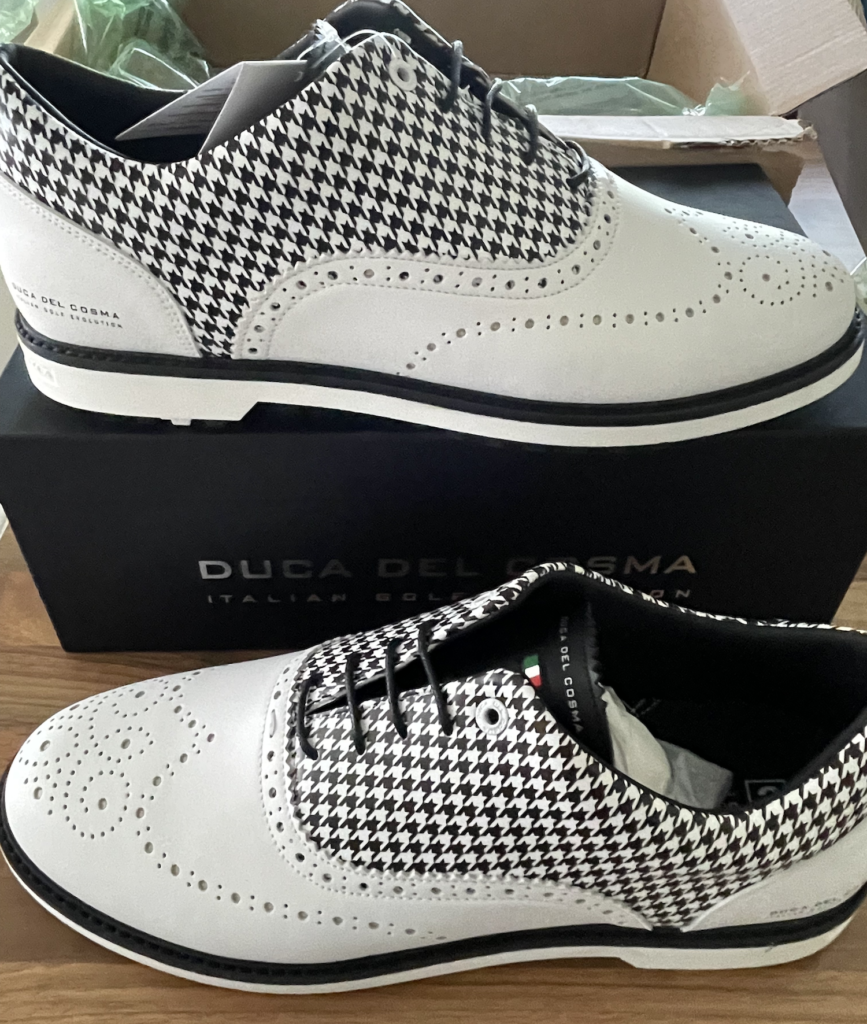 The thing that struck me immediately when I took them out of the box was that they were heavier than I expected. I'd looked at the photos on Duca del Cosma's website and I'd formed an impression in my mind of a very lightweight, thin kind of shoe. Far from it. The sole is thicker and much more cushioned that it appears in photographs and these are extremely well put together shoes that feel like they will be very durable. I've played a number of rounds in them already and they're basically still as good as new, so I'm very impressed with the build quality.

The uppers are made from high quality Italian Nappa leather, while the heel and toe caps are fully recyclable which makes these shoes more environmentally friendly than most.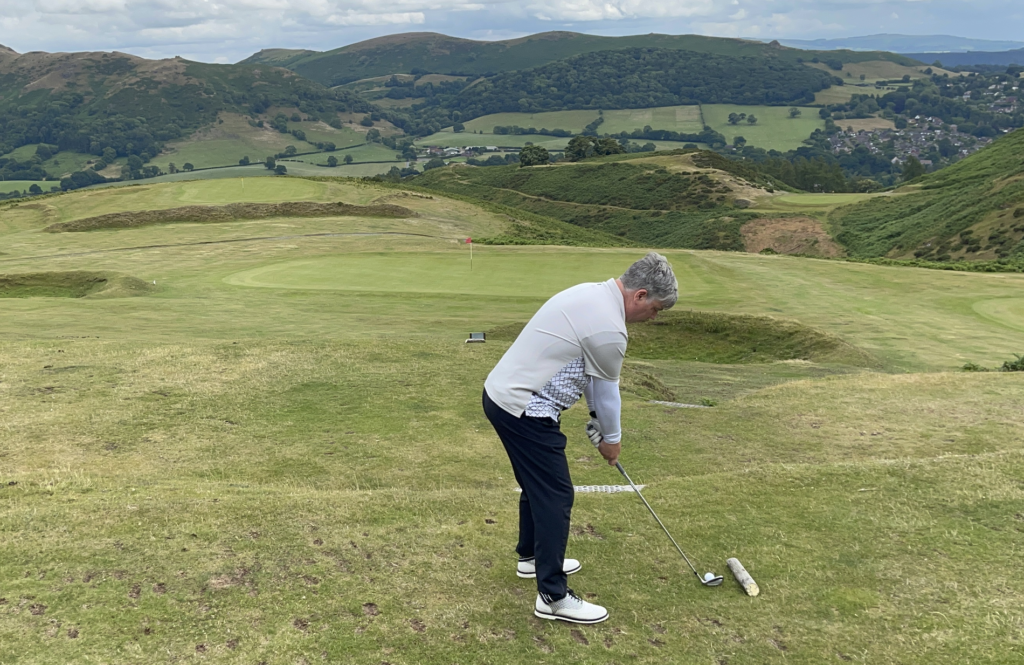 I've worn the shoes on four or five occasions now on various courses in different weather conditions. The first time I wore was at the Nicklaus Course at Carden Park (see below) but I was in a buggy and didn't have to do a great deal of walking. That wasn't much of a test in terms of comfort, but it rained heavily that day so I did get to ensure they were fully waterproof.
My feet were bone dry until I found heavy rough late in the round and water got in from above. That's a me problem though, nothing to do with the shoes which are indeed fully waterproof, as advertised.
As for comfort, well I have had no greater test of walking than the 18 holes I played at the stunning Church Stretton Golf Club (see above) and that was the toughest walk I've had playing golf. Up and down hills for the best part of four hours, it was a proper slog. The first three holes is arguably the toughest part and as I trudged up the steep hill towards the second green I did think to myself that I maybe should have gone for comfort over style when it came to my chosen footwear. 
The Adidas CODECHAOS 22 or the True Links Lux Hybrid are exceptionally comfortable shoes and would have been a better choice for this kind of course, but to my surprise my feet felt fine at the end of 18 gruelling holes.
As for how they felt hitting shots, very impressive. My feet felt secure and locked in, while the shoes provided good traction even on wet fairways and tee boxes.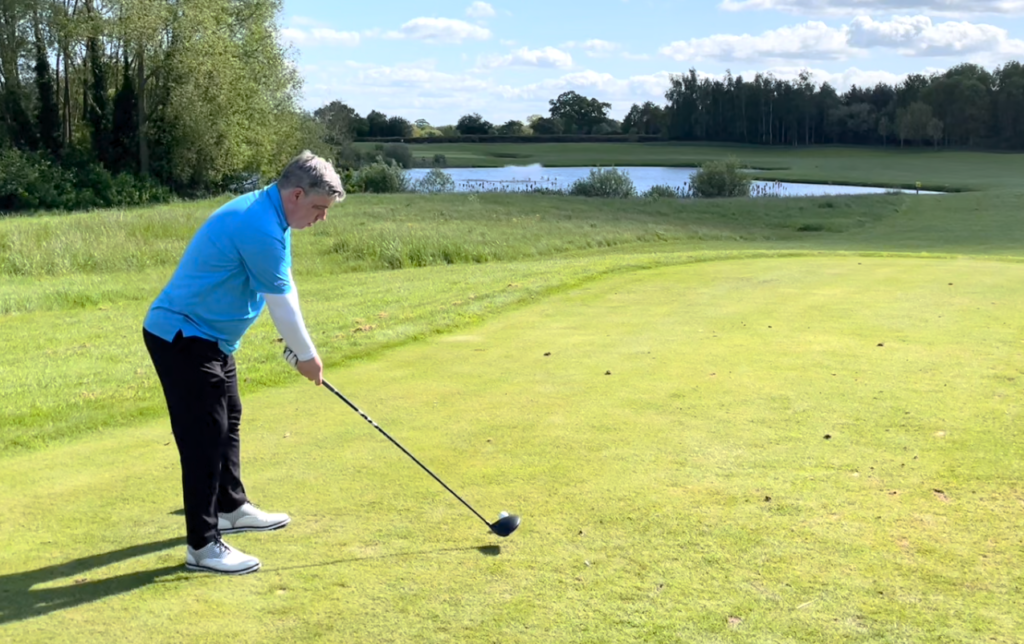 They're a spikeless shoe so in theory you could wear these away from the course, but unless you're an extra in Boardwalk Empire or John Travolta in Saturday Night Fever I'm not sure anyone is going to pull off that look. I don't mind being expressive on the golf course, but I wouldn't be wearing these shoes anywhere else.
In terms of the cost they aren't cheap, but the finest quality things rarely are. They certainly aren't overpriced. They retail at £199.99 but you can usually find them cheaper during sales or when retailers are clearing out stock.
I love this shoe and the only reason it isn't a full five stars is because I'm not keen on the laces. That being said, it's easy enough to swap them out so it's not a big deal. The price is on the high side too, but that's all relative and depends on whether you're ok with spending two hundred quid on golf shoes. In terms of looks, durability, comfort and performance on the course the Dandy is just… well, dandy.